Kourtney Kretschmar '22
---
"With Bluffton's dually enrolled program, I'm able to earn two degrees, and work as a registered nurse before I graduate with my bachelor's degree from Bluffton."
Nursing
To become a licensed registered nurse, you must graduate from an accredited registered nursing program and successfully pass the National Council License Examination (NCLEX-RN).
Our dual-degree program, offered in collaboration with Rhodes State College, prepares students to successfully pass the NCLEX-RN examination upon completion of foundational nursing coursework through Rhodes State.
Following successful completion of the NCLEX-RN examination, students enter into the advanced nursing coursework at Bluffton which prepares them for graduation with a Bachelor's of Science degree in Nursing (BSN).
The BSN coursework provides knowledge and skills in important areas such as public and community health, healthcare policy and disease prevention, and leadership and management. Students gain knowledge related to the use of information technology, which is an important part of the current healthcare system.
The BSN degree also provides the opportunity for students to develop leadership skills that prepare nurses to collaborate professionally with physicians and other members of the healthcare team. Many healthcare settings now place a high priority on hiring BSN-prepared Registered Nurses making it the nursing degree of choice.
Throughout all components of this innovative nursing program, students have the opportunity to reinforce the content and skills learned in the classroom and clinical lab simulations through instructor-guided, clinical nursing sessions in a variety of healthcare settings.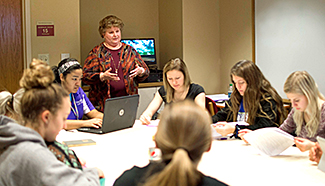 Program distinctives
Clinical fieldwork all four years
Mission-driven curriculum
Advisors dedicated to student success and personal mentorship
Additional pre-professional opportunities through the Bluffton University Student Nurses Organization


There are minimum standards to advance through each stage of the Bluffton University BSN program.
Through Bluffton's nursing program, you will complete RN degree requirements through dual enrollment at Rhodes State College, which will prepare you to take the NCLEX-RN exam.
Upon successful completion of the NCLEX-RN exam, you will complete advanced nursing course requirements for the bachelor of science in nursing degree at Bluffton.
Explore the courses required for a
Complete the nursing major in four years by following this guideline for course selection beginning fall 2020 and after.
Billing and financial aid
During the semesters when students are taking courses at Rhodes State College, Bluffton institutional aid will be prorated to reflect credit hours at Bluffton (1/12 per credit hour up to full time.) Students are encouraged to meet with financial aid staff in the spring of their first year to review billing and how scholarships are applied.
Students will receive one tuition bill even while taking courses at Rhodes State. General tuition and room and board increases will be included each year. Institutional financial aid does not cover books, uniforms or any other charges outside of tuition. Fees for State-Tested Nursing Assistant (STNA) classes and examinations, Basic Cardiac Life Support certification (CPR) and TEAS examination are not covered by financial aid.
Out of state students participating in the nursing program will be subject to out-of-state tuition fees while attending Rhodes State College.
Student housing and athletic participation
For purposes of housing and athletics, nursing students are considered full-time at Bluffton while taking courses at Rhodes State to complete the nursing program.
At Bluffton you will find:
Outstanding liberal arts and advanced nursing education coupled with top quality technical nursing education in a dual-degree nursing program in collaboration with Rhodes State College
Clinical fieldwork experiences in a variety of community health care settings
Small liberal arts, Christian school in which to study for and obtain a BSN registered nursing degree
Each student has an advisor dedicated to his/her success who will provide personal mentorship to guide the student through a rigorous academic program
Strong cross-cultural program to prepare students to work in a variety of settings
Mission-driven curriculum which prepares students to live out their values in their personal and work lives, their communities and the world
Opportunities to participate fully in campus life and athletics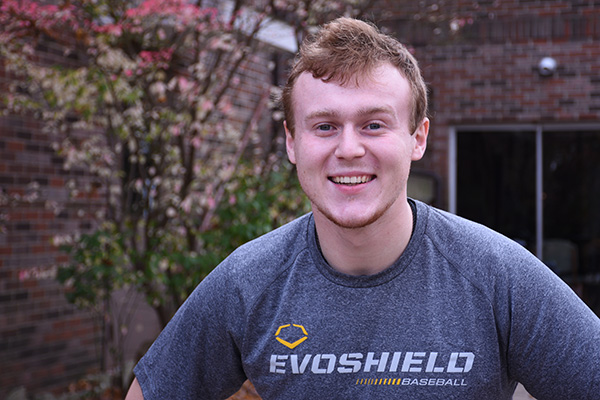 ---
Thanks to a partnership with Rhodes State College, Reid takes foundational nursing courses at Rhodes while he lives on Bluffton's campus and competes for the Beavers.