Finding purpose in the ER
05/17/2023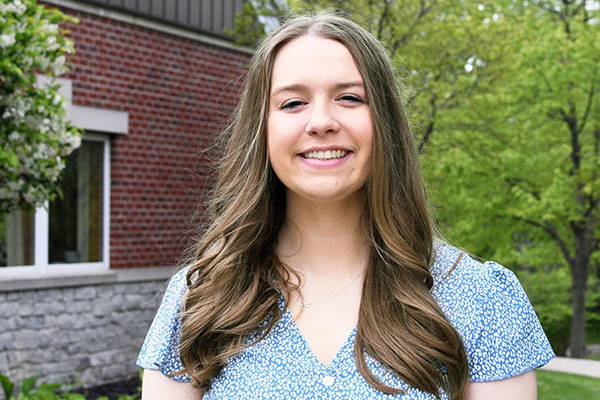 Finding purpose and connection
Lindsey Shaw '24, a nursing major from Findlay, Ohio, always knew she wanted a career in the medical field. However, after shadowing both doctors and nurses, Shaw realized she preferred the more personal interactions that came with nursing.
"I fell in love with it," said Shaw. "I was able to connect one-on-one with patients and really talk to them."
Shaw initially wasn't sure which area of nursing she wanted to pursue.
"During clinicals, I found out what I didn't like a lot faster than what I did like," she explained.
However, after working in Bluffton Hospital's emergency room and completing a preceptorship with the Blanchard Valley Health System ER in Findlay, Shaw confirmed her occupational fit.
"When a patient comes in and they're not feeling their best, I am able to help them," said Shaw. "You see everything in the ER, and there's also the fast pace of it."
Bluffton University's nursing program is a four-year, dual-degree, dual-entry program in collaboration with Rhodes State College, and Shaw has already earned her associate degree to become an RN. That means, she will be able to work as a registered a nurse during her senior year of college. In fact, she already has a job lined up in the BVHS ER in Findlay.
On campus, Shaw has been a member of Bluffton's volleyball team for the past three years, and this fall she plans to serve as a student coach. She appreciates the flexibility Coach Steve Yarnell has extended to her despite the scheduling conflicts caused by her major.
"I always dreamed of playing in college," said Shaw. "I knew it would be hard with nursing, but I wanted to try. I just love the sport so much."
She also appreciates the encouragement of Dr. Sherri Winegardner, director of nursing at Bluffton and Shaw's academic advisor. Looking forward, she's excited to start her senior year at Bluffton, continue working in the ER, and earn her Bachelor of Science in Nursing.
"I've heard from others who have said it really makes you think about nursing in a different way," said Shaw of earning her BSN.