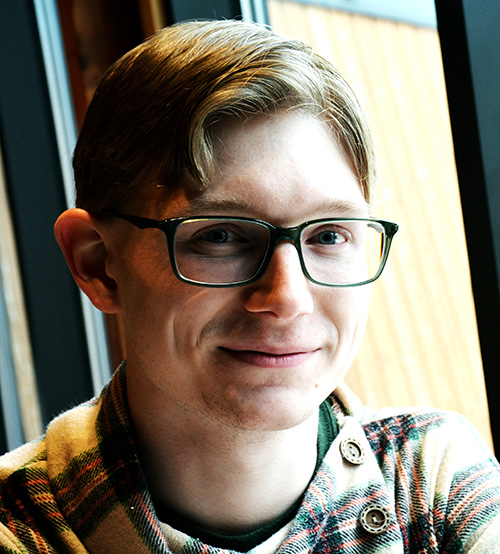 Liam Strong
---
Liam Strong is a Pushcart Prize nominated queer writer and studies writing at University of Wisconsin-Superior. They are the former editor of NMC Magazine. You can find their works in Impossible Archetype, Dunes Review, Monday Night, Lunch Ticket, Chiron Review, The Maynard, Panoply, Prairie Margins, and The 3288 Review.
In Which You are an Owl, and I, by Proxy, am a Mouse
by Liam Strong
after Danez Smith
The door of your hovel,
cottonwood knotted with kerning, always
creaks. You don't know what a wrist is
until you snap a branch. How all sanctity
begins at eye level. We've got height to bridge
between us. Neon whorl of the hunt. Your
voice italic with moonlight. Don't tell
me to listen. A forest can hear the sum
of its parts. An extension of my arm: you
reaching for what means most
to you in the moment. All our life is promontory,
your vast collection of spider abdomen, my
nest of burled nothings.
How the moth wind of your descent
wraps me in flight. Is this what it means to get carried
away? That no amount of want
makes my head cork back like yours, practically
to decapitation. When animals are consumed
by other animals, we call it a circle. There
it is, ours, I've found it. I want to say patience
is the purest form of bleeding. I can't
cross rivers. I'm a toy. I squeak.
I'm tired of limitations. I run &
hide. My body has nothing
better to do than survive.

You're all beak & stealth, wanting
to be connected only when you hunger,
our moment of oneness.
It's all blood, all river, your next
meal. If I'm running, I'm living. So come on.
For once, I want to take you up
in my claws, hum with a different strand
of thistle & berry
juice behind my tongue. Glide with me,
not for me. I never hear the end coming.