Goodbye & Goodnight
by Sarah DeLena
I sometimes have a hard time saying goodnight to her because I mix up the word "goodnight" with "goodbye." And saying goodbye to her right before she goes to sleep isn't a particularly calming thing to do; it kind of implies nightmares or perhaps, even death, may befall her in between the time when she closes her eyes and opens them again in a new day.
True, when I've gone to say goodbye to her, I don't think I've ever said "goodnight" by accident, but I do often wish I were saying goodnight instead, so she wouldn't be leaving after all, but rather, staying the night.
Goodnight is when you get to hold the person you love most and breathe in the distinct scent of her hair as you're both wrapped in warm fluffy blankets and sheets on a cold night.
Goodbye is when you stand alone on the sidewalk watching her car pull away, honk twice (an extra goodbye), and then roll towards the skyline.
Always at night I lie in bed going out of my mind thinking about words; I think about the moments when there should be more, when there are too many, and the silence in between.
I hope one day I'll have just enough words to say what I really mean between all the goodnights and goodbyes: Stay here, with me. I love you dearly my dear.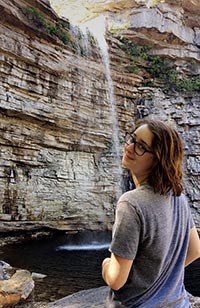 SARAH DeLENA
Sarah DeLena is an aspiring acquisitions editor who loves YA literature, hopes to own at least two golden retrievers, and respects the Oxford comma.