Bluffton esports teams compete in the NACE Starleague, the largest collegiate esports league in North America. More than 700 colleges and universities participate in its tournaments. During the spring 2023 season, Bluffton played against teams from universities including:
• Alvernia University
• Akron University
• Bowling Green State University
• Embry-Riddle Aeronautical University
• Emerson College
• Northern Kentucky University
Current teams
• Overwatch
• Rocket League Purple (Varsity)
• Rocket League White (Junior Varsity)
Recruiting for
• Rocket League
• Overwatch
• Valorant
• Super Smash Bros.
• Fortnite

Bluffton esports teams compete in the NACE Starleague, the largest collegiate esports league in North America. More than 700 colleges and universities participate in its tournaments. During the spring 2023 season, Bluffton played against teams from universities including:
• Alvernia University
• Akron University
• Bowling Green State University
• Embry-Riddle Aeronautical University
• Emerson College
• Northern Kentucky University
Current teams
• Overwatch
• Rocket League Purple (Varsity)
• Rocket League White (Junior Varsity)
Recruiting for
• Rocket League
• Overwatch
• Valorant
• Super Smash Bros.
• Fortnite
Esports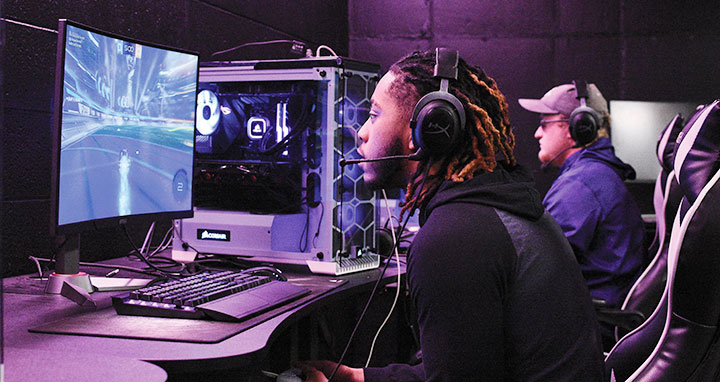 In its first semester as a varsity sport at Bluffton University, all three teams under the esports umbrella advanced to their respective playoffs with Bluffton's Rocket League Purple team reaching the grand finals.
"That team was just like a well-oiled machine at the end," explained Brian Williams, esports coordinator. "Unfortunately, we lost to Albertus Magnus College out of New Haven, Conn., but we made it to the peak of play which we are very happy about."
During the spring semester, Bluffton also fielded a seconded Rocket League team and an Overwatch Team. With the addition of esports, Bluffton University now offers 19 varsity sports. Though an esports club was founded in 2019, becoming a varsity sport allows esports student-athletes to compete at a higher level. Williams, a Miami University graduate and former member of their varsity esports team, was hired in November 2022 to manage, coach and recruit for Bluffton's co-ed program.
"I'm definitely excited to see where esports at Bluffton goes. We have a lot of potential," said
Williams. "Esports is one of the fastest growing industries in the world. So, I'm excited to see
how we continue to perform at the collegiate level, and hopefully we'll get some of our players beyond that level."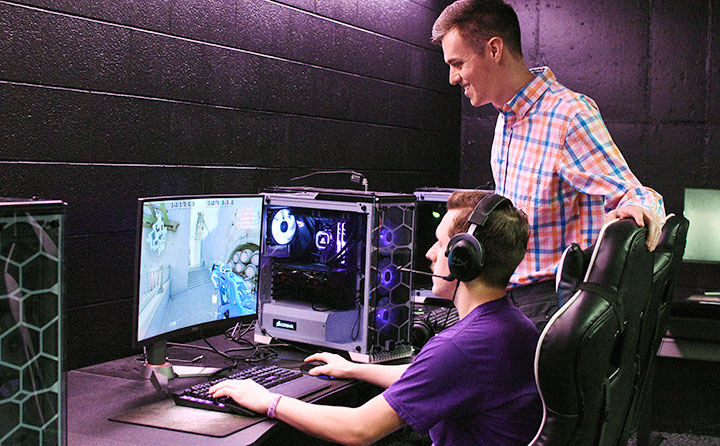 While the NCAA has chosen not to govern collegiate esports, Bluffton is competing on a varsity level through the National Association of Collegiate Esports (NACE). Teams are established to compete in different games ranging from the ever-popular Super Smash Bros. to Rocket League (a soccer game first released in 2015 where customized cars stand in for players). And just like any other sport on campus, team members practice multiple times a week to improve their skills.
"There are different things we each excel at and need to improve upon," said Justin Metsker '23, an economics and mathematics double major and captain of the purple team. "We had to learn to trust each, to hold each other accountable, but we had fun and definitely became a team."
Moving forward, Bluffton's current students will serve as the backbone of the various teams as more recruits are brought in and additional teams are established. For Williams, communication is key to coaching.
"Coach has really brought us all together and taught us why we do things a certain way," said Braeden Wilson '26, a marketing and sport management double major. "He just really helped us see why we need to communicate and helped us see the game outside the box I guess you could say."
Esports teams typically compete year-round with tournaments in the spring and fall semesters. Bluffton's teams compete in Neufeld Hall's Esports Center.