Estee (Arend '13) Hemphill
On her game everyday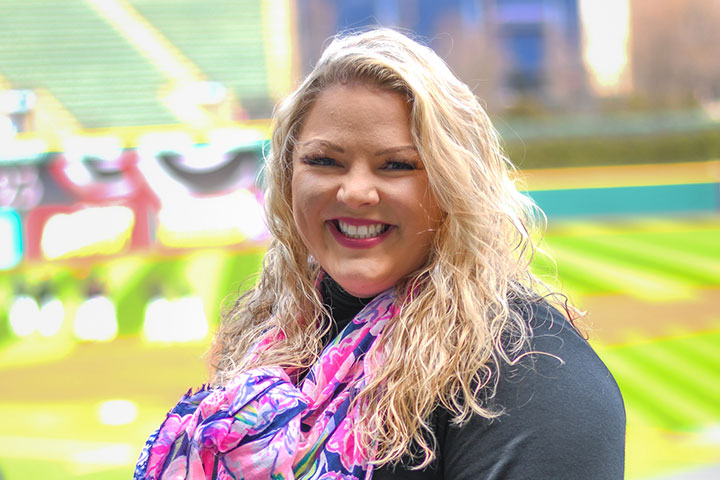 Esteé (Arend '13) Hemphill
Major: Sport management
Originally a criminal justice major with the goal of becoming an arson investigator, Esteé (Arend '13) Hemphill found her true vocation through a campus job. Starting in her first year at Bluffton, Hemphill was an assistant for the volleyball team. It was such an amazing experience that by spring she was also working for the softball team.
"I realized my job didn't really feel like a job," said Hemphill. "I enjoyed going to work each day, and I felt part of that community even though I wasn't a student-athlete."
Eventually, Hemphill changed her major to sport management and became a baseball assistant for Coach James Grandey for the next three years. Now, as the director of service for the Cleveland Guardians, Hemphill remains excited for work each day.
Thriving in the grind
In her position, Hemphill oversees two areas for the Guardians: fan services and season ticket services. Through both roles, each day is unique, and tasks range from answering questions (fan services responds to roughly 90,000 calls and 20,000 emails each year) to hosting fan appreciation events at spring training. Hemphill describes the work as building relationships and similar to how people are treated at Bluffton.
"I wasn't just a number at Bluffton. I was a person. I contributed and I made a difference. There is the same feeling at the Cleveland Guardians," said Hemphill. "Our fans aren't account numbers to us. We want to know how they use their tickets, how many kids they have, what the team means to them."
After a decade with Cleveland baseball, Hemphill continues to "thrive in the grind" and from March through October the whole organization must be "on our game."
"The biggest thing for me is making decisions and being part of the impact," said Hemphill. "Our purpose is to unite and inspire the city of Cleveland through the power of team, but our mission is to win the World Series, and I'm part of that. I love it."
Grit, determination, perseverance
Hemphill started as a year-round, part-time employee in Cleveland to get her foot in the door and grow with the organization. To stand out, she volunteered for every opportunity presented.
"I wanted people to see my skillset, to see that I was someone who they couldn't let walk away from this organization," said Hemphill. "So, I tell people to look at part-time jobs as an opportunity to advance."
After a year, she was promoted to a full-time position. Prior to Cleveland, Hemphill spent a year working in the athletics office at Wofford College in Spartanburg, South Carolina. During college, she also worked on the grounds crew at Bluffton, completed a marketing internship with Bluffton Family Recreation, volunteered with Beyond the Ball during her crosscultural experience to Chicago, and interned with grounds crews for the Miami Valley Scrappers and Carolina Panthers.
"Having those opportunities on my resume only helped other people realize I have grit, I have determination, I have perseverance," said Hemphill. "Those are the skills that have helped me get to where I am now."
Hemphill acknowledges that sometimes game days can be exhausting, but she views her coworkers as family and Progressive Field as home.
"There's so much joy that comes from driving over the bridge and seeing the lights of Progressive Field," Hemphill explained. "It's home, and when I go to work, I'm going to the place that brings me so much joy and excitement."