Michael Pickel '19 PT, DPT
Forging a new path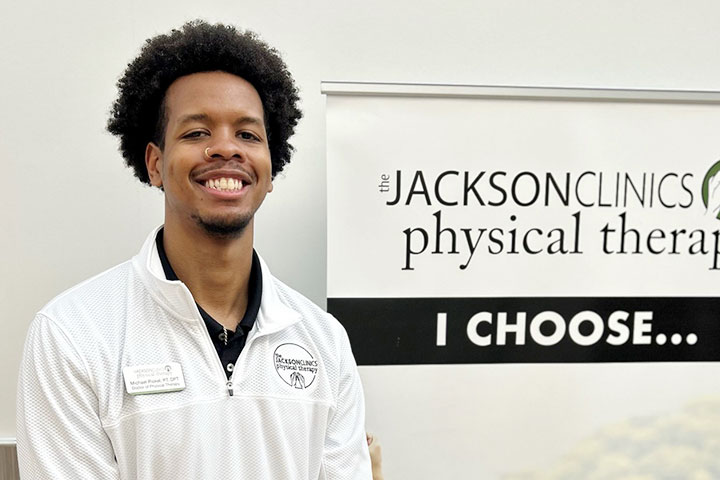 Michael Pickel '19
Self-designed pre-physical therapy major
The youngest of three boys, Michael Pickel's goal from an early age was to "speed up" his life.
"I always wanted to hang out with my older brothers, but especially in sports," said Pickel. "I had the mindset that I needed to keep up with them."
The need to not only keep up but to succeed crossed over to academics and resulted in Pickel graduating early from Bluffton and being the youngest person in his cohort, at 24, to graduate from the physical therapy program at Hampton University. Pickel's interest in physical therapy began in high school when he visited a physical therapist after injuring his elbow. At Bluffton, his interest was cemented when he shadowed physical therapists at Bluffton Hospital.
"I thought I could really see myself doing this," said Pickel, of his current career. "Now, the most rewarding part is when patients are able to do even really simple things that they haven't been able to do in a really long time."
Developing a program
Originally from Dayton, Ohio, Pickel is now based in Fairfax, Va., a suburb of Washington, D.C. He enjoys the proximity to a wide variety of restaurants, museum and cultural events. Though the location is much larger than the Village of Bluffton, he's building a community for himself near the nation's capital like he did on campus.
"I had mentors and a small group of friends who built me up and kept me on my path to make sure I didn't fall," said Pickel of Bluffton.
And at Bluffton, he overcame one of the biggest hurdles on his vocational journey. After a year at a larger college, Pickel knew he wanted to transfer, but Bluffton didn't offer a direct path to graduate school. So, with the help of Dr. Angela Montel, professor of biology, and Iris Neufeld, registrar, Pickel researched programs and created a self-designed, pre-physical therapy major. A few years later, the pre-physical therapy program Pickel helped establish has skyrocketed in popularity.
"The overall theme I took away from my time at Bluffton is you have the ability to forge your own path," said Pickel. "You don't have to follow somebody else's footsteps. You can create your own path."
Drive to succeed
Now in his first year as a physical therapist, Pickel is working at The Jackson Clinics while studying for a sports clinical specialist (SCS) board certification. Administered through the American Board of Physical Therapy Specialties, the certification will qualify him as an expert in athletic injury management. Pickel is scheduled to complete the 18-month program in February 2024.
"I am basically working full time and in school full time. That's tough. I expected it, but that doesn't make it any easier to do," said Pickel. "It's challenging but the job itself has been super rewarding. I definitely enjoy it as much as I thought I would."
A member of Bluffton's basketball team from 2017-19, Pickel is narrowing his treatment focus to athletes not only because he can relate to their experiences but because they have a similar drive to succeed.
"Athletes are typically the most motivated in the physical therapy setting to keep up with their exercises and to put in the work to progress themselves even outside of therapy," he explained. "With athletes, they may have a scholarship on the line, or they may have a desire to complete at a really high level."