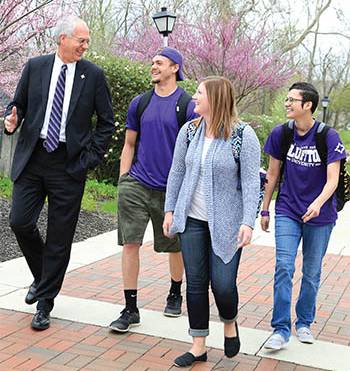 President's message
Place matters in education, and it matters at Bluffton. While the debate continues about the optimal balance between in-person and online learning, our efforts focus on continuing to facilitate learning experiences that meet the needs of all our students.

Do we benefit from and encourage online learning? Absolutely, and Bluffton incorporates online learning across the full range of undergraduate and graduate programs. But because place matters, we do it in ways that enrich content, expand boundaries and extend collaboration that build on the enduring value of interpersonal teaching and learning on Bluffton's campus.

Bluffton is blessed by a variety of places that inspire. Some are old, some are new, some are indoors and some are outdoors. From my office window, I enjoy the view of students and faculty in sidewalk conversation on their way to classes or the Musselman Library, a place designed for research and study. When I walk across campus, I enjoy participating in these casual conversations which are part of the continuum of learning that connects classroom experiences in Centennial Hall with active, physical learning in the Sommer Center and the breadth of experiences that make up a Bluffton education.

As highlighted in this issue of the magazine, at Bluffton, places inspire because they are inhabited by people who share ideas for the greater purpose of creating a truly outstanding education and fulfilling Bluffton's mission. This includes Bluffton faculty who go beyond their individual disciplines to experiment with new approaches to crafting engaging and innovative courses. Bluffton staff are also active participants in this process as they serve as mentors and also invite students to "teach
them." And Bluffton students inspire us through their academic, athletic and artistic achievements, and through their passion for serving others.
As I write these words, we are quietly working behind the scenes on planning for the next special place on Bluffton's campus, a new science center designed to inspire and support learning for Bluffton students and all who experience our campus. Our goal is to open this new facility in 2019. We will share with you more about ways you can be part of this timely project in the months ahead. As always, I hope you can find a time to visit campus and the special places and people that inspired you!


Included Content