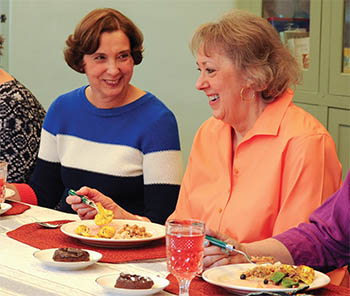 Inspiration in the lab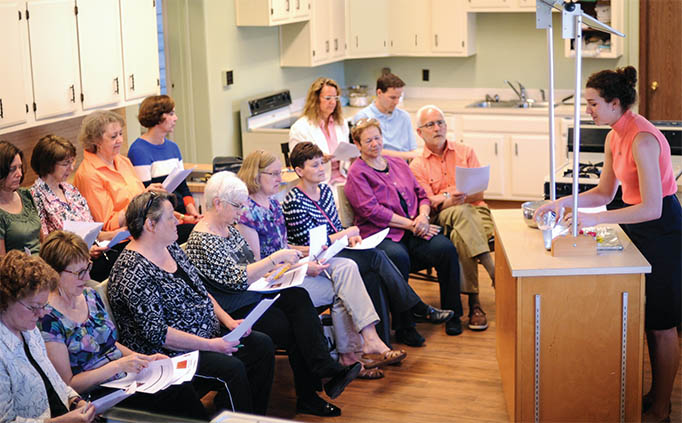 From foods that conquer winter depression to learning to cook with lentils, 14 junior nutrition students fed the bodies and brains of faculty, staff and community members during the annual cooking series in Berky Hall.
"It's a learning lab," said Jeanna Haggard, assistant professor of food and nutrition. "We feel like providing this opportunity shows the students that we have enough confidence in them that we're going to give them a platform to teach. I think it helps them envision themselves as professionals."
The weekly sessions include a 20-30 minute cooking demonstration, nutritional information on a research topic and a full meal planned by a different student each session.
"The cooking series gives me hope that I can actually do something to fight against all of the disease in this country," said Adrienne Shepard, a food and nutrition major from Arlington, Ohio. "It shows me that what I learn in my major will actually make a difference in people's lives as preventative medicine."
Shepard shared those thoughts just moments after her presentation on the nutritional science behind cooking with turmeric. About a dozen Bluffton faculty, staff and community members were eating her creation—a cauliflower based curry with rice and beans and a desert of gluten free chocolate donuts—nearby. During the cooking demonstration, Shepard explained that turmeric fights against diseases such as cancer, diabetes and obesity, and it is also used in Chinese medicine. The students provide handouts and recipes so that participants can apply the knowledge back home.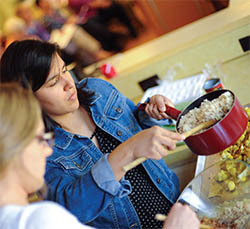 "If someone is able to see you just whip together a meal that's full of flavor, full of vitamins and full of nutrition, they're going to be less intimidated to do it themselves," said Mackenzie Butler, a food and nutrition major from Norwich, Ohio. During her presentation, Butler focused on the nutritional benefits of peppers.
"Doing the demonstration is really beneficial. It gave me an idea of what it will be like to work in front of an audience," said Butler. "The whole process is a little nerve-racking, but I feel like I'll be comfortable doing demonstrations in the future. I feel ready to do this in an internship or in a job."
In addition to developing the presentation, students must create their own menu based on nutritional guidelines and budget. They are the host and recruit fellow students to help prepare and serve the food. Guests gather around a cloth-covered table to eat the meal. The whole setup is reminiscent of the meals planned and prepared by home economics students at the Mara Alva house (1958-2003).
"At Mara Alva, we planned the meal based on a budget and theme. Here, we plan the meal based on wellness. We plan the meal based on health outcomes like heart disease or hypertension," said Haggard. "We also make sure to provide an environment of hospitality, and that's something a lot of these students have not done. That's what Mara Alva was, you became the host. You invited the president to dinner. You had different service styles. Here we do the same thing, but we base it on health education versus formality."
Charlene (Forney '73) Trout of Wapakoneta remembers the Mara Alva house and the required home economics class she took at Bluffton. She met her sister Anita Forney Heintzelman of Findlay for every lunch session offered this semester.
"I look forward to it every Monday," said Trout. "I don't have to worry about lunch, and the ladies are well informed and entertaining."
"This is a great way to meet up because we have a special reason to see each other with a specific time and date," said Forney Heintzelman. "It's a wonderful way to get educated, meet new people, try new food and get a new recipe. It's the whole package."
Trout, an English major, followed her grandmother's path by attending Bluffton. Estell (Whisler) Harris studied elocution, the art of clear and expressive speech, and was a 1911 graduate of Bluffton's predecessor Mennonite Central College. The cooking series gave Trout the chance to reflect on her grandmother's accomplishments and her own time at Bluffton while also learning about campus today.
"I'm proud of Bluffton. It's the same place with the same values, and the atmosphere is the same, but it's certainly changing with the times."
Included Content