We Flourish
A Guide to living out the Bluffton University mission 2020-25
After a year of planning and discussion, Bluffton University is excited to move forward with implementing a five-year strategic plan.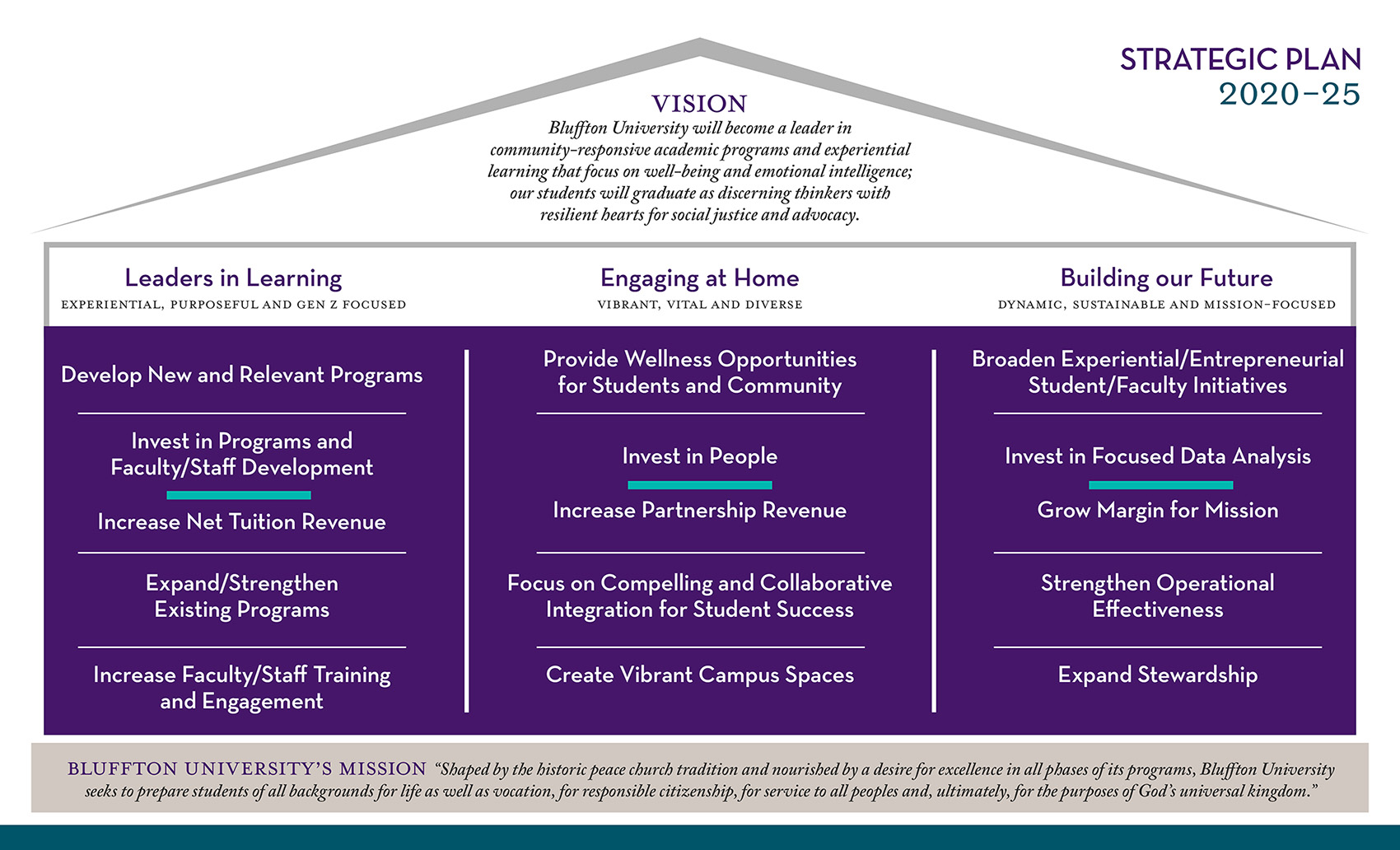 "We Flourish: A Guide to Living Out the Bluffton University Mission is a vital step forward for our campus community and essential for preparing our students to serve in our region and the world," said President Jane Wood.
At the core of Bluffton's strategic plan framework, is a vision statement which serves as a verbal representation of the university's overarching goals.
Bluffton University will become a leader in community-responsive academic programs and experiential learning that focus on well-being and emotional intelligence; our students will graduate as discerning thinkers with resilient hearts for social justice and advocacy.
The five-year plan was developed to meet the needs of Gen Z students while retaining a focus on Bluffton's overall mission.
"Bluffton University has been here since 1899, and we want to make sure that we are still here in 2099," said Wood. "Through this strategic plan, we are creating a shared vision of how Bluffton will live out our mission. Times change and we need to focus on addressing the needs of our current students."
President Wood has been preparing for the strategic plan process since she was inaugurated in 2018. During her first year, she developed a bridge plan with campus stakeholders called Momentum Makers. She also spent the year listening and learning more about the campus community. Then in the spring and summer of 2019, Credo, a higher education consulting firm, was selected to help organize initiatives and develop a framework for implementation. Meetings were also held with community partners, faculty and staff, and Bluffton's Board of Trustees to generate ideas for areas of institutional growth.
"It was interesting to see what ideas rose to the top for each of the three groups—to learn more about what was important to business leaders who hire our graduates, to our faculty and staff who interact with students on a daily basis, and to our Board of Trustees who are making vital decisions as they lead Bluffton into the future," said Karen Bontrager '04, director of president's office and institutional planning.
Due to COVID-19 precautions, the campus community is undertaking a softer launch of the strategic plan than originally envisioned.
"COVID-19, of course reframed everything we do, but the university is still moving forward. There's work to be done and we're figuring out slightly different ways of doing it," said Bontrager. "COVID-19 is making us more creative."
For the 2020-21 academic year, strategic plan implementation teams are focused on four key initiatives:
The Bluffton Blueprint
Diversity, Equity and Inclusion
Virtue-Driven Athletics
Corporate and Education Partnerships
More about the four key initiatives for 2020-21 >
After finalizing the plan this summer, launching initiatives were identified and groups of faculty, staff and students are currently engaged in bringing the ideas to fruition.
"These initiatives will provide a way for us to say, here's how we are distinctive. This is what Bluffton does incredibly well," said Wood. "I'm so excited to actively engage in this work and to experience where Bluffton will be in five years."