Sherri Winegardner, D.N.P.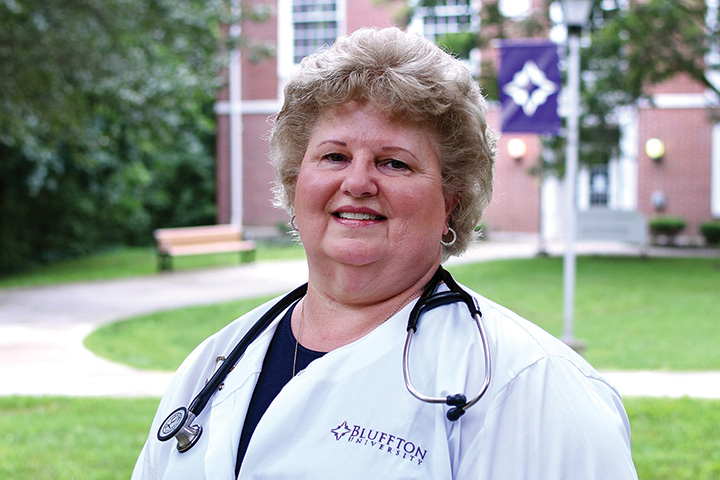 Dr. Sherri Winegardner, director and associate professor of nursing at Bluffton
You are chairing the Student Health and COVID-19 Steering Committee. Tell us a little about the efforts to reopen campus this fall.
We immediately started with the goal of returning to campus. Because of my background in administration, I have some project management skills, so I worked with President Wood and others to develop a project management spreadsheet and RACI chart (Who is Responsible? Who is Accountable? Who are we going to Consult? Who are we going to Inform?). From there, we aligned specific tasks to specific people. Almost every single faculty and staff member was pulled in. COVID-19 has infiltrated everything we do, but we wanted to make sure students could have as normal of an experience as possible.
How did your background in nursing prepare you to lead COVID-19 prevention efforts on campus?
I began my career in the early 80s and AIDS was just coming to the forefront. It was during the AIDS epidemic when universal precautions were developed, and we started treating every patient as potentially infected. That's when we really ramped up the use of personal protective equipment such as gloves, gowns and goggles.
Later when I was a nurse executive, we had the H1N1 pandemic. There was a huge push at that time for preparedness. I spent a lot of time working with a team to develop policies and procedures on how to operate a hospital and keep staff safe during a pandemic. This spring and summer we worked on similar policies.
Nursing is a demanding career. How do you keep from getting overwhelmed?
It's somewhat out of context, but for more years than I can count I've had Psalm 118:24 on my bathroom mirror. "This is the day that the Lord has made; let's rejoice and be glad in it." I think it's critical to take time each day to find the joy in life.
I find peace in taking photographs of nature. This summer, I captured a photograph of a fledgling eagle struggling and then succeeding in his first flight. I call it "The Joy of Flight." To me, he truly looks joyful in that moment.