#ProtectTheDam
From the early days of the COVID-19 pandemic, Bluffton University's administration, faculty and staff have sought advice and rethought campus operations to reopen and welcome back students while prioritizing health and safety. Based on guidelines from resources including the CDC and the Ohio Department of Higher Education, a comprehensive health strategy and compliance campaign was developed called Protect The Dam. The plan has been key to reopening campus while reducing the spread of COVID-19 at Bluffton.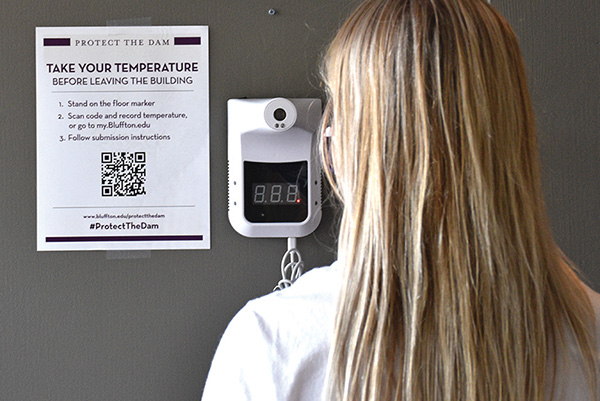 ---
Students were welcomed back two weeks early so winter break could begin at Thanksgiving.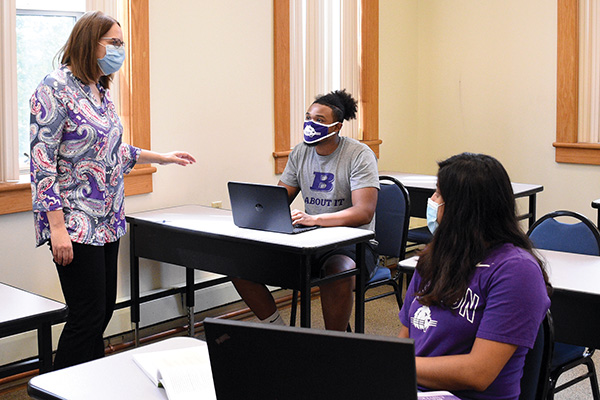 ---
Like all aspects of life in a pandemic, bringing students back to a classroom setting took a bit of creativity.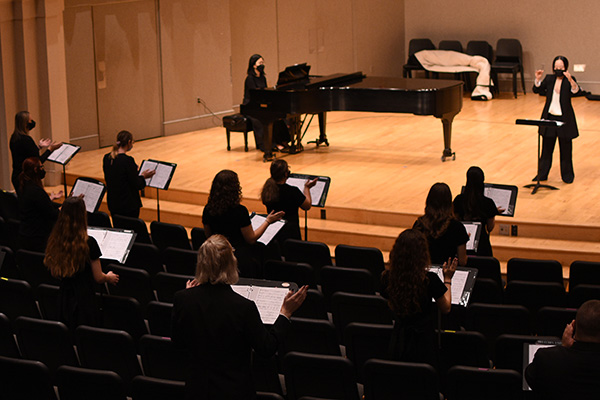 ---
From the theatre to the concert hall, Bluffton professors were determined that the show must go on.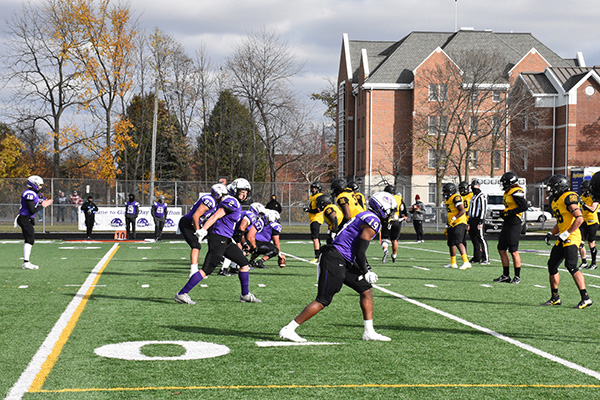 ---
When the HCAC moved all conference games to the spring semester, Bluffton moved forward with a non-conference fall season by following NCAA mandates.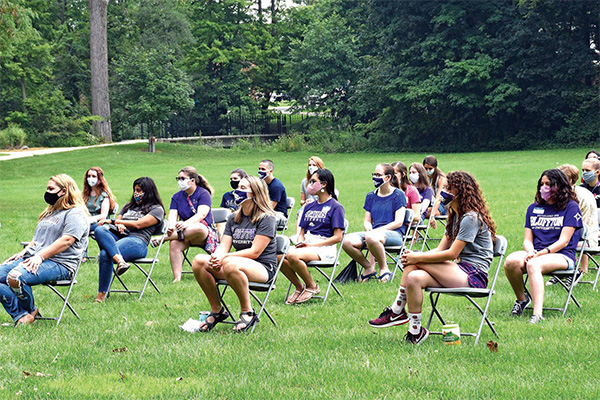 ---
To keep students on campus and engaged, Bluffton's Student Life Office and Marbeck Center Board tripled their offerings for the fall 2020 semester.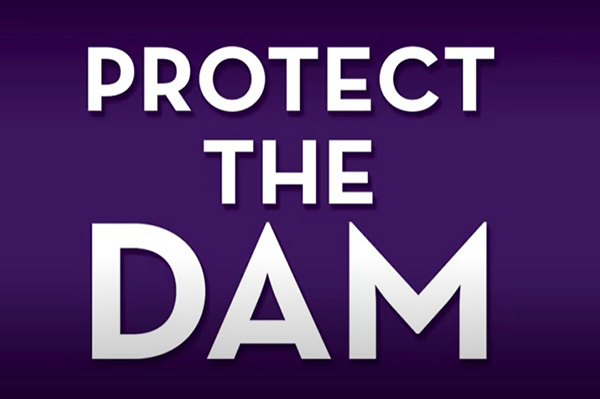 ---
Bluffton students, faculty and staff are remaining resilient in times of change. Your support makes a big difference in our ability to adapt.
---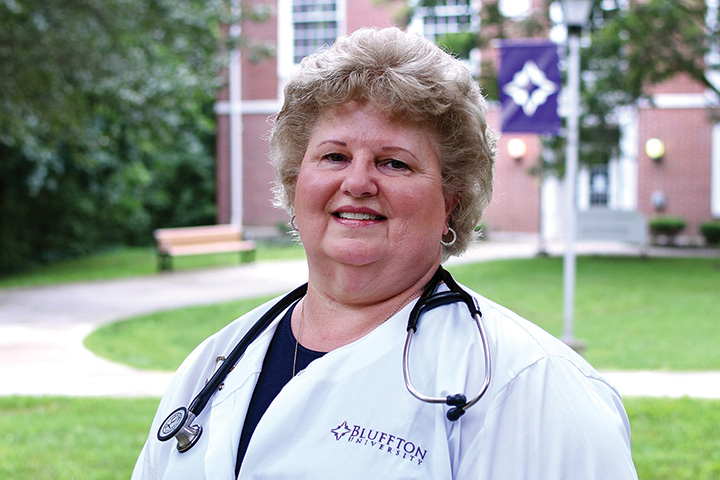 "Our students have been phenomenal. They grasp the values of Bluffton University: Discovery, Community, Respect and Service, and because they take those values seriously, they have become the mortar that's holding the bricks of our plan together."
– Dr. Sherri Winegardner, Director of nursing and Chair of the student health and COVID-19 steering committee

Comprehensive Health Strategy
With 16 weeks in the fall semester, students were welcomed back to class on Aug. 17, two weeks earlier than originally announced so winter break could begin at Thanksgiving. This change allows students to spend the holidays with family without the risk of bringing COVID-19 back to campus after traveling.
The main components of Bluffton's Comprehensive Health Strategy include:
Daily personal symptom monitoring
Students complete and electronically submit COVID-19 symptom checks each morning. Contactless temperature scanners were installed on each residence hall floor for students, and professional medical staff review and make contact with students who are reporting illnesses.
Social distancing
Six feet of social distancing is being modeled in all aspects of campus life, such as using larger spaces for classes and implementing new protocols for dining.
Wearing of facial coverings
The university provided a reusable face mask and face shield to all students and employees. Facial coverings are required in all indoor spaces, except a student's personal residence hall room, and outside when six feet of distance cannot be maintained.
Cleaning and sanitation
Strict disinfection and cleaning protocols are being maintained in all public spaces and residence halls. Professional cleaners have been contracted and the university has increased cleaning supplies. Students disinfect their personal learning spaces before each class.
Health care support
In addition to consultations provided through the Student Health Center, numerous health care providers in the Village of Bluffton are working with the university to offer walk-in services for students and testing opportunities.
Testing
Blanchard Valley Health System is providing testing for students referred to them based on daily symptom monitoring and contact tracing. Student-athletes are also routinely tested for COVID-19
based on NCAA resocialization guidelines for athletics.
Contact tracing, isolation and quarantine
Residence hall space is reserved to quarantine students awaiting COVID-19 test results. University-owned houses are available for students who test positive. Contact tracing is being handled by Bluffton's partners at Allen County Public Health.
---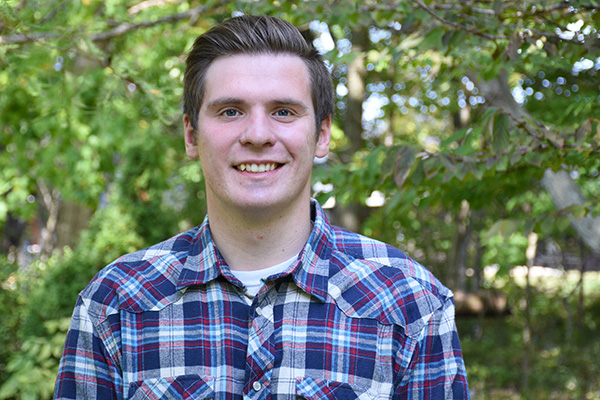 "Being back on campus allows me to ask questions right then and there in the lab. That's been huge for me and my peers. We all had the same struggles when we went back home, and now that we're all back together, we can put our minds together. I feel like working in community really benefits us all."
– Zac Nobis '22, Biology major, Bryan, Ohio

Academics
Like all aspects of life in a pandemic, bringing students back to a classroom setting took a bit of creativity. The registrar's office began the work this summer by determining how many students could occupy each space, mapping out classrooms for six feet of social distance, and converting new spaces into classrooms. In total, about a dozen spaces have been converted to classroom use including Musselman Library's Reading Room, Marbeck Center's Kreider Room and the stage of Founders Hall.
"We've set up new equipment, brought in white boards and projection equipment, and have provided microphones for faculty who want them because it's harder to be heard in some of the spread out spaces," explained Dr. Lamar Nisly, vice president and dean of academic affairs.
Masks are also required of both faculty and students, class times have been slightly altered to reduce crowded hallways, and students are asked to clean their personal space before each class session. Because of all the changes, more than 95 percent of classes are being taught in person. Still, Nisly admits that the fall 2020 semester has been simultaneously exhausting and amazing.
"I am continuously impressed by the creativity and resiliency of our faculty. They are in a situation that honestly is creating a barrier to the best kind of teaching, where students can be close together and easily interact," said Nisly. "Yet, they're being successful. Learning is happening and students are staying connected. This isn't ideal, but students and staff have really embraced the idea that they have to adapt to these changes if they want to continue to learn amongst their peers and instructors."
---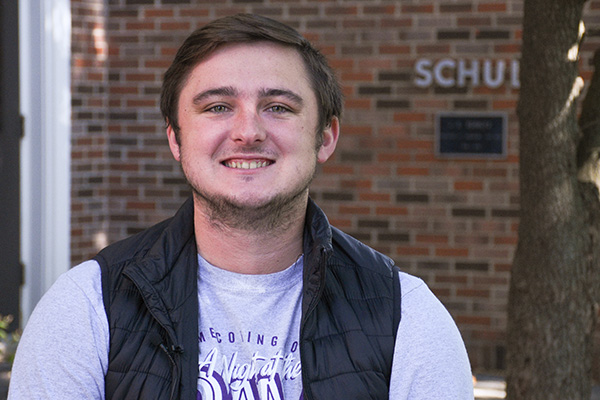 "I think this semester has gone really well, and I think we've done a lot at Bluffton to keep everyone safe. It's different, but we're trying to keep everything as normal as possible. We're doing vocals in face masks and shields, but I'm just thankful to be able to sing."
– Evan Burden '22, Music education, Sidney, Ohio


The Arts
When students returned home to finish their classes remotely during the spring 2020 semester, there was no choice but to cancel the May Day Musical.
When choosing the fall play, Dr. Melissa Friesen, Mary Nord and Joseph Ignat endowed chair in theatre, was determined that the show must go on. So, the fall production "Alone, Together" featured a series of short plays written specifically for Zoom and was available through on online streaming service.
"One thing I love about theatre is that every production provides an opportunity for creativity and problem solving," said Friesen. "This year, our parameters were: what looks good from a little web cam, how can we improve sound quality, how do we deal with spotty Wi-Fi?"
For music faculty, the planning for a safer return to performing was exhaustive—from breaking large performance groups into smaller ensembles to purchasing high-quality air filters and face masks for singing.
"We are better prepared this semester to change our plans at a moment's notice," explained Dr. Crystal Sellers Battle, music department chair. "Non-music majors are still able to take part in our performance groups, but we are trying to reduce the number of people in our students' bubbles."
Concerts are being pre-recorded and are available at the same date and time they were originally scheduled, but instead through streaming instead of in person. As for fine art, classroom and work spaces are spread out, equipment is being sanitized or for individual use and receptions are taking place online.
Art shows are still being held in the Grace Albrecht Gallery, but are only available for in-person viewing by students, faculty and staff. Community members and guests are instead invited to view the exhibits through the art department's social media pages.
---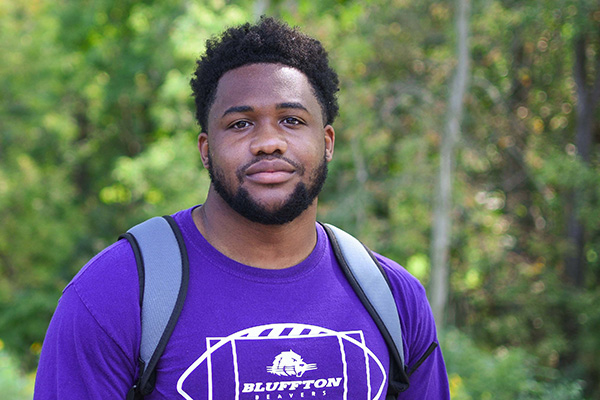 "We're taking it one step at a time like everyone else. I'm just happy we can play football."
– Darian Greeley '21, Criminal Justice, Belleville, Mich.
Athletics
For President Jane Wood, a fall intercollegiate athletics experience was "important for the physical and mental health of our student-athletes." So when the Heartland Collegiate Athletic Conference moved all conference games to the spring semester, Bluffton moved forward with a non-conference fall season by following NCAA Resocialization of Sport mandates including regular COVID-19 testing of student-athletes.
For some teams, competing was easier than others. Golf had a relatively normal season because of its low-contact nature and competed against many DII and NAIA teams. However, the week football planned to play Trine University in Angola, Ind., a travel advisory to the state of Indiana was issued by Ohio's Governor DeWine, because of high COVID-19 positive testing rates.
The team had to choose between playing and quarantining for 14 days or canceling the game. The decision to cancel was made during an emotional team meeting.
"We had done a lot as a team to follow the NCAA guidelines closely, and for us to miss out on this opportunity because of no fault of our own was difficult," explained Aaron Krepps, head football coach. "Overall, the guys decided it was not in their best interest to travel to Trine. The team showed a lot of resiliency, maturity and growth in that moment."
The Beavers beat Adrian College 28-21 the following week on campus for Homecoming. "Homecoming was a lot of fun for our students," said Phill Talavinia, vice president of student affairs and athletics. "We had food trucks and activities out at the stadium. Football won, volleyball won— it was a really good day."
This fall, Bluffton football, volleyball, soccer, baseball, softball, cross country and golf had the opportunity to compete.
---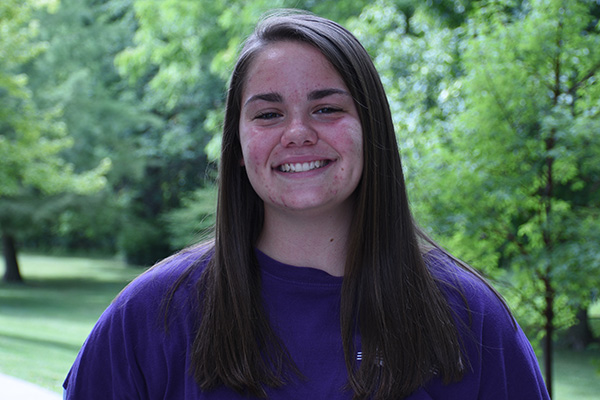 "With the university asking students to stay on campus due to COVID-19, MCB has come up with more events to keep students entertained. It has definitely been challenging, but it has also been extremely gratifying to see how much students are enjoying the events."
– Bri Baker '21, Mathematics, Defiance, Ohio


Student and spiritual life
From Marbeck After Dark events being held under the stars in Bassett Plaza to Chapel primarily taking place on the Library lawn, students are spending a lot of time outdoors.
To keep students on campus and engaged, Bluffton's Student Life Office and Marbeck Center Board tripled their offerings for the fall 2020 semester.
"We decided to ramp up the events we are doing on campus to maintain some sense of normalcy for our students," explained Kevin White, assistant director of the Student Life. "We knew if they were going to be asked to stay on campus, they would get bored easily."
So the university purchased an inflatable movie screen, created new intramural offerings (such as tennis ball golf, sand volleyball and bocce ball tournaments) and partnered with a company that provides virtual events.
"We've also seen students who have never taken part in our events before have a great time," said White.
On the spiritual life side, the ministry team is adapting to location changes and restrictions with resilience.
"I'm really proud of the ministry team for finding creative ways to keep spiritual life active on campus, said Dr. Jackie Wyse-Rhodes, interim campus pastor. "We aren't able to sing in Chapel, and everybody misses that, but we're exploring new ways to gather and worship."
For example, a monthly "God-sighting" moment has been instituted in Chapel where participants can share the ways they've seen God at work in their lives and on campus.
"That was an idea one of our Chapel planning coordinators brought from her own congregation, and it's been really well received," said Wyse-Rhodes.
---
Protect the Dam
In true Beaver style, Bluffton students, faculty and staff are remaining resilient in times of change. Your support makes a dig difference in our ability to adapt.
This issue of Bluffton magazine has highlighted the many ways our Beavers have adapted and flourished this fall. It is a blessing to see every day how our students are being safe while living and learning on campus and "doing college" in the same way many of us enjoyed our Bluffton experiences.
This summer and fall have been very busy for the admissions office. Our campus visits, applications, accepts and deposits for the fall 2021 class are the highest that we have seen in the last four years. Prospective students are telling us that they are looking for small schools, where they can live and learn in community and prepare for life and vocation alongside their faculty while also following health and safety guidelines. I believe that this is an opportunity for re-growth for small schools. We can "do college" in ways that large, state schools cannot.
And while we will all celebrate when the semester comes to an end, on January 20, a new semester will start with similar realities and new challenges. We know students and families will struggle with personal finances as economic unknowns from COVID-19 persist. Increases in expenses for PCR testing for students, cleaning supplies for campus and more remain.
I invite you to consider making a year-end contribution before Dec. 31 to help us continue to #ProtectTheDam and work to welcome and graduate the next generation of Bluffton alumni.