Alumni profile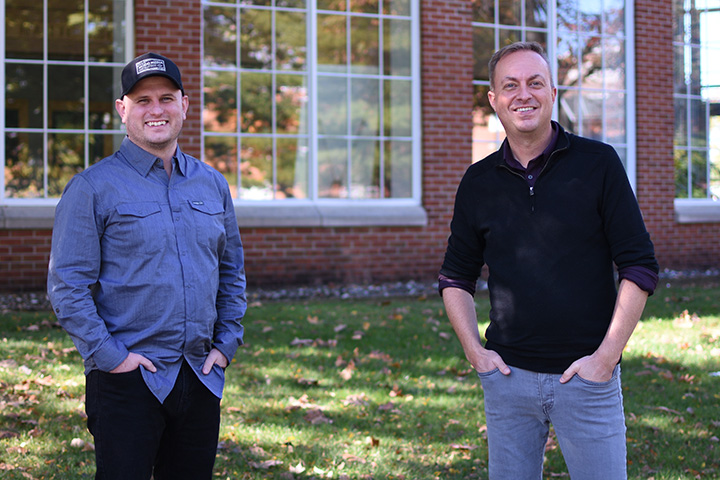 Chad Stearns '00 and Cody Ridenour '08
Music education majors
Co-owners: Modo Media, Lima, Ohio
The Show must go on for "Messiah"
As Bluffton students, Chad Stearns and Cody Ridenour both participated in the annual performance of Handel's "Messiah."
As alumni, the two will be sharing their talents once again for the 125th performance at Bluffton, but in a unique way. The former music educators are now co-owners of Modo Media, a video and design agency based in Lima, Ohio.
"I think anybody who was in the music department probably has a memory or story about Messiah,'" said Ridenour. "We're going to make sure those stories get told and are reserved forever."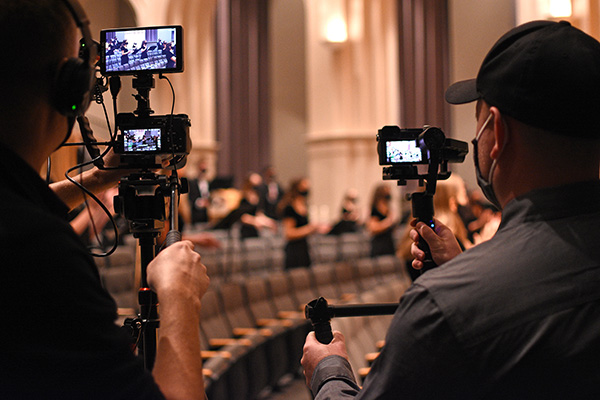 Because of restrictions due to the COVID-19 pandemic, Bluffton's music department is partnering with Modo Media and Dean Sound of Findlay, Ohio, to develop a mini-documentary to celebrate the tradition. The video will include reflections from past conductors and performers; archival footage, photographs and recordings; and a socially-distanced performance featuring current students, soloists and a string quartet.
"I love that we are working with the music faculty to pivot and come up with a different way to celebrate the 125th performance of 'Messiah,'" said Stearns. "We're truly honored that we were asked to be part of this. It's good to be back at Bluffton."
Career transitions
Stearns and Ridenour both started their careers as music teachers after graduation. But a few years into his career, Stearns moved to New York City to play piano in pit orchestras of traveling Broadway productions. After eight years, he decided it was time for a change.
"Cody was ready for a transition, too, after teaching for a few years. As friends, we started talking about what we could do," said Stearns. "We had a pool of talent between the two of us and Cody had developed a lot of relationships in Lima."
About 10 years ago, the two set up shop in downtown Lima and became small business owners. While their careers are quite different than what they may have initially imagined as students, the skills developed in Mosiman and Yoder Recital Hall are serving them well.
"What we do now is still creating art. And by being bosses and managers as well, we're still educating," Ridenour explained. "Our music background has really helped us. We often have to break things down into a series of different elements to make a cohesive video or campaign, and both the music and the liberal arts education has really helped us with that."
A 'Messiah' documentary
To create the video, Stearns and Ridenour are working with current students in University Chorale and Camerata Singers. Community members will not be taking part to reduce the risk of COVID-19 transmission to students. They're filming the concert portion in Yoder Recital Hall, but with a flipped setup. Performers will be singing from the seating area rather than the stage due to space restrictions. They're also interviewing conductors and long-time participants including former music faculty Dr. Steve Jacoby and Dr. Mark Suderman.
"It's going to be a unique experience that would not have happened except for the need to think creatively because of the pandemic," said Stearns. "We're excited."
The 125th performance of "Messiah" will be streamed at 4 p.m. Sunday, Dec. 20, at www.bluffton.edu/mus