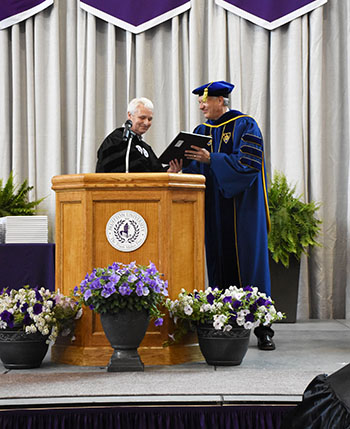 President's message
These last few months as Bluffton's ninth president, before I retire at the end of June, have given me reason to reflect on my experience serving in that role. And what a privilege it has been to get to know so many of you—as students, and as alumni and friends of Bluffton University! I've said that one of the best parts of my job is connecting with the network of relationships that over the years continues to define the special character of this wonderful college, and now university.
In my inaugural address 12 years ago, in the fall of 2006, I observed that much had changed at Bluffton during its (then) 107 years of existence—but that much had also remained constant. As the timeline in this issue of "Bluffton" magazine portrays, that pace of change at Bluffton continues to accelerate as it must. Each year we continue to strive to ensure that Bluffton's curriculum and facilities evolve to meet the needs and career interests of today's students in a fast-changing world. But I also believe that what should have remained constant at Bluffton endures here as well—especially our commitment to a faith-based Bluffton education that motivates and demonstrates, in so many ways, the ethic of respect and caring about the human needs of others in this world.
Our first president, Dr. Noah C. Hirschy, told us to "expect great things" from Bluffton. Through the dedication of our talented faculty and staff, and the generous support of our alumni and friends, great things do indeed come to fruition! Thank you again for that tremendous campus support which has made possible so many improvements in recent years, with the Knowlton Science Center just around the corner. Most recently, as described in this issue, I was honored to share appreciation for the new Moyer Nature Center at the Bluffton University Nature Preserve with its benefactor, Bluffton alumna Harriett Moyer.
I join many others in warmly welcoming my successor, Dr. Jane Wood, to Bluffton University and to College Hall. After July 1, Karen and I look forward to focusing on our new roles as first-time grandparents, as our twin granddaughters arrived earlier this month. And our
hearts will also long remain with Bluffton!
With gratitude,
Dr. James M. Harder
President
Included Content