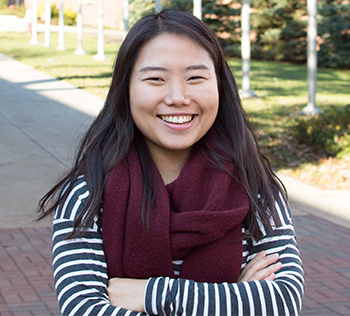 Chanhee Hwang is an international student from South Korea. She is pursuing a degree in business and working to improve her English.

"I realized that if you study hard you'll recognize the rewards, but you just have to be patient and study consistently."
>>>Chanhee's story
Frequently asked questions
Below you will find several commonly asked questions by international students interested in studying at Bluffton University:

CAN INTERNATIONAL STUDENTS EARN MONEY WORKING ON BLUFFTON'S CAMPUS?
Yes. International students are allowed to work on campus during the year and over the summer. A variety of jobs are available across campus.

IS IT EASY FOR INTERNATIONAL STUDENTS TO GET INVOLVED IN CAMPUS ACTIVITIES?
Yes. Many of Bluffton's current international students are very involved in leadership positions across campus. In addition, there is a campus organization, called the International Connection, that meets regularly. This student organization is designed to promote international programming on campus and to provide a support network for international students.

WHERE DO MOST INTERNATIONAL STUDENTS COME FROM WHO ATTEND BLUFFTON?
We have a variety of countries represented. Some of them include Albania, Bolivia, Canada, China, El Salvador, Ghana, Japan, Mexico, Nigeria, Saudi Arabia, South Korea and Zimbabwe.

WHERE DO INTERNATIONAL STUDENTS LIVE?
Bluffton University is a residential campus. All of our traditional students live on campus in one of our residence halls. International students are assigned a room on campus just like every other student attending Bluffton. There are usually two people in a room and 30 students on a floor.

ARE THERE SCHOLARSHIPS OR GRANTS AVAILABLE FOR INTERNATIONAL STUDENTS TO ATTEND BLUFFTON?
Yes. All international students are eligible to receive academic scholarships.

DO INTERNATIONAL STUDENTS FROM ENGLISH-SPEAKING COUNTRIES HAVE TO TAKE THE TOEFL, SAT, ACT OR APPROVED EQUIVALENT ASSESSMENT?
Yes. All entering international students have to meet this requirement. We require all entering American students to take the SAT or ACT exam.