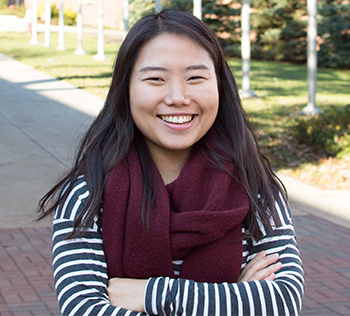 Chanhee Hwang is an international student from South Korea. She is pursuing a degree in business and working to improve her English.

"I realized that if you study hard you'll recognize the rewards, but you just have to be patient and study consistently."
>>>Chanhee's story
Frequently asked questions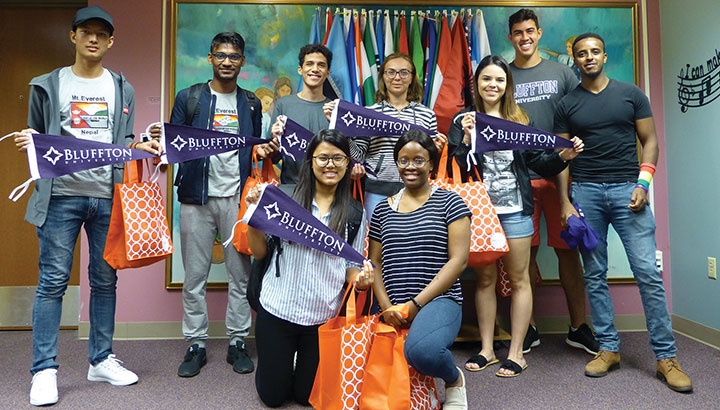 CAN INTERNATIONAL STUDENTS EARN MONEY WORKING ON BLUFFTON'S CAMPUS?
Yes. International students are allowed to work on campus during the year and over the summer. A variety of jobs are available across campus.

IS IT EASY TO GET INVOLVED IN CAMPUS ACTIVITIES?
Yes. Many of Bluffton's current international students are very involved in leadership positions across campus. In addition, there is a campus organization, called the International Connection, that meets regularly. This student organization is designed to promote international programming on campus and to provide a support network for international students.

WHERE DO MOST INTERNATIONAL STUDENTS COME FROM ?
We have a variety of countries represented. Current international students are from Honduras, Zimbabwe, Ethiopia, Canada, Ghana, Rwanda, Tanzania, Palestine, France and Spain.

WHERE DO INTERNATIONAL STUDENTS LIVE?
Bluffton University is a residential campus. All of our traditional students live on campus in one of our residence halls. International students are assigned a room on campus just like every other student attending Bluffton. There are usually two people in a room and 30 students on a floor.
ARE THERE KITCHEN FACILITIES AVAILABLE?
Every residence hall has a small communal kitchen with a refrigerator, stovetop, oven and sink. All residents may use the kitchen and are responsible for cleaning when they use it. Custodians will only clean the floor and empty the contents of kitchenette wastebaskets.

ARE THERE SCHOLARSHIPS OR GRANTS AVAILABLE FOR INTERNATIONAL STUDENTS?
Yes. All international students are eligible to receive academic scholarships.

DO INTERNATIONAL STUDENTS FROM ENGLISH-SPEAKING COUNTRIES HAVE TO TAKE THE TOEFL, SAT, ACT OR APPROVED EQUIVALENT ASSESSMENT?
Yes. All entering international students have to meet this requirement.