Chanhee Hwang '19
11/21/17
Persistence pays off for international student
For Chanhee Hwang '19, a business administration major, college has been both a rewarding and a challenging time. An international student from South Korea, Hwang is working hard to not only gain a degree in business but also to improve her English. She has learned how persistence pays off in her continued academics at Bluffton.
"I hate that feeling of not understanding a class," said Hwang. "But I realized that if you study hard you'll recognize the rewards, but you just have to be patient and study consistently."
Hwang transferred to Bluffton from Hesston College after receiving her associate's degree. Although, at first she was hesitant about transferring, she saw the need to continue her education.
"I felt confident about this school," Hwang said. "And in the spring semester I decided I would visit, even though I didn't visit any other colleges." She felt encouraged by the engaging community and atmosphere that Bluffton offered.
Before coming to the United States, Hwang graduated from college in China with a degree in Chinese language and literature. "I never thought about going to college again," she said.
However, after returning home, Hwang worked at her uncle's manufacturing company as an accounting department assistant, and she grew discouraged by the limited progress she had made in life. "Every single day you work, you do the same thing and feel like you don't make any improvements," she said. "I didn't feel like I could have a better future."
Hoping to study English to broaden her job opportunities, Hwang left South Korea to expand her worldview and pursue a better future.
With support from her parents, Hwang pursued a degree in the United States. "It's worth it. Everything is worth it," she said, also acknowledging the difficulties involved in studying in a foreign country.
"I couldn't understand things very well when I was at Hesston because my English wasn't that good, so even though I would ask a question and someone would explain it I wouldn't get it," she explained.
Hwang studied diligently, got tutors and met with professors after class, and now can see the rewards of her hard work through her coursework at Bluffton.
As she continues her degree, Hwang hopes to continue to grow academically as well as find more balance. "My dad always says every single generation should have a better life," she said. With her first semester at Bluffton nearing completion, she feels her opportunity to study in the states is allowing her to do just that.
-B-
Cara Echols '19, PR Student News Writer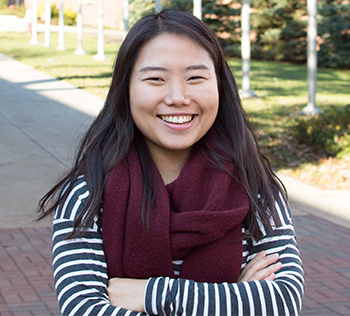 "I realized that if you study hard you'll recognize the rewards, but you just have to be patient and study consistently."