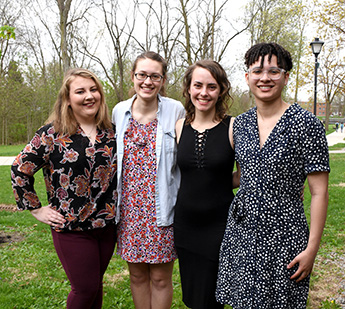 Academic excellence
---
Recipients of departmental honors for independent study projects were Jena O'Brien, public relations; Emily Rush, English; Elizabeth Luersman, art; Cara Echols, art and writing.
Departmental honors
What fascinates you?
A departmental honors project gives you the opportunity to explore your interests. Students have written research papers, developed art shows and created children's books and novels. You will earn between 5-7 semester hours of credit spread over at least two semesters.
To begin, develop a proposal with the help of a sponsoring faculty member. Your proposal will be taken to a faculty committee. When your project is approved, you may begin work and meet periodically with your faculty sponsor.
More about departmental honors...
---

Cara Echols, '19, departmental honors project, "CompSe Art Magazine" an independent study project in art and writing.
---
Over the last several years, students have completed a variety of projects:.
Katelyn Amstutz, "Digitizing and Analyzing a Small Hearbarium"
Elizabeth Luersman, "Creating a Picture Book: Depicting the Effects of Depression and Anxiety on School-aged Children"
Jena O'Brien, "Crisis Communication in Higher Education: A Rhetorical Analysis of Michigan State University and the Larry Nassar Case"
Megan (Moreo '14) Etzkorn, "Zero Dollar Art Department: Creating Something out
of Nothing"
Kenneth Beeker, "'The Jefferson Lies:' Fundamentalizing America"
Laura Galley, "Nutrition Assessment of Kenneth Butler Memorial Soup Kitchen, Hancock County, Ind."
Ruthann Stuckey, "The Scheming of the Shrew"
Dean Walters, "Mycobacterium Tuberculosis"
Brianna Lugibihl, "'Demo': A Theatrical Exploration of Trauma in Adolescence"
Rebecca Lapp, "Children's Literature to Share Culture, Faith, and Language: A Collection of Bilingual Children's Stories"
Amanda Bartel, "Keeping Track of the Past: Cataloging the Bluffton University Historic Clothing Collection"
Sarah Dhondt, "Do Ethics Prevail? The Role of Moral Development in Fraud"
Ryan Johnson-Evers, "Improving the Sustainability of Bluffton University"
Rebecca Juliana, "'The Beaver Monologues:' The Study of Social Work through Theatre"
Carly Schweier, "It's a Healthy Obsession! An Analysis of Personality and Fandoms"