Solar Punk sci-fi
05/08/2023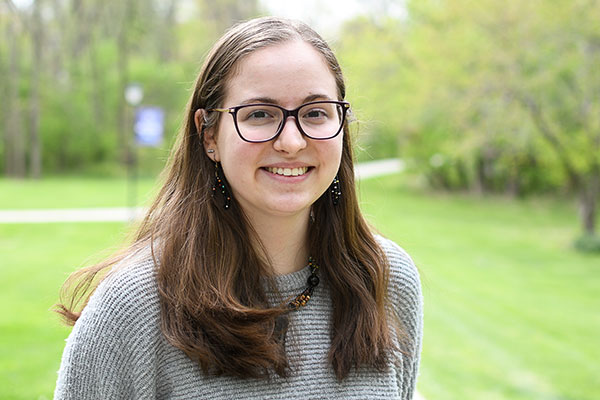 Departmental Honors awarded
In between a full course load of class projects, papers and exams, Deborah Yoder '23, an English major from Listowel, Ontario, earned departmental honors in English by writing a collection of short stories called, "The Water Collectors."
While many popular stories about the future feature dystopian themes, Yoder explained, "The Water Collectors," is better categorized as Solar Punk, a genre of science fiction which addresses issues such as sustainability and climate change through a more optimistic lens.
"It's set in a world where there's either little or tough access to fresh, clean water and it follows a group of people I call water collectors," said Yoder. "They collect rainwater, filter it and distribute it, and they're nomadic because of it."
Yoder took on the extra challenge at the suggestion of Lamar Nisly, vice president and dean of academic affairs, after completing a research paper on Frank Herbert's novel "Dune" for her English seminar class.
"I wanted to do something different than another research paper; something more creative," said Yoder. "I enjoyed reading the book, and it had environmental themes in it which inspired me to do some creative writing of my own using these themes."
Tobias Buckell, Alex Sider and Jeff Gundy served as faculty advisors on the project, but Yoder met with Gundy, emeritus professor of English, the most.
"He asked me questions I hadn't considered and pushed me to develop the story," said Yoder. "I was hesitant to delve into any big action, but he pushed me to amp up the conflict."
In the future, Yoder plans to make some additional edits and then send it to friends and family to read it before deciding where to take it next.
Outside of class, Yoder was president of SERVE, played flute in concert band and was on PEACE Club's planning committee for the Beaver Monologues. She also worked in Musselman Library, served as Spiritual Life Week coordinator her sophomore year, mentored Becoming a Scholar students and was a ministry assistant in Ropp Hall.
Yoder was drawn to visit a Mennonite university because her family is Mennonite, but chose Bluffton because "during the tour, I just felt at home. I just had a feeling."
Initially undecided in her major, Yoder pursued English because reading and writing were her favorite subjects.
"It was something I was good at but also something that I could still learn a lot from," said Yoder. "I definitely think I'm a better writer and researcher now. Being an English major has given me the opportunity to explore different books and methods of interpretation. It's been a good experience."
Yoder's next step is completing a year of Mennonite Voluntary Service in Tucson, Ariz., as the communications coordinator and Indigenous solidarity organizer. After that, she's planning to pursue a master's degree but is currently choosing between furthering her studies in library science or peace and conflict studies.