Brianna Lugibihl '17
03/22/17
Breaking barriers through theatre
Senior Brianna Lugibihl combined her love of theatre, education and social change to create "DEMO," a two-act play which recently debuted at Bluffton University.
The middle-childhood education major from Gomer, Ohio, explored topics of mental health, rape and sexual assault in the production.
"The most important thing to me about this production is that it opens a conversation on a variety of different levels in a variety of different situations," said Lugibihl. "I would hope that no one through this production would feel silenced, but instead feel empowered to share their story or take the next steps they need to take in their story regardless of what that looks like."
The idea for "DEMO" developed during her teaching field placement. Lugibihl had difficulty helping some of her students through more personal issues but began to look to theatre as a way to connect while "addressing trauma without traumatizing the students and setting up a trauma-sensitive environment."
"I remembered in Actors Theater that we talked about how theatre can be a very cohesive way to discuss difficult topics with people," she said. "And I was like, 'why can't I do that in my classroom?'"
Lugibihl's love of theatre began to develop during her senior year of high school, while she took classes at Bluffton. With the help of Dr. Melissa Friesen, professor of theatre and communication, Lugibihl had opportunity to spend time at the Actors Theater of Louisville which cultivated her desire to pursue a theater minor.
She chose the title "DEMO" to highlight something "you initially put out in front of an audience" where "you're not sure how they're going to respond, but it's everything in the raw and original form."
The play also focuses on the idea of demolition. "This production works to break down the stereotypes that are associated with these topics in order to build a conversation from the bottom up," Lugibihl said. "I followed in my story a couple of different creative outlets and also touched on the idea that people who experience trauma are hindered in their ability to be creative."
Lugibihl began working on the script outline in the fall, with the initial performances taking place in February. And while the play was written, produced and directed by Lugibihl, the production turned into a team effort. More than a dozen Bluffton students and alumni served as actors, stage managers and script editors.
Now, Lugibihl is working on expanding her script for middle school students, and she is adapting scenes and topics from the scripts into lesson plans.
The undertaking is part of a departmental honors project in education. Departmental honors projects consist of an independent-study opportunity that focuses on a student's academic interests and can range from an in-depth research paper to an art show.
Scenes from "DEMO" were also performed during a performance workshop on Civic Engagement Day, One scene was also featured during "Encore! A Celebration of Creativity and the Arts."
-B-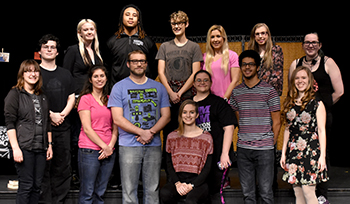 "I would hope that no one through this production would feel silenced, but instead feel empowered to share their story or take the next steps they need to take in their story regardless of what that looks like."