Criminal justice
Do you want to make the world a better place? To repair the harm caused by crime? Consider a major or minor in criminal justice at Bluffton University.
At Bluffton, criminal justice is an academically rigorous program developed to produce leaders in the academic field, corrections, law enforcement, mediation and community organizing who embrace the philosophy of restorative justice.
Restorative justice
Restorative justice emphasizes repairing the harm caused by criminal behavior through cooperative processes including all stakeholders. It is a philosophy that is increasingly accepted by both public and private criminal justice services around the world.
Typically restorative justice comes at the end of the criminal justice process. At Bluffton, every criminal justice class includes a restorative perspective. This means solving problems at the earliest point, using the justice system as a last resort, depending on the situation.
At Bluffton, you will develop an internship around specific career goals and receive active, personal oversight from a faculty member. An opportunity to spend a semester in Washington, D.C., is available if you are interested in pursuing jobs in the federal government or the international arena.
Graduates from Bluffton's criminal justice program have enjoyed high placement rates in local and state law enforcement agencies and have secured highly competitive jobs in corrections institutions and federal agencies including the CIA and United States Secret Service. >>> occupational outlook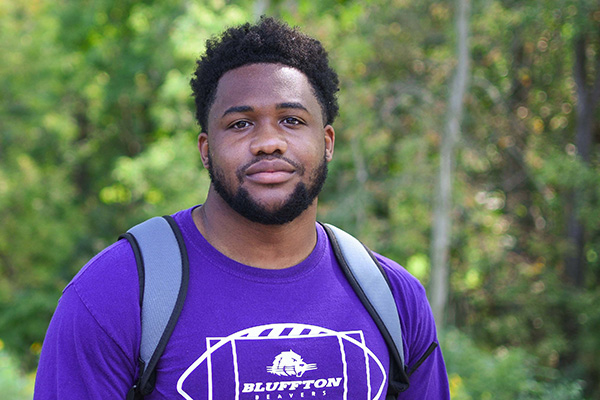 Darian Greeley is gaining practical experience in his field by completing an internship with the Bluffton (Village) Police Department. Over the summer, he also interned with the Belleville (Mich.) Police Department, and he previously volunteered at the Allen County Juvenile Detention Center.
"My favorite experience was working with the kids," said Greeley. "Working with juveniles, I felt like I could understand some of the struggles they're going through." Darian's story >

REQUIRED COURSES:
There are 48 semester hours of required courses for the criminal justice major, plus 9 hours of electives from the social sciences department and 3 hours (one class) of a restorative justice elective.
A minor in criminal justice is 21 hours.