Current students
What's happening on campus?
The Commons — HOURS
Aug. 10-17 (billed to each department or paid for at door)
Breakfast: 7 a.m. - 8 a.m.
Lunch: 12 p.m. - 1 p.m.
Dinner: 5 p.m. - 6 p.m.
Starting Aug. 17 (all meal plans activated/meal swipes accepted)
Monday-Thursday:
7 a.m - 7 p.m.
Friday:
7 a.m. - 6 p.m.
Saturday
Continental breakfast: 8 a.m. - 9 a.m.
Lunch: 11:30 a.m. - 1 p.m.
Dinner: 5 p.m. - 6 p.m.
Sunday:
Lunch: 11:45 a.m. - 1 p.m.
Dinner: 5 p.m. - 6 p.m.
Bob's remodel
If the new Freshens is not complete by Aug. 27, the Commons will remain
open for dinner until 8 p.m. Monday - Thursday and until 7 p.m. Friday.
It's Almost time to come back to campus!
New students may check into their rooms FRIDAY, AUG. 24: 9 a.m.-1 p.m.
Returning students may check into their rooms SATURDAY, AUG. 25: 9 a.m. - 5 p.m. or SUNDAY, AUG. 26: 9 a.m. - 7 p.m.
Do you have everything you need? >>>
60 in 6 Weeks!
The 60 in 6 seeks to guarantee at least 60 campus events in the first six weeks of the academic year. The six weeks begins with first-year move-in day and concludes on Saturday, Oct. 13. Check out the events >>>

Get involved
Did you know there are over 60 different student activities and organizations you can join on campus?
Your wellness
There are many resources available to you during the academic year. Counseling services are free to students, and appointments may be scheduled from 8 a.m. to 5 p.m. >>> details
We are Beavers All!

From the moment she stepped on campus Scarlett Purtee '21 knew she would attend Bluffton University. The only problem was she had to wait a few years. Purtee, who was in seventh grade at the time, came to the newly built Sommer Center to watch her sister play in a volleyball tournament.
"We were just sitting there watching the volleyball game and I said 'this is where I'm going to school,'"
>>> Scarlett's story
>>> Bluffton Volleyball
student Billing policies
Choose your payment plan for 2018-19 and learn more about Bluffton's billing and refund policies.
>>> Student billing
Life after Bluffton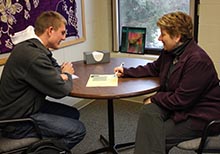 New student forms
In an attempt to make the paperwork a bit easier, all the forms you'll need are compiled on one webpage.