Current students
What's happening on campus?
Did you miss graduation?
The 2018 Commencement video is still available for you to watch!
Student health
There are many resources available to you during the academic year. Counseling services are free to students, and appointments may be scheduled from 8 a.m. to 5 p.m. >>> details
Enjoy your summer!
We are Beavers All!

With more than 230 posts, Bluffton's student news organization "The Witmarsum" has surpassed its content goal by 50 stories this year and has certainly undergone a transformation in the past two years. The turnaround was led by Marathana Prothro, assistant professor of communication.
>>> The Wit's story
>>> The Witmarsum
student Billing policies
Choose your payment plan for 2017-18 and learn more about Bluffton's billing and refund policies.
>>> Student billing
Life after Bluffton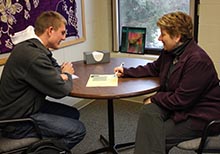 New student forms
In an attempt to make the paperwork a bit easier, all the forms you'll need are compiled on one webpage.