Current students
Whats happening on campus


Watch J Denny and Jenny spread holiday cheer in a special Christmas video!

Finals Breakfast
Tuesday, Dec. 12 at 10 p.m.
Dining service Hours
The Commons will be closing for the Holidays Dec. 14 at 7 p.m. It will reopen Jan. 10 at 7 a.m.
Bob's Place will close Dec. 12 at 10 p.m. and reopen Jan. 9 at 7 p.m.
Women's and Men's Basketball Tournament
McDonald's Holiday Tournament, Dec. 29-30, Copeland Court, Sommer Center
student Billing policies
Choose your payment plan for 2017-18 and learn more about Bluffton's billing and refund policies.
>>> Student billing
Life after Bluffton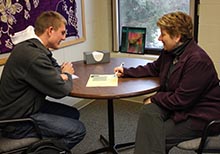 New student forms
In an attempt to make the paperwork a bit easier, all the forms you'll need are compiled on one webpage.