Current students
Whats happening on campus
Mirror of the Martyrs Exhibit oct.18 - Nov.5
"The Ephrata Martyrs Mirror: A History Dramatic and Useful" will be open from 3-6 p.m. on Sundays and 2-5 p.m. on Mondays, Wednesdays and Fridays through Nov. 5 in Musselman Library. This special collections exhibit explores the craft of early colonial printing as displayed in the Ephrata Cloister's publication of the Martyrs Mirror and other German devotional materials.
Colloquium
Dr. Darryl Nester, professor of mathematics, will present the Colloquium, "Exploring Creativity Through Equations, Words and Sawdust," on Friday, Oct. 27 at 4 p.m.
Cross-cultural enrollment
Beginning Oct. 11, students can apply for participation in a May 2018 cross-cultural experience. This year options include: Arizona, Bangladesh, Chicago, Colombia, Haiti, Iceland and Kentucky. More info...
student Billing policies
Choose your payment plan for 2017-18 and learn more about Bluffton's billing and refund policies.
>>> Student billing
Life after Bluffton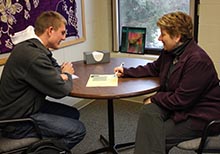 New student forms
In an attempt to make the paperwork a bit easier, all the forms you'll need are compiled on one webpage.