Current students
What's happening on campus?
HOME ATHLETIC EVENTS
Feb. 17, 2 p.m., Women vs. Franklin
Feb. 17, 4 p.m., Men vs. Franklin
Winter Instrumental Concert
Bluffton University will host an instrumental concert featuring its Concert Band at 2:30 p.m. Sunday, Feb. 18, in Yoder Recital Hall.

Colloquium, Feb. 23
"'Much Ado About Nothing': Empty Space and Its Glorious Imperfections" presented by Dr. Stephen Harnish, professor of mathematics.
4 p.m., Stutzman Lecture Hall
SPIKEBALL CHALLENGE
Bring a partner and compete Tuesdays and Thursdays 9:30-11:00 p.m. each week until spring break for a chance to win championship t-shirts! No preregistration is necessary. Learn how to play!
ART EXHIBIT
An exhibit featuring the work of art professors from Goshen College is featured in Bluffton University's Grace Albrecht Gallery, located in the Sauder Visual Arts Center. The exhibit is free and open to the public through Feb. 23.
A reception for the artists will be held from 1-3 p.m. Sunday, Feb. 18 (A&L credit, coffee and "finger food!")
We are Beavers All!


"Just because it hasn't been done before doesn't mean it's not possible."
Lydia Sorensen, a music and mathematics double major, will use her bachelor's degree to focus on an entirely new subject...
>>> Lydia's story
>>> Explore opportunity
student Billing policies
Choose your payment plan for 2017-18 and learn more about Bluffton's billing and refund policies.
>>> Student billing
Life after Bluffton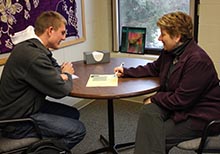 New student forms
In an attempt to make the paperwork a bit easier, all the forms you'll need are compiled on one webpage.