Current students
What's happening on campus?
Fall Instrumental Concert, Oct. 14
Concert Band
2:30 p.m., Yoder Recital Hall
"Beyond the Riley: Why Faith, Travel and Stories Matter"
Joel Wildermuth '11, community and family outreach services associate at the Delaware County Library


11 a.m., Yoder Recital Hall
Chapel, Oct. 18
"Learning to Trust Jesus" 1 Kings 18:1-15
Dan Metzger '05, pastor, St. Mark's United Methodist Church, Findlay
11 a.m., Yoder Recital Hall
Author Program, Oct. 18
Dr. Hamid Rafizadeh, professor of business
4 p.m., Reading Room, Musselman Library
Colloquium, Oct. 19
"Trigger Warnings in the Classroom: Seeking a Balance Between 'Coddling' and 'Caring'"
Dr. Deanna Barthlow-Potkanowicz
4 p.m., Stutzman Lecture Hall
Fall Choral Concert, Oct. 21
University Chorale and Camerata Singers
2:30 p.m., Yoder Recital Hall
60 in 6 Weeks!
The 60 in 6 seeks to guarantee at least 60 campus events in the first six weeks of the academic year. The six weeks begins with first-year move-in day and concludes on Saturday, Oct. 13. Check out the events >>>

Get involved
Did you know there are over 60 different student activities and organizations you can join on campus?
Your wellness
There are many resources available to you during the academic year. Counseling services are free to students, and appointments may be scheduled from 8 a.m. to 5 p.m. >>> details
We are Beavers All!

"More and more each day, I see registered dietitian nutritionists from all over the world on social media choosing to incorporate blogging into their professional skillset, which inspired me to dive into this course of study."
student Billing policies
Choose your payment plan for 2018-19 and learn more about Bluffton's billing and refund policies.
>>> Student billing
Life after Bluffton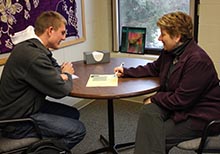 New student forms
In an attempt to make the paperwork a bit easier, all the forms you'll need are compiled on one webpage.