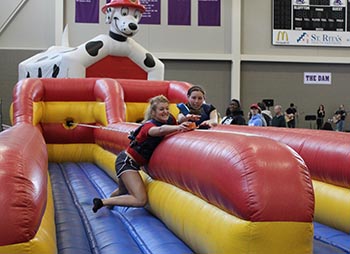 Riley Creek Festival 2023
Sunday, April 30
Sommer Center
Featuring:
Games hosted by student organizations

Rubber Duck Race on Riley Creek

FREE fun for all ages!
Giant slide
Inflatable Obstacle Course
Kona Ice Truck!
Face painting

Bounce house
Velcro Wall
Fishbowl toss
Frisbee
Quack Attack Game
Cornhole
Zap a Mole
2023 FESTIVAL SCHEDULE - tbd:
This is the Riley Creek Festival schedule from 2019. Check back for this year's events.
11 a.m.: Riley Creek Festival begins, Sommer Center (Entry is free)


11:30 a.m.-1 p.m.: Lunch ($8.50 for community members, or a meal swipe)



4 p.m.: Rubber duck race in the Riley Creek! Ducks cost $1. Top winning ducks will receive space-themed gift baskets. Proceeds benefit the Bluffton Public Library.



Purchase a Duck

4:30 p.m.: Events close


Lunch is one meal swipe for Bluffton University students. community members may pay cash for lunch ($8.50).

Remember-
Students, staff, faculty, community members, and families are welcome to this FREE event (lunch costs cash or a meal swipe - but entrance and participation in all events are free!).
*Special thanks to our campus supporters: Student Senate, Marbeck Center Board, the Office of Student Involvement, Ramseyer Hall Association, Art Club, PEACE Club, Bluffton University Nutrition Association (BUNA) and the Music Department*