Honors program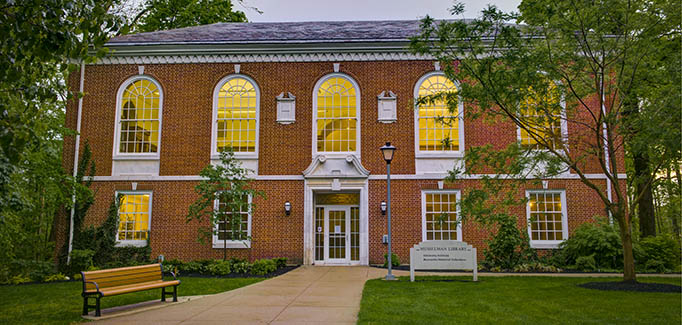 The honors program at Bluffton is a four-year program designed to challenge intellectually ambitious, highly motivated students in all disciplines. In keeping with the mission of Bluffton University, the honors program has a special emphasis on integrating academics, spiritual growth, individual growth and service. Finally, in addition to coursework, the program sponsors special cultural events and social events for honors students and individualized help with advising and applications to graduate and professional schools.
Honors program students receive an education full of challenge, opportunity, service-learning, relationships with faculty and peers and serious consideration of cross-boundary living in a complex world. In turn they render important service, leadership and academic standards that are consonant with Bluffton University's mission.
Students who enrolled at Bluffton fall 2018 and forward will select 18-19 semester hours from the following list of courses for the Honors Studies in the Liberal Arts minor.
BENV 100: Becoming a Scholar - Honors section (3) (required)
HON 120: Honors Seminar in Biblical Worldview and Hermeneutics (3)
HON 130: Art as Transformation (3)
HON 200: Honors Seminar in Rhetoric and Argumentation (3)
HON 210: Honors Seminar in the Humanities (3)
HON 220: Great Writing: the Dream of a Common Language (3)
HON 230: The History of Climate Change Science (3)
HON 240: Searching for Aliens (4)
HON 250: From Apocalypse to Zombie (3)
HON 310: Junior Honors: In Search of Purpose (3)
HON 313: Whither the Sacred? Change and Continuity in the Sociology of Religion (3)
HON 320: Nazi Germany & the Holocaust (3)
The honors program core theme is Local Table, Global Community. The theme challenges students to explore what it means to live a meaningful life of integrity, faith, sustainability, and peace. In innovative and rigorous courses, the honors program challenges students to reach their full academic potential as they explore the local and global intersection of some of the most pressing contemporary issues humanity faces today and consider how to become creative advocates for just and peaceful social transformation.
Qualified high school seniors will be invited to enter the Honors Program. Qualifications include: 1) acceptance into Bluffton University, 2) a minimum 3.5 GPA and minimum 24 ACT or 1160 SAT or 3.75 GPA on a 4.0 scale with no test score required.
Continuation in the program requires a 3.3 GPA.
More on academic honors.
November 2023