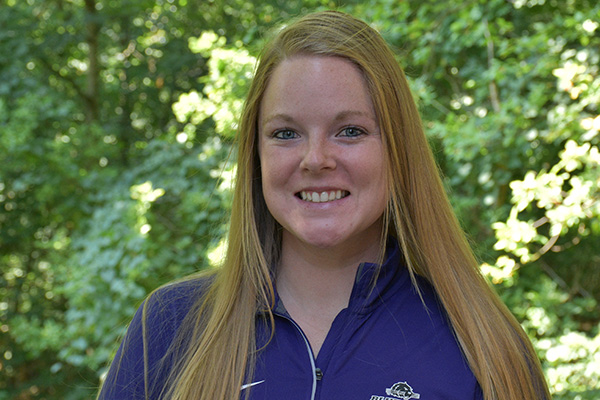 ---
Abbie's internships were each in a different type of accounting. "I got a feel for which type of accounting I like best and which path I would like to take for my future."
Internships and activities
Students in the business studies department have many opportunities for hands-on experience. Through Bluffton's marketing classes, students research actual companies, develop and present marketing plans to business owners. Students also have the opportunity to get involved on campus with student organizations that offer experiential learning.
Internships
Roughly half of business students complete an internship by the time they graduate. Bluffton has partnered with the Bluffton Center for Entrepreneurs (BCE) to support local businesses and provide opportunities for Bluffton students. In the past two years, students have completed internships with a variety of organizations - large, small, nonprofit, for-profit, governmental or civic, - including:
ADP
American Red Cross
Auto-Owners Insurance
Beyond Budgeting
Brown, Crane and Assoc.
Cincinnati Financial Companies
Cleveland Pops Orchestra Business Office
Coldren-Crates Funeral Home
Cooper Tire
Davey Tree
Excel Industries
Four Pillars Executives
ADS
Hellman CPA
Jason Weigandt Landscape
Lima City Schools
Lima MakerFest Marketing Committee
Marathon

Mary Rutan Hospital
Menard's
MINDful Women's Group
Nationwide Insurance
NOW Marketing Group
Ohio State Auditor
Owens-Illinois
Patriot Concrete
Progressive Insurance
Quicken Loans
Rea & Associates
Speedway
STP Appraisal Services
Wannemacher Total Logistics
Washington Area Community Investment Fund
Wauseon Machine & Manufacturing
Wright Patterson AF Base
YMCA

Students interested in an internship should contact Jason Swartzlander, director of internships, during their junior or senior year at Bluffton for more information.
Student activities
Many opportunities exist to get to know your classmates and professors outside of the classroom, to network and put your book-learning to work.
STUDENT INVESTMENT CLUB
Students get hands on experience in learning about investments through the management of one of the university's endowment funds. >>>more
BLUFFTON UNIVERSITY BUSINESS LEADERS (BUBL)
BUBL's mission is to provide participants the opportunity to gain broader perspectives and insights into the business field through meetings, activities, speakers, and field trips. >>>more
MENNONITE ECONOMIC DEVELOPMENT ASSOCIATES (MEDA) CONFERENCE
Bluffton business students regularly attend the annual Mennonite Economic Development Associates conference. Last year, lessons on community, business and leadership merged to demonstrate how business can improve society. The students were also able to network with business professionals and community leaders in attendance. >>> Fall 2017 conference