Impressive internship
02/24/2021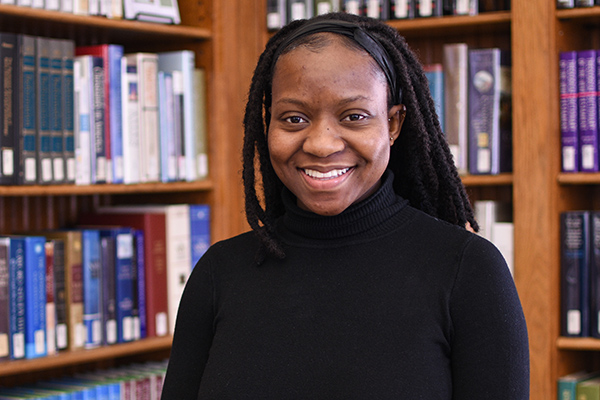 Stacey Chirewa to intern at accounting giant
When Stacey Chirewa '23, went to her first career fair last year and only had a few classes and her GPA to highlight, she realized her resume needed a boost. So the accounting and business administration double major from Harare, Zimbabwe, got to work. Chirewa completed online professional development programs over the summer of 2020 offered by AT&T and Deloitte.
Now she's ready to take on a paid internship with big-four accounting firm Ernst & Young. After an extensive application and interview process, Chirewa was selected to complete the internship program this summer.
"It's a big internship and I'm hoping that I'll be able to be in-person in New York for it," said Chirewa. "It's for 10 weeks and after every two weeks you rotate to a new area. So one week you'll learn about taxes and the next you'll be in consulting. It helps you get a feel for all of the different areas of accounting and what you're passionate about."
At Bluffton, she's enjoyed taking micro and macroeconomics classes with Gary Schiefer and accounting classes with her advisor, John Burkhart.
"They break things down and use real-life examples. The professors here push you to get out there and chase your dreams." said Chirewa. "I really think I can accomplish my goals if I work hard and stayed focused."
As a prospective student, Chirewa chose Bluffton for its Christian campus and core values of community, discovery, respect and service. Now that she's at Bluffton, Chirewa's living out the same values.
"Back home we believe you need to serve and contribute to the community," said Chirewa. "I'm giving back to my community by being an RA so I can pour out what I know, then my residents can teach me what they know. It's all about blending cultures, as well as getting to know people."
Chirewa originally chose to pursue accounting so she could return home and eventually take over her mother's accounting business. However, after learning more about the use of I.T. in the profession, she's exploring different options.
"I definitely want to go into accounting," said Chirewa. "But, I think I might just have to create my own profession because what I really want to do, I don't think exists yet!"