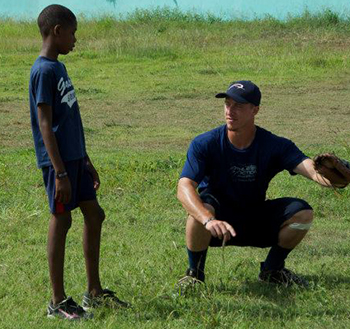 Tim Webb
June 3, 2013, marked the beginning of a 27-day journey for Bluffton baseball player Tim Webb.
The senior from Delaware, Ohio, traveled to the Dominican Republic as part of an Athletes in Action baseball team that blended spirituality with sport.
Athletes in Action is a Christian-affiliated organization that uses sports as a platform to help people answer questions of faith and to point them to Jesus. Prospective players must be college athletes who demonstrate a dedication to their faith as well as possess exemplary skill in their sport.

Webb, a graduate of Worthington Christian High School, got involved with Athletes in Action through a high school friend who had previously played with the organization. Following his friend's advice, he applied—and was then accepted and placed on the team bound for the Dominican Republic.
As part of the team's daily activities, faith played a major role. Team members held a Bible study every morning and prayed before and after every game. They also had the opportunity to conduct several children's baseball camps where faith was incorporated. "It was very refreshing to play with a team and coach who shared spirituality; it was very powerful," Webb says. "I learned how I can use baseball to impact others' lives through Christ."
Webb also learned more about the game in the Dominican Republic, where his team won 14 of its 20 contests against Dominican opponents. "The way they play there is so much different," he says. "They don't pace themselves. They go hard the entire time, and that is something we don't do here."
Webb also had the opportunity to play in front of, and talk with, professional baseball scouts. A local scout from Santo Domingo kept in contact with Webb and helped him on his game throughout the trip. "The scouts were very helpful and willing to give any advice," he adds.
The Bluffton catcher considered the trip a valuable learning experience that most NCAA Division III athletes don't get.
It definitely changed his mindset in the batter's box, where, he says, Dominicans "don't waste swings. When they swing, they swing all out every time."
He plans on taking the same approach at the plate this season in an effort to improve upon his .289 batting average in 2013. His 39 runs scored in 2013 tied him for fourth best on the team, trailing only three seniors. He returns this season as one of the Beavers' top offensive players.
Because he is now a senior, Webb will not get the opportunity to play for another Athletes in Action team. He says, however, that he wouldn't mind being part of the organization as a coach.
A physical education and health major, with a coaching minor, he hopes to find a teaching and coaching job in the Columbus, Ohio, area after graduating this May. His post-graduation plans also include a summer wedding to his high school sweetheart, Casey Evans.
Included Content