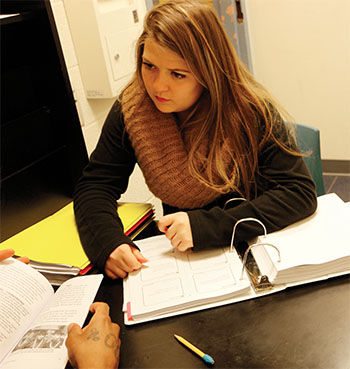 Breaking barriers
As a student in the Lima Arts Magnet program, Claire DeOrio '17 visited The Lion and Lamb Peace Arts Center, a place of peace and serenity for children on Bluffton's campus. As a student at Bluffton, DeOrio regularly visits the Allen County Juvenile Detention Center (JDC) in Lima, a place where children are jailed for committing violent crimes. The two locations may seem like a world apart but not to DeOrio.
"For some people, the JDC could be a very frightening place to go, but I feel like the true message of peace is to live in a world where we reach out to those we could consider enemies," said the intervention specialist major from Lima, Ohio.
DeOrio is one of more than a dozen Bluffton students who have volunteered at the detention center over the last three semesters. Most of the students volunteer through a program called Mentoring 4 Reading Achievement. The structured literacy program, through the Ohio Coalition for the Education of Children with Disabilities, has had a partnership with Bluffton University for 17 years. In the past, students were placed in area elementary schools to do the one-on-one mentorship program. Now, education majors taking Phonics at Bluffton can choose the JDC for their site selection, and students in Issues in Modern America, a required general education class, can volunteer at the JDC in place of writing a group research paper. Other Bluffton students have provided art therapy, math instruction and recreational opportunities.
"The Bluffton students are learning a lot about themselves, they're learning about incarcerated youth, they're learning about the reading process and they're learning about the importance of relationships," said Diane Neal, assistant professor of education and coordinator of field experiences at Bluffton.
Berlin Carroll, juvenile court administrator, explained that the partnership developed in part because the State of Ohio provides grants for juvenile detention centers, but they often require a university partner.
"Typically in Ohio, the University of Cincinnati has a stranglehold on that, but a few years ago it occurred to us that we have a university right here in Allen County that we would like to develop a relationship with rather than be dependent on Cincinnati, which is two and a half hours away," explained Carroll. "This relationship is a give and take opportunity—it allows us to tap into Bluffton's resources, Bluffton's programming, Bluffton's students, and Bluffton's guidance and advice, and it offers Bluffton students a real-world learning experience and on-the-job training through internships."
Volunteering at the JDC has opened many students' eyes to a reality in complete contrast to their own. Including DeOrio, three of the volunteers grew up in Lima, probably not far from the incarcerated youth.
"Honestly, I like that they gave us this opportunity. I would have never thought of just going to the JDC and saying I'll volunteer," said Lace' Williams '18, a food and nutrition major from Lima. "I'm learning about myself, and I'm learning about other people. I know everyone has been raised differently. My mom always told me if I wanted to do something, I could do it. If I want to work for NASA, she will encourage me. It surprises me that there are parents who limit their own children."
DeOrio echoed this sentiment. "I've had kids look at me and cry because I taught them how to sound out a word.
It's almost like someone told them 'you can't do this' or someone told them 'you got the short end of the stick and this is how your life is going to be so deal with it,' and these kids just believe it.''
Bluffton students are screened and trained before they are able to volunteer. They are warned about the conditions inside the facility and of possible behavior problems. Still, the initial experience is eye opening.
"The facility itself was shocking, just how much of a prison it really is. I was expecting it to be more relaxed, but it's strict. There are prison cells," said Joe Extine '19, a history major from Lima.
Because of the initial success and the shared vision of Judge Glenn Derryberry, Allen County Juvenile Court, and President James Harder, plans are in place for the partnership to grow and expand. That's something Carroll is excited about because he's already noticing behavior changes and increased engagement in learning at the JDC.
For Taylor Lewis '18, a public health major from Defiance, Ohio, the opportunity has encompassed all four of Bluffton's enduring values of discovery, community, respect and service.
"I've learned to communicate and interact with people I wouldn't have otherwise interacted with. I think I've learned to ignore preformed ideas about what people are going to be like," said Lewis.
"We go in there to mentor these kids, but I've learned it doesn't matter why they are there. We're just trying to teach them, and they're just trying to learn, and that's all that's really important."
Included Content