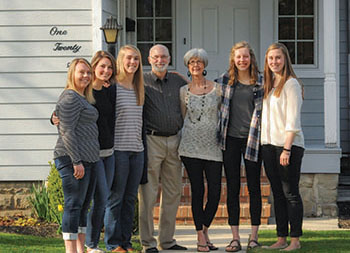 Community and Conversations
For the first two years Wendell Badertscher '71 attended Bluffton, meals were served family style in the basement of Ropp Hall. Students waited until about 10 people gathered, and after they were seated together, big plates and bowls of food were passed around the table. Years later, Wendell and his wife, Esther Nafziger, have brought family-style dining back to Bluffton as the couple hosts undergraduates for formal meals at their Bluffton home.
"We know the kids are really busy, but it's a night away from Marbeck for them," said Wendell.
"It gives us joy that they want to come," said Esther. "In my kitchen, I have this quote, 'Food is love made edible.'"
The meals began when Wendell and Esther moved to Bluffton in 1988 after Wendell took a part-time job working with Mennonite youth groups through Central District Conference. About a year into the job, the couple realized some of the high school students Wendell had met were now attending Bluffton.
"We thought it would be fun to have them over for dinner," explained Wendell.
"We've hosted dinner guests all of our married life, and we have no children," said Esther. "So, I thought this would enlarge our world. We started small and invited the students we knew from Central District."
In the beginning, Esther invited students by calling the common phone on the residence hall floor of the student she planned to invite. The invites evolved into emails and now the dinners are planned through social media. The list of students has evolved and grown as well. Along with CDC students, the couple began inviting students from their hometowns—Kidron, Ohio, for Wendell and Archbold, Ohio, for Esther. Then students started bringing their friends, widening the circle even more. Now, students sign a guest book every time they come to a meal. Esther keeps track of these students and invites them back the next year with the request that they bring a friend who then also gets on the registry.
"It's several thousand we've had over the years," said Esther. "We've kept in contact with some of them. We go to some of the weddings. We were in one wedding in Pennsylvania, and we have three weddings this summer."
On the last meal of the spring 2017 semester, Esther and Wendell hosted five senior women.
In between courses, the conversation flowed from plans after graduation (which ranged from optometry school to dietetic internships to uncertainty) to favorite movies and pranks Wendell played on faculty, staff and friends as a Bluffton student.
"It gets me off campus, and I enjoy the community," said Abby Smarkel, a senior social work major from Findlay, Ohio. "They are genuinely interested in our lives and what we are doing. We always have a good time when we come."
"We see Wendell on campus. He does maintenance and it's great to have him say 'hi,'" said MacKenzie McFarlin, a senior food and nutrition major from Ashland, Ohio.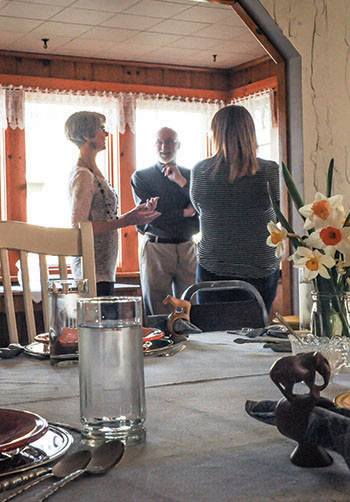 "We see both of them at the volleyball games and basketball games cheering us on. They are so involved and care about everyone who comes through here."
"And the food is really good," laughed Lauren Weisgarber, a senior biology/pre-med double major from Bolivar, Ohio. "I'm not just saying that. It's really good."
Dinner is made from scratch and always begins with a bowl of soup. Many of the vegetables (zucchini, broccoli, cabbage, carrots and more) come straight from the couple's backyard garden.
While school is in session, Esther and Wendell have student groups up to four nights in a given week.
"They've sort of gotten out of hand," joked Esther. But early on Wendell and Esther realized a sit-down meal was something many of the students craved.
"I was disappointed to learn as a youth minister, how few families had meals together," said Wendell. "We've noticed for some of them, they're not used to having face-to-face encounters over meals."
"It can be uncomfortable for some of them," added Esther.
But the couple draws the students' personalities out by asking questions. They've noticed students particularly shine when detailing their cross-cultural experiences.
"I was a little apprehensive to go at first. I was nervous to be in someone else's house, but I've loved it every time I've come," Smarkel explained. She's been to six meals at Wendell and Esther's. "My first time coming as a sophomore, I didn't know as many people at Bluffton. At the meal, I got to meet older students, people outside of my major and people outside of the different groups I'm usually in."
Each meal is a new experience. They never know what is going to happen.
"When I was working, I would worry. Will I be home in time to get the lasagna in the oven?" said Esther.
"But Esther has a gift of hospitality," explained Wendell.
They've never burned a meal and had to order pizza instead. About the biggest mishap that has ever happened was the time when they hosted a group of dietetics students and needed to make a dairy-free, gluten-free desert. "I made a strawberry cheesecake using cashews. The recipe looked beautiful online," Esther laughed. "But when I took it out of the cheesecake pan it just went phewww all over. I spooned it onto plates. The taste was fine, but the presentation was an F."
"One time, we ended up having four extra people because they got their days confused," said Wendell.
"They just kept coming and coming," said Esther.
"It was funny. We just set up another table," said Wendell.
In the end Esther explained they host the meals because they "simply give us joy."
Wendell probably agrees but joked "It keeps me young, and I get good meals every night!"
Included Content