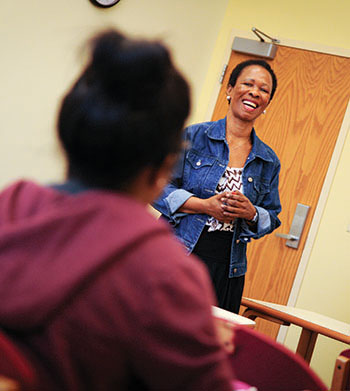 Botswana to Bluffton
Nthati Phetlhu came to Bluffton University and to America seeking a change. A few years ago, her husband passed away. The resulting devastation completely changed her outlook on life.
"I was like, 'what am I doing?' I had lost both of my parents, I had lost my husband and I had lost my only brother. People who were very close to my heart were no longer there in Botswana," said Phetlhu. "I decided to take my daughter and go start life elsewhere."
Phetlhu moved more than 8,000 miles away and across an ocean because of the relationships she had developed with faculty and staff at Bluffton through the university's cross-cultural program. For the last decade, Phetlhu has been Bluffton's contact and translator in Botswana for the cross-cultural experience to the village of Pitseng.
"Grief is something. It's a process. I am learning to trust more in God, and now I'm like, 'God here I am; use me anyhow you need to use me,' and I've come to start life over, and I'm open to anything."
After teaching Setswana to dozens of Bluffton students in Pitseng over the years, Phetlhu, who has two adult sons and a 17-year-old daughter (who is studying at Bluffton High School), is now a Bluffton undergraduate herself. Her major is TESOL (Teaching English to Speakers of Other Languages).
The students she met during the cross-cultural experience were often going through culture shock. "They sometimes get overwhelmed," said Phetlhu of the Bluffton cross-cultural groups. "There's a lot of poverty especially in the village of Pitseng that we go to. It is so different."
Phetlhu can relate to these feelings, but in reverse. "Everything here is different. I thought I could do well because I had worked with Americans, but now I am in America. I don't know a lot of things. I'm experiencing snow and the weather. The food is different.
Academically I'm challenged because English is not my first language. This is exactly what one goes through in a different culture."
Phetlhu says she now feels at home in Bluffton. "It's been a very good experience."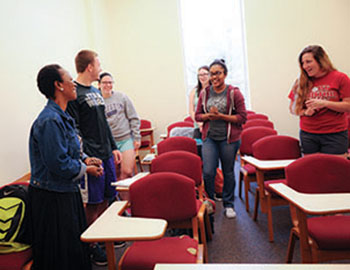 However, her path to Bluffton was winding. After high school and without a job, she responded to an advertisement in the newspaper from the Peace Corps to train language instructors. She moved up in the organization and eventually trained the trainees. When the Peace Corps office closed, she began teaching Setswana to Americans on her own and eventually met a group of Mennonites who got her in contact with Bluffton.
Phetlhu is from the capital city of Gabarone, but because of her connections, she began helping with the Pitseng experience. She quickly made an impression on the Bluffton group, but she's also made an impression on the residents of the village. They have provided her a plot of land to build a house on.
Because Phetlhu was in America this time around, she taught Setswana classes to the Botswana cross-cultural students in advance of the trip. In previous years, Kate Spike, assistant professor of English, had taught the Botswana cross-cultural students basic Setswana.
"They can introduce themselves, ask for things, say thank you and they know useful phrases. They know some nouns and can construct sentences," said Phetlhu. "I think this group will have a lot of fun because we won't be spending as much time learning the language because they have already learned a bit more."
While Phetlhu isn't sure where life is leading her, she is sure of one thing as a language instructor. "Laleme le le lengwe ga le a lekanela." One language is never enough.
Included Content