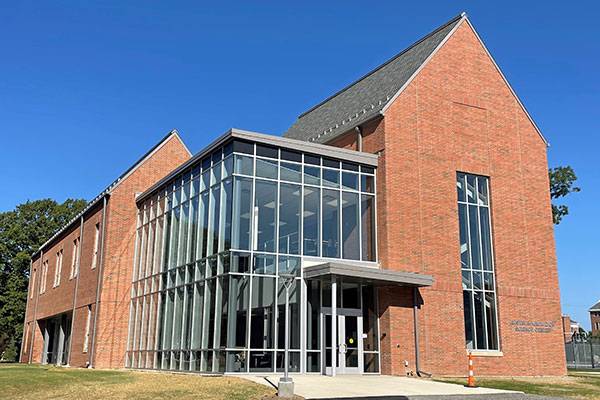 Open fall 2023
---
The Austin E. Knowlton Science Center features six teaching labs for nutrition and dietetics, chemistry and biology classes. While classes are now being held in the center, an official dedication will be held during Homecoming on Saturday, Oct. 21.
Science Center Groundbreaking

After an Oct. 1, 2021, groundbreaking, construction is now underway on the Austin E. Knowlton Science Center at Bluffton University. The two-story, nearly 20,000 square foot building will feature six labs, faculty offices and interactive collaborative spaces for students.
The event kicked off Homecoming and Alumni Weekend 2021 at Bluffton with more than 100 people gathered for the ceremony.
"As most building projects go, there were years of visioning, planning and many conversations with students, donors, faculty and staff on what Bluffton needed to drive science teaching and learning into future generations," said Dr. Jane M. Wood, president of Bluffton University. "This facility will help ensure science education here lives out Bluffton's mission to 'prepare all students for life as well as vocation.'"
Named after Austin E. Knowlton, the $10 million building will feature teaching labs for nutrition and dietetics, chemistry and biology and is expected to be open in 2023.
Former chair of Bluffton's Board of Trustees and current Knowlton Foundation Trustee, Ed Diller '69, spoke on behalf of the Knowlton Foundation, which provided the $4 million naming gift for the science center.
"Bluffton is known for its quality education and, of course, for the quality of its graduates. Consequently, the Knowlton Foundation is very pleased to partner with Bluffton for the Knowlton Science Center," said Diller. "This facility will enhance the great education that Bluffton already provides."
Austin E. Knowlton was the owner and chairman of the Knowlton Construction Company in Bellefontaine, Ohio. The Knowlton Foundation's goal is to improve and support STEM education, particularly on college campuses. The foundation also awards scholarships to Bluffton mathematics and science students each year.
Zachary Nobis '22, a biology and chemistry double major from Bryan, Ohio, also spoke at the groundbreaking. One of Bluffton's Knowlton Scholars, Nobis is currently applying to medical schools.
"The science faculty have prepared me well, and I'm excited for the faculty and the next generation of Bluffton science students to learn in the new building," said Nobis. "Please share our appreciation with the Knowlton Foundation for their investment in us and future generations of Bluffton alumni."
Exercise science major Haley Byrnes '23 shared a few thoughts on the impact of Bluffton's last building project on her education.
"I often think about what my Bluffton story would be like in sports medicine if it wasn't for the Sommer Center," said Byrnes, of Worthington, Ohio. "It has made a real difference in my educational experience, and I know the Knowlton Science Center will do the same."
Funding for the Knowlton Science Center was part of the 5-year, $26 million dollar Simply Innovate Campaign, which successfully concluded in June with additional funds providing annual support, endowment growth and academic program development.
Greg '77 and Donna (Thompson '78) Wannemacher, Lima, Ohio, and Dave '82 and Tanya (Lehman '83) Baumgartner, Berne, Ind., served as campaign chairs. Greg Wannemacher provided remarks during the ceremony.
"Bluffton alumni and donors carry a strong passion for leading lives of purpose. I want to share appreciation to the Simply Innovate donors: alumni, friends and of course the many faculty and staff for their commitments and gifts to the campaign," said Wannemacher. "During the last few years of uncertainty with the pandemic, it is encouraging to be here today to break ground on the Knowlton Science Center."
Construction is now underway at the Knowlton site, starting with the removal of a portion of Rosenberger Drive. The facility is expected to take 18-24 months to construct. Live views of the progress are available at www.bluffton.edu/webcam