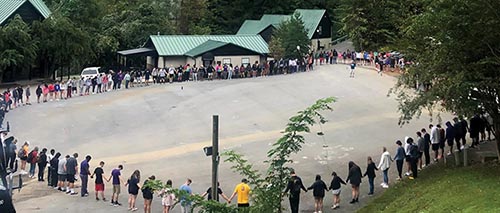 The Great Adventure
---
The Great Adventure is a retreat for first-year Bluffton University students to dig deeper into the ultimate goals of the Becoming a Scholar course. By taking students to a location with inspirational beauty and removed from their normal environment, they will be asked to ponder, process, and seek answers to questions concerning their own purpose and how it relates to their personal and vocational direction. They will participate in activities that help to solidify their place within the university community and reflect on their calling in contributing to the care of God's creation.
The Great Adventure
For Ayanna Mackey, sitting at the edge of Clingmans Dome, the highest point in Tennessee, was "like I was in the clouds."
For Cheyanne Bolden, stepping off a platform and ziplining 300 feet across the sky "challenged me to get outside of my comfort zone and try something new."
And for Colby Schlabach, nestling into the side of a cliff while pondering Psalm 139 "helped me figure out where I am going."
These are just a few examples of the extraordinary experiences Bluffton University students took part in during The Great Adventure, Bluffton University's fall break retreat for first-year students. Embedded into the curriculum of Becoming a Scholar, the entire first-year class traveled to the Great Smoky Mountains of Tennessee Saturday, Oct. 9, through Tuesday, Oct. 12.
During the retreat, students took part in three major experiences: hiking in the national park, ziplining in Gatlinburg and completing a solitude experience at the retreat center. They also bonded with classmates in their Becoming a Scholar sections and formed deeper connections with peers during free time and evening recreation activities.
"Experiences like this can be exciting or scary, depending on the student, or both at the same time. However, it all connects to the piece of our mission that says we are preparing students for 'life as well as vocation,'" explained President Jane Wood. "The core message for our first-year students is 'Who am I?' To answer that question, they need to get outside of their daily routines and habits. Being among God's beautiful creation certainly opens them to reflect on this question."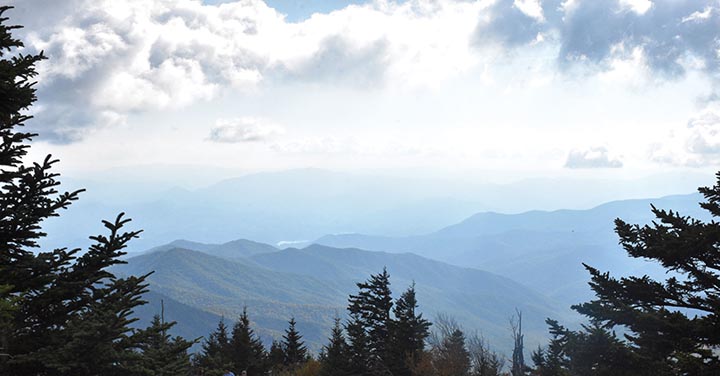 Divided into their Becoming a Scholar sections, students traveled into Great Smoky Mountains National Park. Their first stop was the Sugarlands Visitor Center with a short hike, appropriate for a variety of skill levels, to Cataract Falls.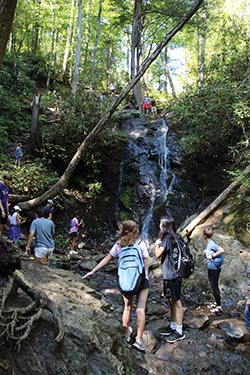 Next, students traveled by bus to Clingmans Dome, the highest peak in the Smokies with an elevation of 6,643 feet. From there, they climbed nearby boulders, hiked to the observation tower or just sat in awe of the view, which on a clear day can expand to 100 miles and seven states.

The hike and the views impacted each student in a different way.

"I loved it," said Ayanna Mackey, a criminal justice and psychology major from Dayton, Ohio. "It's so different than where I'm from. It's so peaceful."

"It was really cool seeing God's creation and realizing how big the world is and how small we are," said Macey Thomas, a history major from Bowling Green, Ohio. Thomas described herself as an adventurer, but "helping other people and seeing my classmates face their fears was really cool."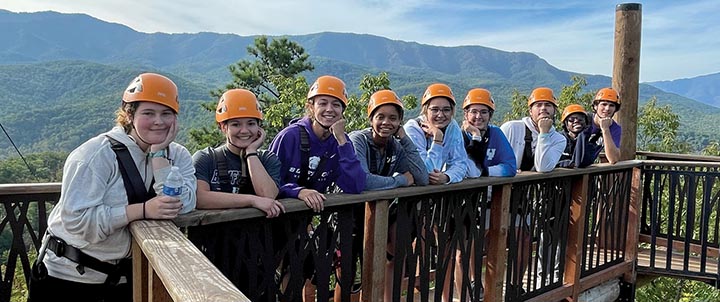 Through ziplining at CLIMB Works Gatlinburg, students overcame fears by working together as a team. The mountaintop experience featured an ATV ride, four ziplines, two sky bridges and a controlled rappel. Cheyanne Bolden, a nursing major from Sidney, Ohio, was in the first group of sudents to tackle the course.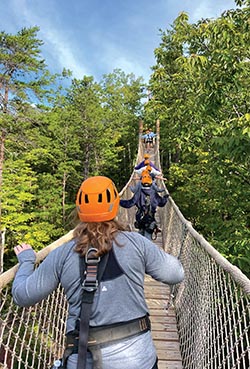 "Stepping onto the first block, I was shaking, I was nervous, I was sweating and I just wanted somebody to push me while I closed my eyes," Bolden explained. "On the way down, I did not look anywhere. I was so scared, but then I got to the next one and I was feeling great."

With the encouragement of their peers and the views of Mount Le Conte, the third highest peak in the Eastern United States, panic quickly turned to awe and triumph for many of the students.

"The view. It took my breath away," said Josie McCollough, a primary P-5 and intervention specialist major from Arcanum, Ohio. "You hear that saying a lot, but it physically took my breath away."

By the fourth line many students, including students who were initially hesitant to go ziplining, followed the suggestions of the guides and completed tricks such as flipping upside down and jumping off the platform backwards.

"This is an amazing start to my college experience. I feel a lot closer to my classmates, and I'm building new friendships," said Bolden. "If I hadn't gone ziplining with this group, I don't think I would have ever done it."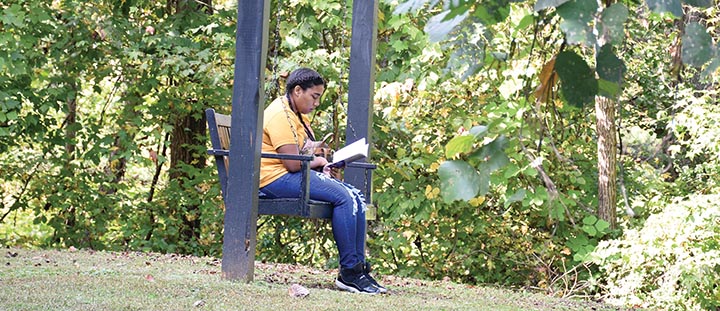 For the first 10-15 minutes of the solitude experience, students were asked to not accomplish anything. Instead, to sit still, take a few deep breaths and ask God to open their hearts. After reading Psalm 139 in its entirety, the verses were broken down into sections with a series of questions for students to consider including:
Who is it in life who knows all there is to know about you?
Is there something about you that nobody knows?
How does it feel knowing that God knows all about you, even those things you have hidden from others?
Does knowing that God created every last part of you give you a sense of purpose or responsibility?
"The solitude experience was a time of introspection," said Dr. Randall Keeler, associate dean of academic affairs and professor of religion. "It was an opportunity to get away during the retreat and think more deeply about yourself, about who you are in community, about how you respond when things don't go as you planned."

The experience was designed with the understanding that students have different life experiences in regards to their spiritual beliefs or exposure to scripture.

"Regardless of our religious beliefs, we can learn from the words of wisdom on life's big questions that have been written by other's who have gone before us," said Keeler.

While a quieter and more subdued activity than hiking or ziplining, the solitude retreat was a profound experience for students in a different way.

"The experience was awesome. We had the opportunity to sit by ourselves and reflect on a Bible verse," said McCollough. "The sun was coming through the trees and I just kind of saw God everywhere."
Deepening relationships and achieving goals
Not everything went as planned on the trip, including challenges with charter buses and traffic, long lines for the alternative experience to ziplining and a bear sighting, which prevented some students from hiking in the national park.
"The alternative is, we did these activities in the midst of adversity. They deepened their relationships and they turned any kind of difficult situation into a fun time of being together," said Keeler.
And repeatedly, students like Colby Schlabach, a mathematics and economics major from Sugarcreek, Ohio, who describes himself as an introvert, spoke of reaching out to new people in addition to trying new experiences.
"It's been a really great experience to get to know people and deepen the existing bonds with friends I've made so far," said Schlabach. "I'm more confident going into the rest of the semester."
Before returning to Bluffton, students, faculty and staff came together in prayer, wrote goals on purple bracelets and linked them together to signify the importance of relationships in achieving individual goals.
"We have witnessed students really encouraging each other as they are building stronger relationships in their Becoming a Scholar sections," said Keeler, who also described the experience as a retention tool. "They're growing and asking good questions and responding in ways that I wouldn't expect them to respond."
The chain is now hanging in Marbeck Center so students are routinely reminded of The Great Adventure, the goals they made in Tennessee and their journey to answer the question "Who am I?"