John Hung '60
For 1960 graduate, pursuit of knowledge and mentorship was nourished at Bluffton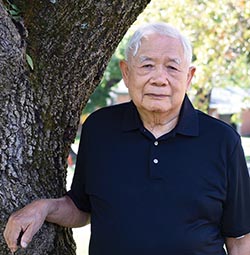 When John Hung '60 reflects on his time at Bluffton, he remembers the people, the place and the preparation for the future.
A mathematics major, Hung was mentored by J. Richard (Dick) Weaver, a long-time professor of chemistry and physics at Bluffton.
"Somebody as brilliant as Professor Weaver could have gone to a big name school to teach, but he loved Bluffton," said Hung. "The professors really cared for us and left deep impressions on us."
Born in Peking (now Beijing) just before the second Sino-Japanese War (1937-1945), which was followed by a four-year civil war, Hung's family moved a lot. They eventually landed in Tokyo where his father met Roy Wenger '32, a fellow professor at International Christian University. Upon his high school graduation, Wenger suggested Hung study at his alma mater, Bluffton.
"I had never heard of Bluffton or Mennonites before" said Hung.
Bluffton short-termer
The original arrangement was for Hung to study math for two years at Bluffton and then transfer to Ohio Northern University to pursue engineering. Instead, Hung progressed quickly and ran out of math classes to take, so Weaver provided independent study opportunities on Theoretical Mechanics and Electricity and Magnetism. Studying through the summer, Hung graduated with a degree in mathematics from Bluffton in just two years.
"I was a short-termer, but 1958-60 were two years that I enjoyed very much," said Hung.
To help pay for his education, Hung worked a variety of jobs from helping in the Ropp Hall kitchen to serving as the custodian in Hirschy House (nicknamed Hirschy Castle). Having grown up in big cities in Asia, life in small-town America was sometimes awkward."
Schoolmates wondered why Hung didn't greet them in passing. "We don't say hi to strangers," Hung explained with a chuckle.
Career moves
Following graduation, Hung started graduate school, working as a part-time instructor, then became a prep school teacher before completing his first master's degree at Bowdoin College in Maine. Eventually, he returned to Ohio with his wife, Winnie, and worked in civil service at Wright Patterson Air Force Base in Dayton for 42 years.
Through all of the career changes and moves, Hung remained in contact with Weaver, whom he considered a mentor and lifelong friend.
"Whenever I was close to Bluffton, I would take Bentley Road and do a loop around campus and drop in and talk to Professor Weaver," said Hung.
A love for language
Retired for the past six years, Hung remains committed to advancing his knowledge and skillset in different languages. He studied Japanese while in Japan and picked up German at Bluffton. Using tapes, CDs and some classes, he's learned fragments of Latin, Greek and Hebrew. He became a freelance translator/interpreter in 1980. He's also translated a restaurant cookbook, nearly 100 hymns and a book on Biblical inerrancy and discrepancies.
Fall 2021 Bluffton Magazine