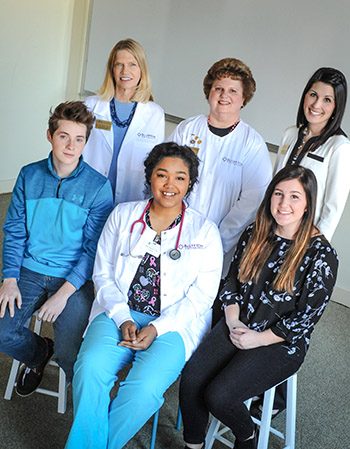 Health sciences
Despite the ever improving state of technology, coupled with jaw-dropping advancements in health care, simple errors are still common in the health care industry and can easily have a major impact on the health and well-being of patients.
"One of the problems that we've had in health care for a long time is fragmentation—fragmentation of care and poor communication," explained Dr. Sherri Winegardner, director of nursing. "We've used the word silos. Nursing practice has its silo. Medicine practice has its silo. Therapy has its silo. And, there's often not a lot of cross communication among the silos."
The majors of nursing and speech-language pathology and audiology, which both began accepting students within the last two years, are now established under the newly developed health sciences department with the food and nutrition major, effectively abolishing these silos at Bluffton.
Winegardner, along with Christina Bender, director of speech-language pathology and audiology, and Dr. Deb
Myers, chair of health sciences, know better patient care is possible through teamwork, and it starts with two skills Bluffton is exceptional at developing—building relationships and learning to truly listen.
"I think, as a department, we are setting a tone with how we want to see our students interact in a clinical setting," said Bender. "You will be the expert in your area, but you must have conversations with the people around you because they are the experts in what they do. Just like in a hospital, you will need to talk to all of these other professionals to make sure your client or patient gets the best care. Learning to do that starts here."
"I believe having this new department will strengthen the experiences for all of the disciplines. Collaboration is the name of the game."

Students at Bluffton are collaborating from the very beginning of their academic journeys. All three majors are required to take the course Fundamentals of Nutrition together. Several foundational science courses also overlap, and students are encouraged to minor among the health sciences to bolster their professional knowledge.
"It is so beneficial for students to learn from each other during their early coursework so they can start thinking about things like 'How does nutrition play a role in health care from the nursing standpoint versus the speech-path experience or the dietetics viewpoint?'" said Myers.
Health sciences was developed as a department at the start of the current academic year, but despite its newness, Bender has already experienced mini opportunities for collaboration.
"The dietetics students do a pureed food lab," said Bender. "In the working world, speech therapists make the recommendation for food texture modification. This lab is an exact replication of what we do in the hospital."
Winegardner has also served as a guest lecturer during food and nutrition classes with lessons on leadership and interdisciplinary practice within the hospital.
While being under the same department is an amazing advantage, Bender is quick to point out that health science must not become its own silo. In the fields of speech language pathology and audiology, about half of professionals work in a health care setting while the other half work in the educational system.
"My students will need to also work closely with classroom teachers, intervention specialists and social workers," explained Bender.
"The ultimate message must be that cross communication is key because we are caring for the whole person. You can't treat the whole person through your one isolated lens."

All three program leaders are also excited to move Bluffton forward with programs that perfectly align with Bluffton's mission to "prepare students of all backgrounds for life as well as vocation, for responsible citizenship, for service to all peoples."
"We have an opportunity in this environment to really foster that idea that providing a service isn't just meeting requirements and checking boxes; it's truly helping people," said Bender.
Winegardner added, "I always felt nursing was a really strong fit for Bluffton because of our commitment to the core values of discovery, community, respect and service. Nursing embodies all of them. And, in nursing, people are called into the profession to provide a service."
According to Myers, each field is growing, changing and bursting with opportunity.
"Since the mid-80s, we've had nutrition and dietetics but nursing and speech-language will only strengthen the opportunities for students seeking careers in health care. All three are dynamic fields. There's a lot of interest from students, but there is also a lot of interest for graduates."
Included Content