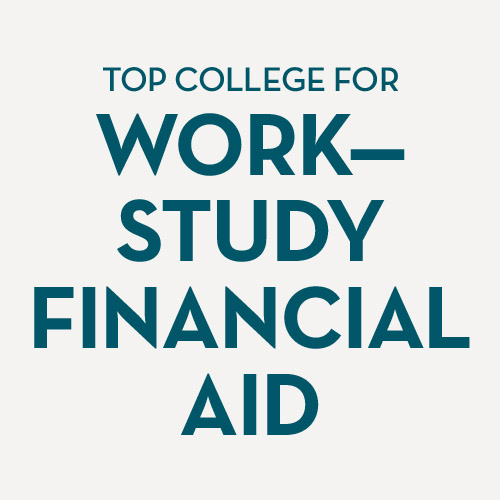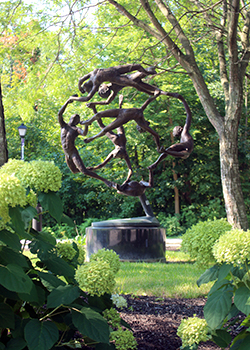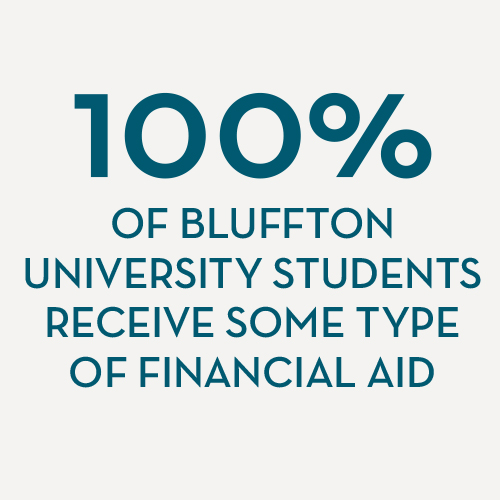 Consumer information
General information
Parents (of dependent students), to the extent that they are able, have the primary responsibility to pay for their child's education. Students are also expected to contribute to their educational costs. Eligibility for federal grants and loans and state need-based grants is determined by filing the Free Application for Federal Student Aid (FAFSA). Bluffton University also requires the FAFSA to determine eligibility for need-based institutional aid.
Contact information Financial aid and a student's financial need vary considerably. Students are encouraged to discuss their specific needs with a financial aid representative. Office hours are from 8 a.m. -12 p.m. and 1-5 p.m. Monday through Friday.
Application procedures
Students seeking financial aid are required to complete and submit the Free Application for Federal Student Aid (FAFSA) annually. The federal school code for Bluffton University is 003016. A financial aid award notice is generated and sent to the accepted student when FAFSA data is received and any other required documentation is on file.
Deadlines
Students should be aware of application deadlines established by off-campus sources of aid including state and federal agencies. These deadlines are announced about one year before the beginning of the academic year.
Because of limited resources, the State of Ohio maintains an October 1 deadline for Ohio need-based aid (the Ohio College Opportunity Grant). Bluffton University need-based aid is also limited. Therefore, Bluffton University maintains a FAFSA priority deadline of May 1 for both new and returning students. This means that any accepted, first-time or returning student filing the FAFSA after May 1 could be denied need-based funds administered by Bluffton University if funds have been depleted. This May 1 priority deadline is in effect for federal campus-based programs (SEOG grants and federal work-study) and for Bluffton University need-based grants.
For additional information on the application procedure see Apply for aid.

Financial need A student's financial need is determined by subtracting the Expected Family Contribution (EFC as determined by the FAFSA) from Bluffton University s Cost of Attendance (COA). COA includes direct costs such as tuition, fees, room and board (if applicable) and indirect costs or personal expenses. For the 2018-19 academic year the following indirect costs/personal expenses apply:
| | Residential students | Dependent commuter | Independent commuter |
| --- | --- | --- | --- |
| Books and supplies | $1,400 | $1,400 | $1,400 |
| Personal expenses | $1,600 | $1,600 | $2,900 |
| Transportation | $1,000 | $2,500 | $2,500 |
| Room and board | $11,124 | $1,800 | $6,670 |
| Total | $15,124 | $7,300 | $13,470 |

Financial aid programs
Bluffton University administers financial assistance through scholarships, grants, loans and student employment programs. Scholarships are usually awarded on the basis of academic achievement. Grants and loans are awarded on demonstrated financial need and or remaining costs.

Bluffton University scholarships and grants
Bluffton University offers many different scholarships and grants. A complete listing of these can be found at Bluffton scholarships and grants. Bluffton University grants and scholarships are awarded for a maximum of four years (eight semesters) except where noted.

Renewal policy for Bluffton University scholarships/grants:
Students receiving a Bluffton University scholarship and/or grant that has a GPA requirement for renewal, must maintain the minimum GPA to continue to receive that scholarship or grant. Scholarships or grants that are awarded based on participation in a program or specific major of study may have additional requirements for renewal. A student who falls below the requisite GPA for scholarship renewal at the end of an academic year will continue to receive the award during a scholarship grace period and this student will continue to receive the scholarship in subsequent semesters as long as the cumulative GPA goes up. If/when the requisite GPA for renewal is reached, the scholarship is fully reinstated. If at the end of any semester during a scholarship grace period the cumulative GPA does not go up, the scholarship is lost. A student also has the option to appeal the loss of a scholarship based on documented extenuating circumstances.
Student employment
Bluffton University has a wide variety of student employment opportunities available to students through the Learn and Earn Program. Students are paid monthly for working on campus. Complete information about terms of employment is provided with the student employment work agreement. The federal programs including federal work-study, community service, America Reads and America Counts are all administered under the Learn and Earn Program at Bluffton University. More about campus jobs...
State grant and scholarship programs
A complete list and description of Ohio financial aid programs can be found at: www.regents.ohio.gov/sgs/.

Federal aid programs
The following federal programs are administered by Bluffton University: Federal Pell Grant, Federal Supplemental Education Opportunity Grant (SEOG), and the TEACH Grant. For additional information and eligibility requirements for these programs go to Federal grants

Federal student aid and drug law violations
Federal regulations dictate that a student is ineligible to receive federal student aid if the student is convicted of a drug-related felony or misdemeanor that took place while the student is receiving federal student aid. >>> more information
Loan programs
Federal Direct Loan program
The Federal Direct Loan Program offers low cost loans to students. Subsidized loan amounts are calculated on need as determined by the FAFSA. Unsubsidized loans are not need-based. For additional information on annual loan limits, interest rates, etc. see Loans.
Federal Direct Parent PLUS Loan
The Federal Direct PLUS Loan allows for parents to borrow up to the student's cost of attendance, minus other financial aid. Parents can apply on-line and must complete an application and Master Promissory Note (MPN) for each dependent student for whom they are applying. For more information on PLUS loans see Loans.
Private education loans
Several lending institutions offer private education loans to students and families. Various options and terms apply which should be weighed carefully before any commitment is made. A loan comparison tool is available online.
Loan funds are disbursed to the student's account at the beginning of each semester or in a timely manner if the loan has been certified after a term has started.
Disbursement of financial aid and billing
Prior to each semester, the business office issues billing statements. (Please note that unless prior arrangements are made, billing notices are sent to the student and not the parents.) The statements include charges for that semester and any outstanding charges to a student's account. Aid is disbursed to students through the business office by crediting the student's account with the attributed amount of aid at the beginning of each billing period. The balance due can be paid in full or through the university's payment plan. For more information on payment plans or business office procedures contact the business office at 419-358-3301.

Satisfactory academic progress
Bluffton University monitors student progress toward a degree on a per-term and annual basis for academic and financial aid purposes. Students who meet regular academic requirements for continuing their enrollment are eligible for financial aid. For a complete review of Bluffton University's Satisfactory Academic Progress see the Bluffton University Catalog.
The information above is for the 2018-19 academic year and is subject to change for subsequent years