History and traditions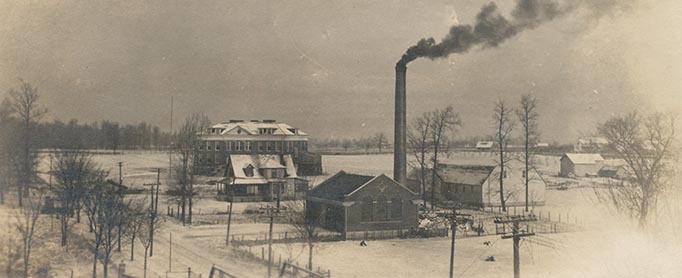 Situated on the banks of Little Riley Creek in Bluffton, a small town in northwest Ohio, Bluffton University was founded in 1899 as Central Mennonite College. As the cornerstone was laid for the school's first building, Noah C. Hirschy, Bluffton's first president, concluded his remarks with an idea that has proved as durable as the structure itself: "Let us expect great things." We have, and we continue to do so.
First named Central Mennonite College as compromise between Central Mennonite School and Bluffton College, the university started from humble beginnings. The first building sat on land that was once a ten-acre cow pasture donated by a local townsman. Around 1913, the institution became officially known as Bluffton College and Mennonite Seminary with the official motto becoming "The Truth Makes Free."
In addition to a College of Liberal Arts and a Music Conservatory, the university soon produced a separate institution in 1920 known as the Witmarsum Seminary, partially named after the home of Menno Simon. This seminary lasted a short while, closing in 1930, but not forgotten as The Witmarsum had become a campus-wide name for community news organized by the press club, founded in 1914.
Bluffton College was accredited in 1956, and officially became Bluffton University in 2004.
Long-standing traditions
---
The May Day tradition at Bluffton dates back to 1910 and continues to feature the Maypole dance.
"Messiah"
---
Campus and community musicians have performed this oratorio more than 120 times.
---
Bluffton has been known as the Beavers since the late 1920's thanks to legendary Coach A.C. Burcky.
While Bluffton is affiliated with Mennonite Church USA, its students, faculty, staff and alumni are not necessarily Mennonite. Elmer Neufeld, the university's seventh president observed "Bluffton should not be seen as somehow less than Mennonite for its diversity, but rather more than Mennonite, with a stronger Christian peace church witness growing out of this experience."
Recent traditions
---
Since 2007-08, a campus-wide theme has guided many lectures, events and class discussions.
---
What's better than a late night breakfast served by Santa-hat wearing, carol-singing faculty and staff?
---
An integral part of the general education program is an international or domestic cross-cultural experience.
Today, Bluffton continues to be committed to passing along our core values - discovery, community, respect and service - to each new generation of students.