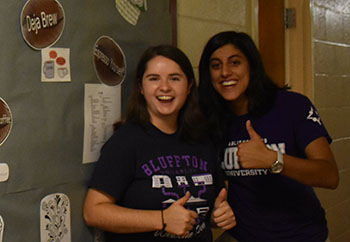 ---
Want to be that person others count on? Applications for RAs are accepted in the spring.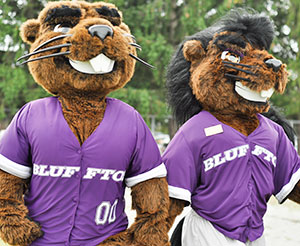 ---
Students from across campus have gotten into the J. Denny and/or Jenny suit! Be watching in early spring semester for your chance to apply!
Student organizations
Whatever your interests – from academic pursuits to sports and recreation, from community outreach to student government – Bluffton has nearly 60 different co-curricular organizations on campus. And if you can't find the group you're looking for, you can start your own!
Get involved – perform on stage, report for the Witmarsum, explore your faith, serve on Marbeck Activities Council, lead a club – it's all here for you!
Drop-in and semester-long team competitions are scheduled. Champion t-shirts awarded!

Chamber ensembles are formed each year based on student interest. The various ensembles typically include:

Instrumental Chamber Ensembles (varies)

Spirit Committee
Table Tennis Club

Student Government
Office of student involvement
The office of student engagement works to unite this base of student organizations through a variety of programs, including workshops, resources and service opportunities.
Mission statement
The office of student involvement strives to enhance student learning through the integration of classroom experiences, ambition for engagement, and exposure to diverse knowledge. By providing a central support system for student involvement opportunities ranging from programming and wellness to service and leadership development, we strive to facilitate meaningful and intentional student growth and development.
Intended outcomes
Students will establish a foundation of leadership skills that will be enhanced in their future endeavors.

Students will discover the significance of teamwork and collaboration among organizations.

Students will acquire the skills needed to synthesize information from various resources to develop creative and original ideas.

Students will develop a knowledge base for ethical reasoning within complex situations.

Students will understand and attain effective and meaningful organizational skills.

Students will endorse living and learning in a global community through the actions of service to others.