J. Denny and Jenny Beaver
It can now be told!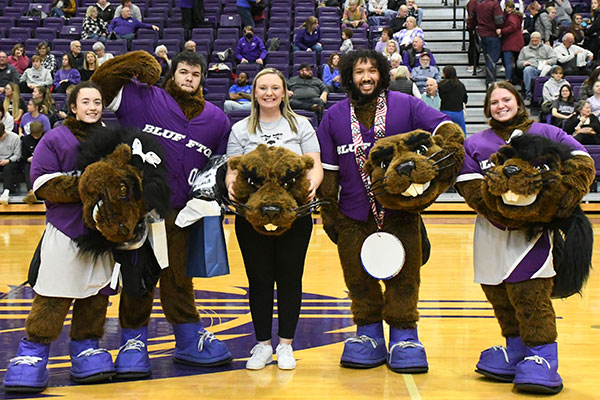 Laura Irwin, Anton Miller, Ashley Eachus, Darius Boeke and Madison Staton were revealed as the performers behind J. Denny and Jenny Beaver. Laura performed for three consecutive years! Anton for two!

Want to get into THE SUIT?
Applications to be J Denny and/or Jenny for 2023-24 are now closed. If you are interested in performing in 2024-25, the window for applications will open following the Big Reveal in winter 2024. The mascot selection process includes an interview with the newly-revealed Beavers and an in-suit audition.
Intrigued? Talk to a former student-performer on the down low. (Relax, your identity will be a closely guarded secret!)


Why the Beavers?
In the late 1920s A.C. Burcky, long-time coach and athletic director, suggested using the beaver as mascot because it represented the spirit of Bluffton student-athletes in the following ways:
Resourceful
Indefatigable (doesn't tire easily)
Small
Accomplishes more with less ("works with twigs, building up large things from small")
Works to leave the world a better place ("never does things any worse than its ancestors did")
Taken from Dancing with the Kobzar, Bluffton's centennial history

History of J. Denny Beaver
More than a year of planning culminated with the introduction of J. Denny Beaver, as Bluffton's mascot in September 2010. Naming the mascot in honor of Dr. J. Denny Weaver, professor emeritus of religion, captures a historical connection and tells a story.
Weaver was a faculty member from 1975-2006 and served as Bluffton's faculty athletics representative for 22 of those years. "Denny Weaver is a leading theologian and was at every sporting event," Robin Bowlus noted, adding that "his passion for academics and sports" made him a natural choice to be so honored.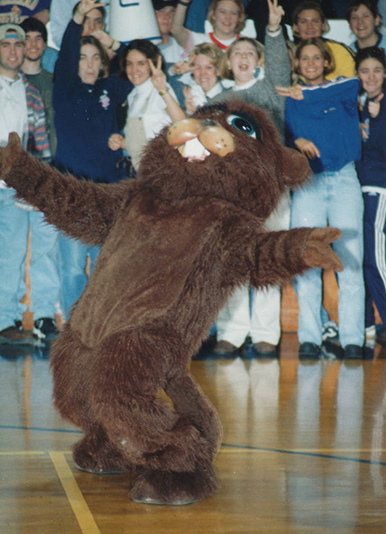 BUCKY BEAVER, the previous mascot, retired in 2007-08 after more than 20 years of service. He asked to retire with little fanfare so he could return to the banks of The Riley with little intrusion from the local paparazzi. In an alumnote update, he mentioned enjoying his retirement, building dams with tree limbs broken from storm damage and spending time visiting with friends on the banks near the Mennonite Home Communities of Bluffton.
The following year, when planning group members began thinking about a successor, their goals included an athletic-looking character representative of Bluffton's "power beaver" logo, but still approachable for children and embodying "the spirit of a Bluffton student-athlete," Bowlus said.
<<< Bucky Beaver
New traditions of the mascot include an audition-based selection process; use of multiple students in the suit in an effort to keep identities secret; training the students characteristics that will be common, such as a walk, regardless of who is in the costume; and, at the end of each year, a ceremony to reveal the identities of students serving as the mascot.
In fall 2014, Jenny Beaver made her debut on campus to share the mascot duties. The eventual addition of a female mascot had been envisioned when J. Denny was introduced, in order to allow shorter students to "get in the suit." Get Jenny's story.
J. Denny's and Jenny's costumes were created by Street Characters Inc., a Canadian company that has designed mascots for more than 100 colleges and universities and about 30 teams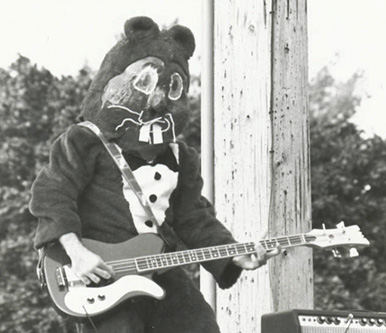 combined in the National Football League, National Hockey League and Major League Baseball.
The costume is at least the third in Bluffton history; the first is believed to be a paper-mache head and furry body made and donned by students in 1967. But the beaver mascot goes back 40 years before that, to 1926-27.
J. Denny and Jenny past performers

2010-11

2011-12

2012-13

2013-14

2014-15

Brandon Fullenkamp




Jonathon Luginbill




Zeke Tracy

Emily Shellabarger




Andy Chafee




Kourtney Lewis

Abby Graber




Kayla Geiger




Jamie Paye

Sarah Dailey




Jeremy Amstutz

Alex Parker




Lezlie Thompson




Daila Moore




Amber Steinke




Jeremy Amstutz

2015-16

2016-17

2017-18

2018-19
2019-20

Mickie Gonwick




Abby Jerger




Hannah Krull




Jenna Moreo




Katie Keesbury

Katie Keesbury




Micayla Hanover




Sarah Oliver




Ryan Golden

Carrie Blust




Caitlin Haab




Tessa Short


Riley Wilcox
Cara Echols

Takayla Gadberry
Cara Echols
Jena O'Brien
Amryn Dover
Robert Ruppert
Jarod Siekman
Robert Ruppert
Cara Hamilton
Grace Zachrich

2020-21

2021-22

2022-23

Laura Irwin
Cassie Mladek
Clay Meyer
Olivia "Lou" Westcott
Kelly Armentrout
Evan Burden
Laura Irwin
Anton Miller
Adam Shanaman
Rona Stafa
Darius Boeke
Ashley Eachus
Laura Irwin
Anton Miller
Madison Staton

J. Denny and Jenny Videos

Merry Grinchmas (Dec. 2022)
Who's That Beaver? (Jan. 2021)
Merry Christmas from J. Denny and Jenny (Dec. 2020)
Back on Campus (Aug. 2020)
Who is in the suit? (Feb. 2020)
A Fun Merry Christmas (Dec. 2019)
We're So Ready! Are You? (Aug. 2019)
Who are J. Denny and Jenny? (Jan. 2019)
J. Denny hosts an Ugly Christmas Sweater party (Dec. 2018)
The real J. Denny and Jenny Beavers are (Jan. 2018)
Who are J. Denny and Jenny? (Jan. 2018)
Spreading holiday cheer (Dec. 2017)
Welcome to the Village of Bluffton (Nov. 2017)
Top secret mascot mission (Who's in the suit? Jan. 2017)
The Night before Finals (Dec. 2016)
The real J. Denny and Jenny Beavers are (Jan. 2016)
The 12 Stresses of Finals (Dec. 2015)
And the real J. Denny and Jenny Beavers are...(Jan. 2015)
Who is in the suit? (Jan. 2015)
J. Denny and Jenny Deck the Halls (Dec. 2014)
Welcome, Jenny (Aug. 24, 2014)
J. Denny's Got Mail ( April 28, 2014)
Everybody's Got Somebody but J. Denny (Feb. 13, 2014)
And J Denny in 2014 is... ( Feb. 18, 2014)
We Wish you a Merry Christmas ( Dec. 10, 2013)
A Day in the Life... (Oct. 31, 2013)
2013 J. Denny Beaver "beheading" (Feb. 14, 2013)
J. Denny the Purple-Shoed Beaver (Dec. 12, 2012)
Look Out World. J Denny is Two Years Old (June 21, 2012)
2012 J. Denny Beaver "beheading" (Feb. 8, 2012)
It's J. Denny Beaver's Birthday (June 17, 2011)
It's Time (to break ground for the Health and Fitness Education Center) (July 5, 2011)
2011 J. Denny Beaver "beheading" (Feb. 16, 2011)
Merry Christmas from J. Denny (Dec. 16, 2010)
J. Denny Beaver meets J. Denny Weaver (Oct. 9, 2010)
J. Denny Beaver is introduced (Aug. 31, 2010)
Lonely mascot video (Aug. 23, 2010)
Sports montage (Aug. 10, 2010)