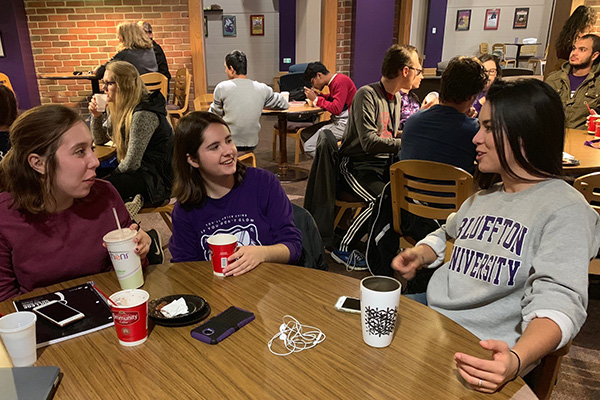 ---
"Hannah showed us that you don't need to feel qualified to do this work, you just need to start and follow through. Spiritual Life Week was both inspiring and challenging... looking at what we can do as the Church and also as people."
Spiritual Life Week
One week each semester is set aside for a special time of focusing on the Christian life. Students play a major role in planning activities that help strengthen growth and faithfulness in our relationship with God. The week includes guest speakers and special times of worship.
Let's talk about building each other up
Fall 2022 Spiritual Life Week
Oct. 23-28
Scripture: "Let no evil talk come out of your mouths but only what is good for building up, as there is need, so that your words may give grace to those who hear. And do not grieve the Holy Spirit of God, with which you were marked with a seal for the day of redemption. Put away from you all bitterness and wrath and anger and wrangling and slander, together with all malice. Be kind to one another, tenderhearted, forgiving one another, as God in Christ has forgiven you." Ephesians 4:29-32
Guest speaker: Andrea Flack-Wetherald
Day
Event
Location
Time
Sunday,
Oct. 23
Sunday Night Worship

Yoder Recital Hall

8:30 p.m.
Monday,
Oct. 24

What would you do for money?

The Commons

Noon

Tuesday,
Oct. 25

Forum: "Compassionate Accountability"

Yoder

11 a.m.

Wednesday, Oct. 26

Lego night

Bob's Place

8 p.m.

Thursday,
Oct. 27

Chapel

Yoder

11 a.m.

Friday,
Oct. 28

Fall Festival

Library Lawn (rain location is Founders)

7 p.m. - 9 p.m.