Center for Career & Vocation
In collaboration with faculty and staff and various off-campus partners, the Bluffton University Center for Career & Vocation equips students and alumni to be career ready and purpose led.
We are located inside the main entrance of the Musselman Library and are open year-round.
At the Center for Career & Vocation, students and alumni can:
Assess their interests, strengths, values, and goals

Identify their callings and passions

Explore majors and minors and link them to post-graduate goals

Connect experiences in the classroom and community with future career opportunities
Develop a job/internship search strategy
Plan for admission to graduate school or a long-term service program
Create a résumé, cover letter or CV of which they can be proud
Develop and curate an online portfolio and professional social media presence


Like you, we are focused on your vocational, personal and professional development as a whole person. We are here to help you find your #PURPLEprofession, as well as to help you identify the ways you can make meaningful and sustained contributions to the world both now and in the future.
CENTER HOURS: Monday - Friday: 9 a.m. - 4 p.m.
Additional options (including evening and weekends) by appointment.
Questions? Contact the Center for Career & Vocation: career@bluffton.edu or 419-358-3030.
Make an Appointment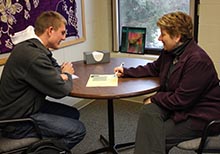 The Center for Career and Vocation is open Monday-Friday, 9 a.m.-4 p.m., to offer guidance in selecting a major or in preparing for life after Bluffton.
>>> make an appointment
What is the CCN?

Search job listings, upload a resume, access career advice, find a mentor and more through the College Central Network, with services for students, alumni and employers.
Outcomes
Ever wonder about the benefit of a Bluffton education? Within six months of graduation, 93 percent of the class of 2014 were full time in career, service or graduate studies.
>>> 2014 outcome details