Center for Career & Vocation
In collaboration with faculty and staff and various off-campus partners, the Bluffton University Center for Career & Vocation equips students and alumni to be career ready and purpose led.
We are located inside the main entrance of the Musselman Library and are open year-round.
Come See Us Early and Often
Summer 2016 Hours
Monday - Friday: 10 a.m. - 4 p.m.
Walk-In/Drop-In hours are Monday, Wednesday, Friday
Additional options (including evening and weekends) by appointment
2016-17 Academic Year Hours
Monday - Thursday: 9 a.m. - 6 p.m.
Friday: 9 a.m. - 2 p.m.
Evenings by appointment

Questions? Contact the Center for Career & Vocation: career@bluffton.edu or 419-358-3030.
Make an Appointment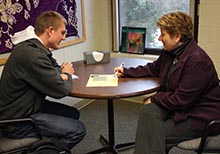 The Center for Career and Vocation is open Monday-Thursday, 9 a.m.-6 p.m and Friday: 9 a.m. - 2 p.m. to offer guidance in selecting a major or in preparing for life after Bluffton.
>>> make an appointment
UpComing CCV Events
Outcomes
Ever wonder about the benefit of a Bluffton education? Within six months of graduation, 91 percent of the class of 2015 were full time in career, service or graduate studies.
>>> 2015 outcome details