Center for Career & Vocation
What does the Center for Career & Vocation do in the summer? Post jobs, plan events, review resumes, plan futures, help students and alumni find their #PurpleProfession. In other words, we are here for you throughout the summer months!

CENTER HOURS: Monday - Friday: 8:30 a.m. - 5 p.m.
Weekends and evenings by appointment
Check out the events link for upcoming opportunities including the OFIC Accounting Fair and the 2015 Graduate School Fair -- both in September.
The mission of the Center for Career & Vocation is to help students become both career ready and purpose led.
Questions? Contact the Center for Career & Vocation: career@bluffton.edu or 419-358-3030.
Make an Appointment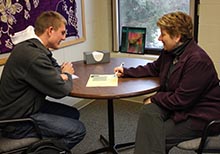 The Center for Career and Vocation is open Monday-Friday, 9 a.m.-4 p.m., to offer guidance in selecting a major or in preparing for life after Bluffton.
>>> make an appointment
What is the CCN?

Search job listings, upload a resume, access career advice, find a mentor and more through the College Central Network, with services for students, alumni and employers.
Outcomes
Ever wonder about the benefit of a Bluffton education? Within six months of graduation, 93 percent of the class of 2014 were full time in career, service or graduate studies.
>>> infographic