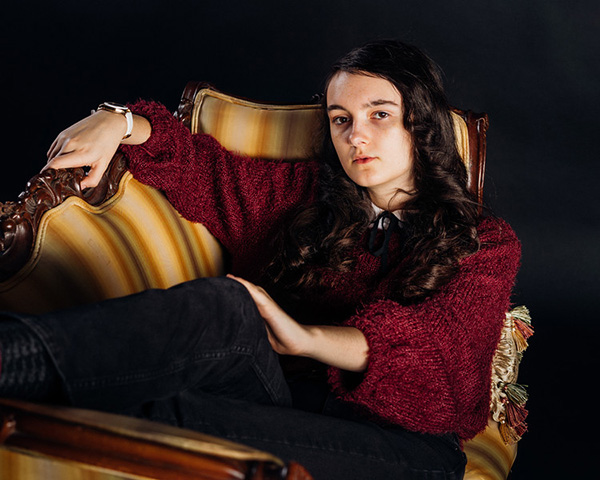 Maeve O'Connor
---
Maeve Z. O'Connor is a writer, actor, student and devotee of all things theatrical. When not onstage or writing she can be found playing piano rather poorly and waxing poetic about impressionism. She grew up playing in the forests of the Pacific Northwest, and is currently studying in New York.
Reckoning
By Maeve Z O'Connor
CHARACTERS
MIRIN, 20s - 30s, sweet, excitable, blindly optimistic, high-strung
VAL, 20s - 30s, intelligent, calculating, cynical, resigned
TIME
The very near future
PLACE
A small spacecraft, orbiting Earth
PLAYWRIGHT'S NOTE: While Mirin and Val were both originally envisioned to be played by female actors, they could be cast differently. Neither Mirin nor Val is ever addressed by gendered pronouns.
(We are in a one-room spacecraft, suggested by a pair of sleek chairs at a control board and the dull hum of a machine somewhere out of sight. VAL is absorbed in reading from a small, handheld screen. MIRIN enters.)
MIRIN
You didn't tell me the probe was back!!
VAL
I was making coffee.
(Beat. Val holds up a mug.)
The probe's back.
MIRIN
How are you so calm?!
VAL
Well, I'm going through the readings right now//and it doesn't--
MIRIN
Okay, okay, I don't care, just—! Let me see!
(MIRIN takes the screen from VAL and clicks through it excitedly. She begins to pace around the room, brushing by VAL, picking up speed.)
VAL
Wow.
MIRIN
Wow is right! I had no idea about some of this! Did you see this temperature range? How does anything survive down there?
VAL
Stubbornly and unapologetically.
MIRIN
And it's oceanic! And things still live everywhere! And the dimorphism of the species is astounding! //And they're so sweet!
VAL
And everything is dying at an alarming rate.
(Beat.)
MIRIN
What?
VAL
Everything is dying. At an alarming rate.
(Beat. MIRIN clutches the screen closer.)
Mirin. Don't fool yourself. We're here for a reason.
MIRIN
I know.
VAL
So don't get started thinking they're cute.
MIRIN
But they are!
VAL
It doesn't matter!! They're all cute. They're all clever. It doesn't. Matter.
MIRIN
Just—slow down. We're not deciding now.
(Beat. MIRIN reads.)
VAL
Did you read page seven?
MIRIN
About brain activity? I'm getting to it.
(Beat. MIRIN skims page seven.)
MIRIN
They can suffer severe head trauma and continue living?
VAL
Farther down.
MIRIN
What?
(VAL takes the screen and points out a specific paragraph to MIRIN, who stills as she reads it.)
VAL
They run on fear.
MIRIN
You don't know that.
VAL
It's what keeps them alive.
MIRIN
We can't be sure—
VAL
Mirin.
MIRIN
Val.
(Beat.)
MIRIN
Let me show you. Please.
(Beat.)
VAL
I've seen their artifacts.
MIRIN
Not my personal collection!
(Beat.)
MIRIN
One minute.
(MIRIN gets up, rushes offstage, comes back on with a box full of artifacts.)
VAL
You're not looking at the big picture.
MIRIN
I've been doing my own research! They're very inventive. Do you know the things they've made out of rocks? Wood? Bones? It's incredible! Have you seen a violin?
(She pulls an old violin from the box, fascinated.)
Or string lights?
(She pulls out a string of dead lights, drapes them over her shoulders.)
Or earrings?
(She pulls a pair of dangly earrings from the box, holds them up to her ears.)
VAL
Have you seen a civilian bombing?
(Silence.)
MIRIN
Val, you, out of everyone, should understand—
VAL
Don't.
(Beat.)
MIRIN
On a planet with near-constant sun exposure, they still managed to come up with fireworks. (Beat.)
Great peels of colored fire, shot off into the air. There's no reason for them. They're just pretty.
(VAL chugs her coffee.)
VAL
The new results don't change anything. We need to move on.
MIRIN
We can't decide now! I just learned about fireworks yesterday, imagine what else they do that we don't know about!
VAL
You can't save them all.
MIRIN
That's rich.
VAL
Excuse me?
MIRIN
You can't talk about Death Worlds as if they're all worthless—
VAL
I can talk about Death Worlds however I want.
MIRIN
I just meant—
VAL
DON'T YOU DARE TELL ME WHAT I THINK ABOUT THIS!!! I know where I'm from! I know what everyone wants me to say! But my planet wasn't worth saving! Not all of them are!
MIRIN
But this one—!
VAL
This one is sick.
(Beat.)
Maybe if we were here three centuries ago. But not now. The illness is terminal.
(Beat.)
MIRIN
Did you know that they've come up with a way to change the color of their keratin? Artificially? Their — God — hair! They dye it. There's no reason, it doesn't signify anything. It's just because some of them like it better when it's blue or green or four colors at once!
VAL
They're frivolous.
MIRIN
They're fascinating!
VAL
So is war.
MIRIN
Look at what you're drinking. Look. That's from down there. That planet that you want to condemn, they made that! How can we pass a judgement knowing about coffee and not about fireworks?!
VAL
We know about fireworks.
MIRIN
We found out yesterday.
VAL
They're starting to spread, you know. They're already talking about moving on to the next host once they drain this one dry.
MIRIN
Have you ever argued for a planet? How many times have we done this? Are you ever the one who shows them love?
VAL
It's not about love.
MIRIN
What's it about, then? You need your heart for this job! You need empathy!
VAL
What you want to give them isn't love.
MIRIN
You didn't used to do this.
VAL
You've gone soft.
MIRIN
You've gone cruel.
VAL
Don't speak to me about cruelty.
(Beat.)
We can delay our decision. My position isn't going to change.
MIRIN
Yes, if I just had more time to study — another month?
VAL
Another day.
MIRIN
You can't — !
VAL
We're already over time.
(Beat.)
MIRIN
Okay.
(MIRIN gathers her artifacts back into the box and exits. VAL waits until she's gone and presses a couple of buttons on the control board. A countdown begins, projected onto the back wall of the room. MIRIN returns empty handed.)
MIRIN
WHAT DID YOU DO?!!
VAL
The necessary.
MIRIN
NO NO NO, PLEASE!!! THEY CAN BE GOOD! THEY CAN BE KIND! YOU SAID I HAD MORE TIME!
VAL
I'm sorry for that.
(MIRIN runs to the control board and starts frantically fiddling with it. VAL remains.)
MIRIN
CANCEL IT!!! VAL, YOU NEED TO CANCEL IT, YOU PROMISED!!
VAL
I can't. I locked it.
MIRIN
NO!!!
(MIRIN panics, desperately trying to cancel the countdown. She can't. MIRIN stills, shakes, sobs.)
MIRIN
You're — I can't — we didn't have to do this! We could have appealed! The council would have given us more time!
VAL
You can't go around letting weeds take over a garden just because they're pretty.
MIRIN
They weren't weeds.
VAL
They might as well have been.
(Beat. VAL stares out the porthole.)
Any second now.
MIRIN
I want a reassignment.
VAL
No you don't.
(Silence. Mirin clutches the string lights, still draped around her shoulders.)
(The countdown is over.)
(Beat.)
(A surge of light from outside. VAL turns to look out, beckons MIRIN over to the porthole.)
Look.
(Beat. MIRIN is blinded by the brilliance.)
MIRIN
Fireworks.

END OF PLAY.