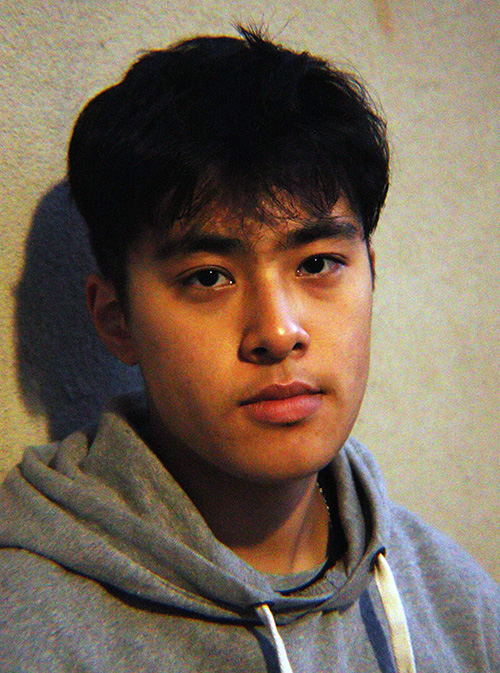 Nora Mohamed
---
Nora Mohamed is a high school junior from Houston, Texas. They plan to continue writing screenplays and short plays for film and theatre. They are also heavily involved with theatre, and serve as the marketing director and social media manager of International Thespian Society Troupe 7610.
6.56
by Nora Mohamed
OVER BLACK:
"How To Disappear Completely" by Radiohead plays in the background. Quietly. You'd have to be a pretty big fan to figure out what's playing.
GUS (V.O.)
In Jean-Paul Sartre's first book, Nausea— or La Nausée if
you're linguistically inclined— he wrote about the "sweetish
sickness." It was a book about a writer who felt his life
filling with the creeping apathy. Indifference like an oil
spill. The Nausea.
FADE IN:
INT. BEDROOM- MORNING
It's 7 in the morning, indicated by an old-fashioned alarm clock on his bedside table. Everything in the room is gray— it looks like an Ikea showroom. The majority of the "personality" in the room comes from dirty cups, old clothes, and empty pizza boxes scattered across the room.
Rays of sun creeping through the blinds betray the gloomy interior. We see everything in the room, including GUS, sprawled across the bed, only half covered by a tangled mess of sheets and blankets. His face is buried in his pillow, so we don't actually see it.
GUS (V.O.)
I have a strong stomach, actually. But I know what he
means about Nausea.
INT. BEDROOM- MORNING
The alarm clock reads 8:00 AM.
The sunlight is blinding. Gus needs to get new blinds.
GUS (V.O.)
I have an appointment. With a
therapist.
He tosses in bed. We see his face. He is generic looking and unremarkable — you've probably seen him on the street several times.
GUS (V.O.)
I'm not going to go.
INT. BEDROOM- MORNING
It's 10 AM, as per the alarm clock.
Gus sits up in bed. We don't see his face.
GUS
(to nobody in particular)|
I have to piss.
He looks up at the door. Back down at the empty bottles scattered on his floor. Decides he can't get out of bed. He shuffles to the edge.
Gus pees in the bottle, caps it. He is disgusted with himself and who he has become.
INT. BEDROOM- NOON
The alarm clock reads 12:00 PM.
Gus is still in bed with his face buried in the pillow. He would be suffocating himself if he were working a bit harder.
GUS
(muffled, into pillow)
When I was in seventh grade, I took German. Yeah. I
know. I thought it was cool. Less pretentious than taking
French too.
He turns over so he's staring at the wall. We follow his gaze to a pinhole in the wall.
GUS
(staring off into space)
We had to do one of those acronym poems. With our
name. I had so many adjectives. I could've done the entire
alphabet. I have one now.
Gus closes his eyes.
GUS
Gleichgültig.
(he pauses, decides to take mercy
on the English-speaking audience)
Indifferent.
INT. BEDROOM- AFTERNOON
1:00 PM on the clock.
Gus's door is ajar. Just a crack. There is an untouched plate on his nightstand. Apple slices and a sandwich. Someone's been in.
GUS
I'm not completely alone. I have
family.
He stares at the apple slices. Takes one. Chews it, slowly, glacially. It tastes like cardboard. He spits it back on the plate.
GUS
Sometimes I'm afraid I'll die and
they'll only find my body when it
starts to rot.
The apple. Chewed up and spit out. Gus. Chewed up and spit out.
GUS
I'm not sure I'm even real.
(a beat)
Nobody has to find my body if I'm not real.
INT. BEDROOM- AFTERNOON
The alarm clock says 2:00 PM.
The apples are brown. Someone else has been in. They brought a glass of orange juice. A get well-card from Gus's classmates/coworkers†.
GUS
My old therapist told me about the core emotions. Grief.
Fear. Anger. Disgust. I was well-acquainted with some of
them. The others, not so much.
We focus on the card. Hallmark. Meant for a different type of sick person. Words that mean nothing—
"Feel Better!" Detailed in gold glitter that sticks out like a sore thumb in the gloomy room.
GUS
She said that when grief is working
right, it helps us move on.
(beat)
I used to cry a lot. But I don't think I get sad like that
anymore. It's just cold.
He pulls the blankets over himself one more time.
GUS
It's always so cold.
INT. BEDROOM- AFTERNOON
3 PM on the clock.
Gus lays in bed facing the pinhole. He is the picture of neutrality.
GUS
I don't want to kill myself.
Gus stares at the pinhole.
GUS
I'm a coward.
INT. BEDROOM- AFTERNOON
The alarm clock reads 4:00 PM.
A fly buzzes around the apple.
GUS
I don't mean to be so grim. But this
is easier.
SERIES OF SHOTS-
PAST GUS
Gus is at a restaurant with friends/cowokers†. Gus is
hiking, Gus is at family
dinner, Gus is at a school dance/work function†. Gus is
playing the guitar. Gus is
painting. Gus looks happy.
Gus looks absolutely
thrilled to be alive.

GUS (V.O.)

I can be smiling and happy
with people but no matter
what I wear or do or eat or
say I'm still so cold. So
cold and empty. All the
time.
BACK TO THE PRESENT:
GUS
Yeah. This is so much easier.
INT. BEDROOM- EVENING
6:00 PM, as indicated by the alarm clock.
The pinhole again.
GUS
Sometimes, I pretend that pinhole is alive.
(beat)
It feels like more of a person to me than I do.
We watch the pinhole for just a little bit too long. It doesn't come to life.

INT. BEDROOM- 6:16 PM
6:16 PM shown on the alarm clock.
The apple is browning more. It doesn't look too appetizing.
GUS
I used to think of people as bodies of water. My dad is
one of those beaches in the Maldives. Water so clear that the
sand gleams white through it. My mom would be a beach
too. But a different kind. The kind in Cape Cod.
Headstrong waves, foaming, turning ruddy with all the sand
they're stirring up.
Another fly buzzes around the apple.
GUS
If I were a body of water, I'd be the Dead Sea. Nothing
grows there. Nothing interesting swims beneath the surface.
You can't even really die in it. You just float around.
Nobody drowns in the Dead Sea.
(beat)
Was I ever different?
INT. BEDROOM- 6:42 PM
6:42 PM, shown on the clock.
Someone has been in again. They opened the blinds.
It's summer, so the days are long. The sunlight is still blinding.
Gus gets out of bed. This is momentous. Underscore it with something triumphant. Triumphant, but anticlimactic.
GUS
(heading to close the blinds)
I don't really hate anything. I don't have the energy.
He twists the knob to close out the sunlight, and heads towards the bed after.
GUS
But if I did have to hate something it would be clichés. And I think it's a cliché for me to call myself the Dead Sea. So I'll take that back.
He lets gravity pull him back into bed. Collapses with his eyes closed.
GUS
I think I'm the Aral Sea. Drying up. Rusted ships on
cracked earth. A sea that became a desert.
INT. BEDROOM- 6:56 PM
The alarm clock reads 6:56 PM.
GUS
I was wrong about the Dead Sea.
(beat)
You can die in the Dead Sea. You drift out. Away. Far away.
The coast leaves you and you leave it. And you float.
For days, for weeks. Until you are famished and so
dehydrated that the hypersaline water around you is
poison. And you waste away. Slowly. You are
floating, drifting, tepid, hollow.
Music. Capture the emotions of Vivaldi's "Allegro Lento," from The Four Seasons, but with less, less everything. Because this is the cliché. The moment of reckoning. Everything is going to change.