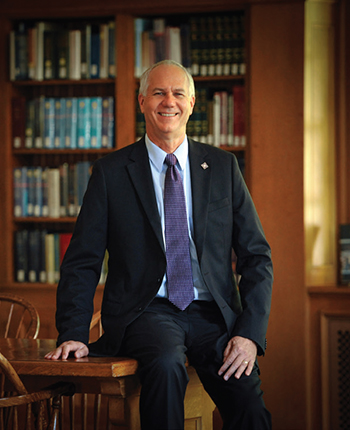 President's message

Perhaps you are surprised by our emphasis on innovation in this issue of the magazine and as a campaign theme—but I'm not.

As I reflect on Bluffton's history, for more than a century we have been committed to innovation. Bluffton's founders established a college with a mission to serve both Mennonites and students from a variety of faith traditions through a combination of liberal arts, professional preparation and faith development. This vision was ahead of its time and yes, this was innovation.
Successive generations of Bluffton faculty, staff and supporters have stayed true to and nurtured this mission through great teaching, coaching, mentoring, support services and programs and campus planning—at Bluffton, we innovate every day. Centennial Hall (2000) and the Sommer Center (2012) are evidence of the university's commitment to design and build facilities that foster excellence and innovation in teaching and learning combined with commitments to long life and environmental sustainability—and yes, at Bluffton this is also innovation.

As highlighted in this issue, our students are discovering their potential for innovation through academic study and internships. They will soon join thousands of Bluffton graduates connected by a commitment to serve others through a wide range of professions and to extend Bluffton's mission into the wider world.

But to sustain this mission, we also need you. Because innovation is nothing without the people who invest and bring it to life. What if we gave our students even greater support as they prepare to serve and lead? What if we lifted up our facilities to match our encouraging faculty and aspiring student learners?

With a $4 million naming gift from the Austin E. Knowlton Foundation and $9 million in progress toward our $14.5 million goal for the science building project, we are positioned to achieve our goal of opening a new building in 2019. My hope is that many of Bluffton's 14,000 alumni will help us achieve this goal and provide state-of-the-art teaching and learning resources for academic majors in the natural and applied sciences and for all Bluffton students.


Included Content