.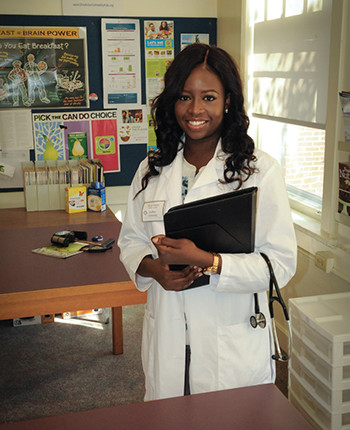 Manyil Dashe '16
In class, Dr. Deb Myers, professor of dietetics, joked that Manyil Dashe, a food and nutrition major from Jos, Nigeria, would eventually become the Minister of Health in her home country. "Actually, with her, the idea is not too far-fetched," said
Myers.
Dashe is in her final semester at Bluffton. After graduating, she plans to complete a required internship for registered dietitians and attend graduate school. Her goal is to return to Nigeria and work with the United Nations or with the World Health Organization with a focus on nutrition for women and children.
The need is great in Nigeria. While the country is Africa's most populous and is the continent's economic leader, more than half of Nigeria's population lives in poverty. According to UNICEF, women and children are most likely to suffer. Malnutrition is the underlying cause in more than half of the deaths of children under five.
Dashe originally wanted to serve her community as a doctor but quickly realized blood and needles were not for her. "I figured nutrition was the next best thing. Food is medicine," said Dashe. "You can do so much with food and you can serve the community by teaching them how it affects your body."
Dashe served her community this summer by hosting a series of six baking classes for pre-teen girls in Jos with improved nutrition as the focus.

"It was fun. They were at a good age to teach them how to bake but also to teach them about how to incorporate
healthier items and how to substitute ingredients."
Some of the items, like coconut cookies as an alternative to chocolate chip cookies, were an instant hit. Others, including flourless bread, took some convincing.

"I made pancakes and then I showed them how they could put in chia seeds instead of eggs and how to use applesauce instead of oil or instead of using plain oil they could use coconut oil," said Dashe. "We also used old-fashioned rolled oats with dates, raisins and carrots for the flour less bread."

As demonstrated by the baking classes, Dashe wants to motivate the next generation to achieve their dreams. "Where I'm from in Nigeria, there aren't a lot of women in the health care field, so I think I can go back and have the opportunity to help out other women and inspire others to go into health care as well." Dashe explains "sometimes it's easier when women talk to women."

Dashe first heard about Bluffton from her chemistry teacher, a Bluffton graduate. She did some research and was intrigued by the small class sizes, focused curriculum and strong pass rate for the registered dietitian nutritionist exam. "I've had great opportunities in my department," said Dashe. "Anytime I have questions there has always been somebody to help me out."

Her biggest academic challenge was organic chemistry with Dr. Daniel Berger. "At the time, I thought it was my worst class because it seemed overwhelming, but this semester I'm missing my science classes sorely because I don't have any,"said Dashe.


Included Content