.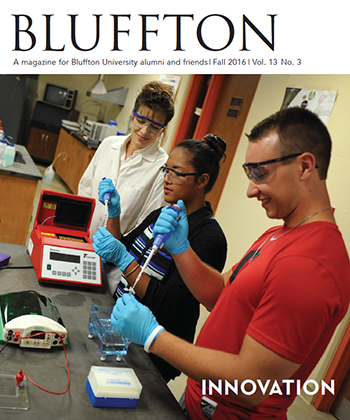 Innovation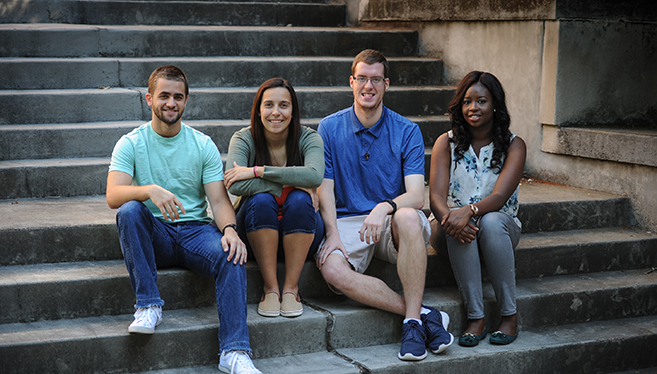 IT STARTS WITH AN IDEA. AN IDEA THAT IS BROUGHT TO LIFE BY PEOPLE. PEOPLE WITH THE DRIVE, THE FIRE, THE PASSION TO CREATE SOMETHING TRANSFORMATIVE.

Innovation can create a groundbreaking invention that launches a company or changes global commerce. Or innovation can take place every day, in a continual effort to improve the well-being of society.

From the beginning, Bluffton's founders set out to do something different with education. Driven by their faith, they created a selfless community with the mission to serve. And by holding out a hand of their own, they shaped a region.

This is innovation in its purest form. And we've never stopped. Today, our graduates are educators, doctors and lawyers. Social workers, coaches, caregivers, and business, church and community leaders. They are dedicated public servants. They too are innovators.

As we move into a new chapter, we hold strong to our unwavering discipline, our passion for discovery and our commitment to service. These are the values that built this university. These are the things that will carry us forward.

But we need you. Because innovation is nothing without people who invest and bring it to life.
What if we gave our students even greater support as they prepare to serve and lead in their communities?
What if we lifted up our facilities to match our encouraging professors and forward-thinking education?
What if, as our students moved forward, they had an entire community standing right behind them?

We continue to shape our region, just as it shapes us. And one student at a time, we're bringing the bigger picture of a better world, closer.

THE FUTURE OF SCIENTIFIC EXPLORATION
During the summer of 2016, Chelsea Zoltowski, a chemistry major from Toledo, was part of a team using biomimicry in their study of geckos. The colorful lizards are known to scurry across walls and ceilings in warm climates, and Zoltowski's research focused on the gecko's ability to stick. More>>>
THE FUTURE OF INTERNATIONAL HEALTH

Dean Walters traveled, learned a new language and observed the treatment of diseases
many people in the United States don't even know exist. The pre-medicine and biology major from Avon, Ohio, spent six weeks in Peru completing an immersive Spanish and medicine internship. More>>>
THE FUTURE OF GLOBAL NUTRITION

In class, Dr. Deb Myers, professor of dietetics, joked that Manyil Dashe, a food and nutrition major from Jos, Nigeria, would eventually become the Minister of Health in her home country. "Actually, with her, the idea is not too far-fetched," said Myers. More>>>
THE FUTURE OF NEUTRONIC RESEARCH
Daniel Piero, a physics and math double major from Medina, Ohio, spent the summer of 2016 at the Center for Exploration of

Energy and Matter through a Research Experience for Undergraduates internship hosted by Indiana University. More>>>
Included Content