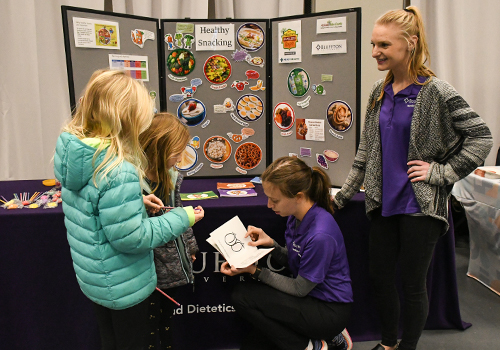 Tuition and financial aid
2023-24 Master's in Dietetics
| | | |
| --- | --- | --- |
| Tuition per semester hour | | $500 |
| Technology fee per semester | | $125 |
| | | |
| Tuition for 36 hour program | | $18,000 |
ADDITIONAL COSTS:
Academy of Nutrition and Dietetics student membership ($63)
Professional liability insurance ($25-$60)
Initial BCI and FBI background check ($60)
Health screening/physical (varies)
Flu shot for current season ($25-$35)
CPR certification (varies)
Two lab coats (avg. $24-$60)
Books and supplies ($200-$400)
Students are expected to provide for their own health insurance, housing and living expenses and transportation to and from supervised practice sites (with the exception of travel to MDS site rotation). Most interns chose to live in Bluffton, Findlay or Lima as rotations are typically located within an hour of Bluffton.
Provided by Bluffton University
Professional name tags
Polo shirts with logo
MNT textbook (Nutrition and Diagnosis Related Care. Escott-Stump)
Drug testing at professional work sites, when needed
Incidental food and supplies for various supervised experiential learning projects/activities
Other incidental supplies for various supervised experiential learning projects/activities
Professional RDN exam review course (3 days)


FINANCIAL AID OPTIONS:
Academy of Nutrition and Dietetics Foundation offers scholarships and grants to Academy members. More information on AND scholarships. Scholarships may also be available through state or local academy affiliates.
Students in the Bluffton RDN Integrated Master's Program are eligible for federal and private loans. Apply through Bluffton's financial aid office, 419-358-3276.
Financial aid
Financial aid for graduate study is available only for degree-seeking students.

Bluffton University Alumni Master's Degree Grant
Bluffton University alumni who completed their undergraduate degree at Bluffton are eligible for a 20 percent tuition discount on Bluffton University master degree programs.
Only eligible on cost of tuition (not books, fees, etc.)
Discount applies once you are enrolled in a degree seeking program; this does not apply to licensures, endorsements or stand-alone concentrations or training programs
Discount may not be combined with other university tuition discount programs (Corporate/Education Partners Program, employee discount, etc.)
Not applicable to The Collaborative MBA program
William D. Ford Federal Direct Loan Programs
Federal Direct Loans are guaranteed low-interest loans for students attending school at least half time.

In order to be eligible for the William D. Ford Federal Direct Loan Program, students must be enrolled in a program leading to a graduate degree and must file the Free Application for Federal Student Aid (FAFSA), listing Bluffton as one of the recipients. The federal school code for Bluffton is 003016. Students should apply at fafsa.gov. All first-time Federal Direct Loan borrowers at Bluffton must complete Entrance Loan Counseling and a Master Promissory Note at Studentaid.gov.
Graduate and professional students are no longer eligible to receive subsidized loans for loan payment periods that begin on or after July 1, 2012. Graduate and professional students are still eligible for unsubsidized loans.
Federal Direct Unsubsidized Loans
Interest begins as soon as the loan is disbursed
The student may choose to make interest only payments while in school or choose to have the interest capitalized
6.54% effective July 1, 2022. Variable-fixed interest rate for the life of the loan

Interest rates are recalculated each July 1 for new loans disbursed that year. The rate is based on the 10-year Treasury note index plus 3.60%. capped at 9.50%

1.057% origination fee
Repayment on the principal begins six months after completing program of study or dropping below three credit hours
| | |
| --- | --- |
| | Unsubsidized Direct |
| Program Type | Federal |
| FAFSA required? | Yes |
| Fixed Interest Rate | 5.28% effective July 1, 2020: Variable-fixed interest rate for the life of the loan |
| Origination Fee | 1.057% |
| Loan Maximum per year | $20,500.00 |
| Co-signer required? | No |
| Grace period | 6 months |
| Repayment period | 10 years |
*Not to exceed cost of education minus any other financial aid received (e.g. employer reimbursement).
It is important to note that students are subject to aggregate (maximum) loan limits. Students who have borrowed at previous institutions must be aware of remaining eligibility according to these aggregates. To obtain your current student loan debt, log on to your account at studentaid.gov/
Employer assistance
An increasing number of employers provide educational assistance benefits to their employees. Students should check to see if their employer provides such benefits.
General information
Contact us at: 1-800-488-3257 (option 2) or 1-419-358-3266. Personnel in the financial aid office are available to provide an estimate of your financial aid eligibility. Office hours are Monday through Friday, 8 a.m. - 12 and 1 to 5 p.m. The financial aid office can also be contacted via email at: finaid@bluffton.edu
REFUND POLICY
Students who withdraw prior to the first day of orientation are eligible for 100 percent refund of tuition and fees. For interns withdrawing after the first day of orientation and prior to the completion of the internship, refunds will be handled on a case-by-case basis through the office of adult and graduate studies.


AVAILABLE BLUFFTON SERVICES
As Bluffton University students have access to campus amenities and services including: