The Lion and Lamb
Through all appropriate means, but especially through arts and literature, The Lion and Lamb Peace Arts Center of Bluffton University promotes
the study of peace and justice,
cultural understanding
and nonviolent responses to conflict
with an emphasis on these themes for children.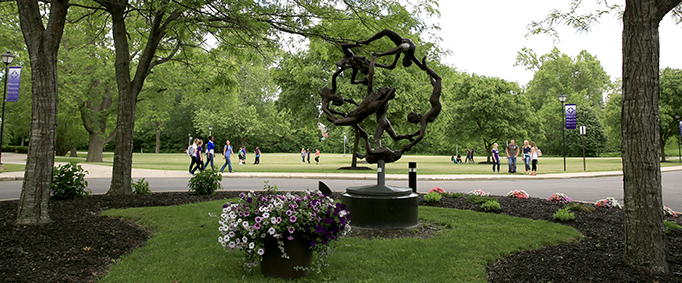 An open letter from Louise Matthews,
director of The Lion and Lamb Peace Arts Center
May 2020

As I reflect on the current COVID-19 pandemic and its impact on the world, I'm reminded of my most recent newsletter where I highlighted Paul Granlund's Constellation Earth to reflect Bluffton's global perspective that "we're all in this together." I'm including this campus landmark again as the current reality broadens our experience and understanding of interconnectedness. Attitudes and actions do matter, all people are impacted, though differently and we are, indeed, in this together.

I highly recommend the picture book, "Tear Soup: A Recipe for Healing After Loss," by Pat Schwiebert and Chuck DeKlyen, which recognizes experiences of loss beyond the death of a loved one...


---
The Lion and Lamb offers:
Programs
Programs can be customized for audiences of any age or interest.
Resources
Resources include picture books, curriculum guides, teacher references and art work.
Art collection
Art includes sculptures, fine art, children's artwork and original illustrations from picture books as well as The Honda Outdoor Peace Sculpture Garden.
We encourage you to explore the
Bluffton Peace Trails
, a virtual art tour around campus.
Director : Louise Matthews
Louise Matthews received an associate degree from Hesston College, Hesston, Kan. (1976) and bachelor's degree in elementary education K-8 from Bluffton University (1978). Louise taught in several school systems before she began teaching her five children at home, taking advantage of resources and programs through The Lion and Lamb when it began in 1987. Louise began her service as director of the center in 2004. Her teaching background and experiences with children, as well as an Anabaptist peace heritage, inform her work and efforts for peace and justice.
Student assistant: Erica Baer
CENTER HOURS
Due to COVID-19, programs at The Lion and Lamb are limited and resources are available only for campus members by prior arrangement. The Lion and Lamb looks forward to reopening the center for programs and convenient access for students and visitors when these restrictions are lifed.
As of now there are two ways to access resources:
Contact information
Phone: 419-358-3207
Email: lionlamb@bluffton.edu
Mailing address:
The Lion and Lamb Peace Arts Center
1 University Drive - 50
Bluffton, OH 45817-2104
Swords to Plowshares
The Lion and Lamb published a picture book, Swords to Plowshares, written by Lisa Weaver and illustrated by Amanda Huston '13. Stop by the center to purchase your copy for $10. To have a copy sent to you, simply print the order form and send with your payment.
>>> order form
The Lion and Lamb Peace Center is listed in
about the founder
Dr. Elizabeth "Libby" Hostetler, professor emeritus Bluffton University, founded The Lion and Lamb Peace Arts Center in 1987 to provide a resource for children to gain skills necessary for developing a vision of peace. Libby served as director of the center until retiring from Bluffton University in June 1999. Through her efforts in various roles as a teacher, professor, principal, founder and director of The Lion and Lamb, Libby is an advocate for peace-learning and peace-living.
financial support
The Lion and Lamb depends on financial contributions from those who share our vision for peace. To support our efforts, 1) visit www.bluffton.edu/make-a-gift and choose designation option "The Lion and Lamb Peace Arts Center or 2) write check payable to The Lion and Lamb and send to:
The Lion and Lamb Peace Arts Center
1 University Drive 50
Bluffton, OH 45817-2104