The Lion and Lamb
Through all appropriate means, but especially through arts and literature, The Lion and Lamb Peace Arts Center of Bluffton University promotes
the study of peace and justice,
cultural understanding
and nonviolent responses to conflict
with an emphasis on these themes for children.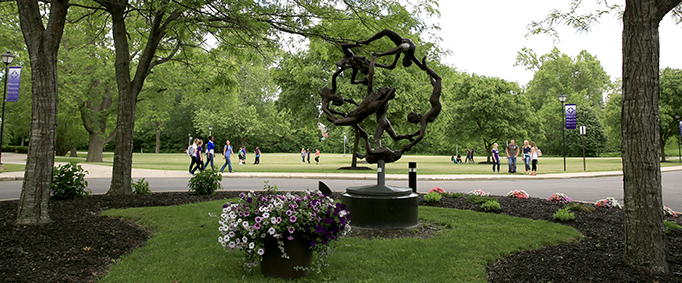 ---
The Lion and Lamb offers:
Hours
| | |
| --- | --- |
| Mondays | 9 a.m. - 12 p.m. and 1-5 p.m. |
| Tuesdays | 9-11 a.m. and 1-3 p.m. |
| Wednesdays | 9 a.m. - 12 p.m. and 1-5 p.m. |
| Thursdays | 1-3 p.m. |
| Fridays | 10 a.m. - 12 p.m. |
Art collection
Art includes sculptures, fine art, children's artwork and original illustrations from picture books as well as The Honda Outdoor Peace Sculpture Garden.
Resources
Resources include picture books, curriculum guides, teacher references and art work.
We encourage you to explore the
Bluffton Peace Trails
, a virtual art tour around campus.
Contact information
Mailing address:
The Lion and Lamb Peace Arts Center
1 University Drive - 50
Bluffton, OH 45817-2104
The Lion and Lamb Peace Center is listed in
about the founder
Dr. Elizabeth "Libby" Hostetler, professor emeritus Bluffton University, founded The Lion and Lamb Peace Arts Center in 1987 to provide a resource for children to gain skills necessary for developing a vision of peace. Libby served as director of the center until retiring from Bluffton University in June 1999. Through her efforts in various roles as a teacher, professor, principal, founder and director of The Lion and Lamb, Libby is an advocate for peace-learning and peace-living.
financial support
The Lion and Lamb depends on financial contributions from those who share our vision for peace. To support our efforts, 1) visit www.bluffton.edu/make-a-gift and choose designation option "The Lion and Lamb Peace Arts Center or 2) write check payable to The Lion and Lamb and send to:
The Lion and Lamb Peace Arts Center
1 University Drive 50
Bluffton, OH 45817-2104