Peace Garden
The Honda Outdoor Sculpture Garden was funded by Honda Corporation and dedicated in 1997 on the 10th anniversary of The Lion and Lamb Peace Arts Center of Bluffton University and includes a variety of sculptures.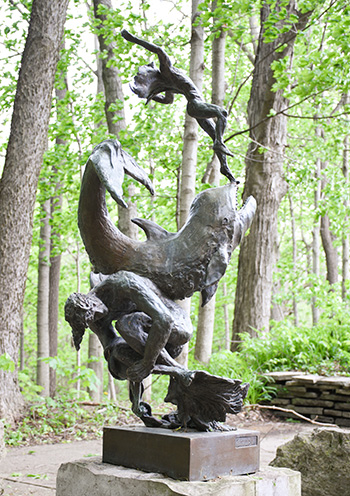 Jonah's deliverance from the whale was created as an acrobatic resurgence, a kind of spiritual transformation. Free from any encumbrances, the open figure's leap and reach are juxtaposed with the cruciform flukes of the whale. Surrounded by stone seats, visitors to this bronze sculpture are invited to ponder their own experiences of transformation from chaos to peace.
This four "rooms" of the stainless steel sculpture represent home as a peaceful and not-so-peaceful place: a nest of birds with a cat hovering below, a haven where children create and act out their dreams or a place where everything is turned upside down. Peace House invites those whose faces are reflected in the mirror-finish of the sculpture to think about their home.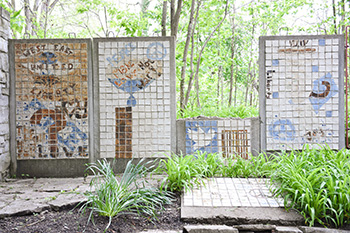 Constructed in 1961 to separate West Germany from East Germany, the Berlin Wall represented the barrier between the countries of Western Europe and the Communist countries of Eastern Europe. The missing section of the wall represents the destruction of the wall in 1989 and the beginning of political and economic changes in that area of the world.
Visitors are invited to pass through the Moon Gate as a symbolic gesture of refusing to allow walls to separate them from others. The circular shape of the Moon Gate suggests unity and completeness entering our lives. At the entrance of the Moon Gate are two shelves on which visitors might leave symbols of those things they want to let go of or leave behind as they pass through.
Ocsar Romero

El Salvadoran Archbishop, 1979 Nobel Peace Prize Winner, assassinated

Jesus Christ

Incarnate Son of God, taught followers to love their enemies and turn the other cheek

Mahatma Gandhi

Launched campaigns of nonviolent resistance in South Africa and India

Martin Luther King Jr.

Nobel Peace Prize Winner, advocate for civil rights and non-violence resistance

Seth Laughlin

Quaker, refused military service during Civil War, arrested and tortured, died in prison

Maurilia Coc Macs and




Santiago Coc Pop

Guatemalan Indian children killed by the army in October 1995

Helen Caldicott

Anti-nuclear activist, physician

Harriet Tubman

Abolitionist, escaped from slavery in 1849, helped others to freedom

David Dodge

A merchant and pacifist, founder of New York Peace Society in 1815

Thomas Merton

Religious writer and poet, Trappist monk, priest

Gustavo Parajon

Nicaraguan peace mediator with John Paul Lederach

Mubarak Awad

Founder of Nonviolence International and Palestinian Center for Nonviolence in Jerusalem

Margareta Sattler and




Michael Sattler

Drowned/burned at the stake as martyrs for Anabaptist faith

Baldemar Velasquez

Latino leader and Ohio farm labor organizer

Stephen Wang

V

ictim of Great Cultural Revolution in China; Educational Exchange Student to Bluffton

Mother Teresa

Catholic missionary serving poor of India, Nobel Prize winner

Dorothy Day

Catholic Worker Movement, pacifist, Houses of Hospitality in voluntary poverty

Stephen Biko

South African founder/leader of Black Consciousness Movement, died in police custody

Peace Pilgrim

Walked 2500+ miles to advocate for peace among: nations, groups, individuals, inner peace

Daniel Gerber

MCC volunteer in Vietnam

Ivo Markovic

Bosnian Franciscan priest, international peacemaking efforts, lives in exile in Zagreb

Ken Saro-Wiwa

Nigerian human rights, murdered by the military government

Ita Ford, Maura Clarke,




Jean Donovan, Dorothy Kazel

Nuns killed by the military in El Salvador in 1980

Myles Horton

Founded the Highlander Folk School and was active in the early Civil rights movement

Colman McCarthy

Founder/director of the Center for Teaching Peace in Washington D. C

Dom Helger Camara

Brazilian archbishop, social worker, human rights organizer, advocate of the poor

Adolfo Perez Esquivel

Argentine Nobel Prize winner, leader of Servicio Paz y Justicia

Norman Bent

Nicaraguan peace mediator with John Paul Lederach

Ted Studebaker

Social worker killed by Viet Cong

Menno Simons

Anabaptist peacemaker in the 16th century, Mennonite derived from his name

Anna Janz

Anabaptist martyr remembered through letter to her infant son, Isaiah; in Martyr s Mirror

Dirk Willems

Anabaptist who rescued his persecutor from drowning and was later executed

Clayton Kratz

MCC worker in Ukraine, arrested and vanished

Bartolome de las Casas

Advocate for Native American rights and justice

Thich Nhat Hanh

Vietnamese Buddhist monk, peacemaker between Christians and Buddhists

St. Maximilianus

North Africa, refused to go to war

Jeanette Rankin

First woman elected to Congress, pacifist, voted against U.S entry into both World Wars

St. Francis of Assisi

Franciscan rule: not to take up deadly weapons or bear arms against anyone.

Paulo Freire

Brazilian educator

Bayard Rustin

Founder of Congress on Racial Equality

WM. Lloyd Garrison

Anti-slavery advocate

Norman Thomas

Minister in the Fellowship of Reconciliation, You cannot conquer war by war.

George Fox

Quaker leader/founder Society of Friends

Lydia Maria Child

Peace advocate and abolitionist

Maria Weston Chapman

Abolitionist

Elihu Burrett

Founded the first secular pacifist organization in the U.S, the Learned Blacksmith

Elizabeth Cady Stanton

Woman s rights advocate, organized the first Woman's Rights Convention

Mohamed Anwar El Sadat

Former president of Egypt, Nobel Peace Prize winner, assassinated

Jane Addams

Pacifist and social worker, 1931 Nobel Peace Prize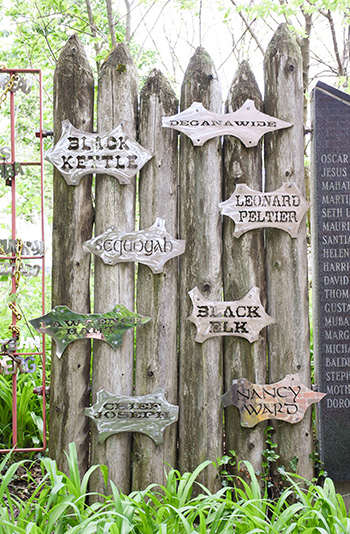 | | |
| --- | --- |
| Black Kettle | Cheyenne chief, peace advocate for Native Americans despite threats on his life |
| Deganwide | Founder of the league of five Iroquois nations and the Law of the Great Peace |
| Leonard Peltier | American Indian Movement leader, falsely accused of murder and imprisoned |
| Sequoyah | Creator of the Cherokee writing system |
| Lawrence Hart | Cheyenne peace chief |
| Black Elk | Oglala Lakota religious leader who became a Christian and shared his faith with other tribes |
| Chief Joseph | Wallowa Valley Nez Perce leader, peace advocate between Native Americans and whites |
| Nancy Ward | Cherokee peace warrior |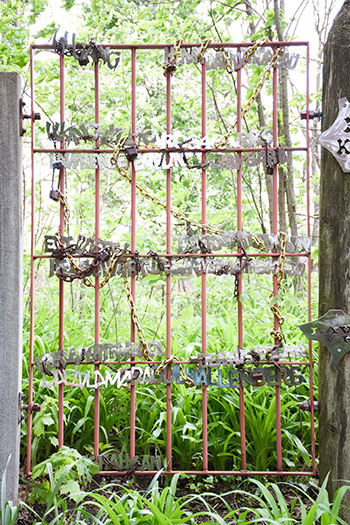 | | |
| --- | --- |
| Dennis Koehn | Mennonite non-registrant during the Vietnam War |
| Lawrence Templin | Mennonite imprisoned during WWII for his CO position |
| Dalai Lama | Spiritual/political leader of Tibet, Nobel Peace Prize winner in 1989 |
| Larry Garra | Quaker imprisoned during WWII for his CO position |
| Badshah Kan | Peace advocate between groups in Pakistan |
| Rosa Parks | Participated in nonviolent civil rights movement in US through Montgomery Bus Boycott |
| Sybill Arredondo | The anthropologist from Chile, imprisoned in Peru as a human rights activist |
| Raul Wallenberg | Saved thousands of Jews from the Holocaust, disappeared while in Russian captivity |
| Henry David Thoreau | Poet/author of Civil Disobedience |
| Elie Wiesel | The Nobel Peace Prize winner, author, survivor from Auschwitz, Buchenwald and Glewitz |
| Nelson Mandela | 1993 Nobel Peace Prize, 30 years imprisoned for anti-apartheid, South African president |

Other nearby installments with Lion and Lamb connections:
The six-sided western cedar International Peace Pole was planted in 2007 to mark The Lion and Lamb s 20th year of promoting peace.
May peace prevail on earth is translated into 12 languages: Arabic, Bosnia, English, French, German, Hindi, Indonesian, Japanese, Lakota Sioux, Russian, Spanish, Swahili and American Sign Language.
Located below Sauder Visual Arts Center near the Riley Creek and based on legends found in many cultures, the three large granite rocks create a neutral space to foster dialogue and listening in an effort to resolve conflict through dialogue without resorting to violence.