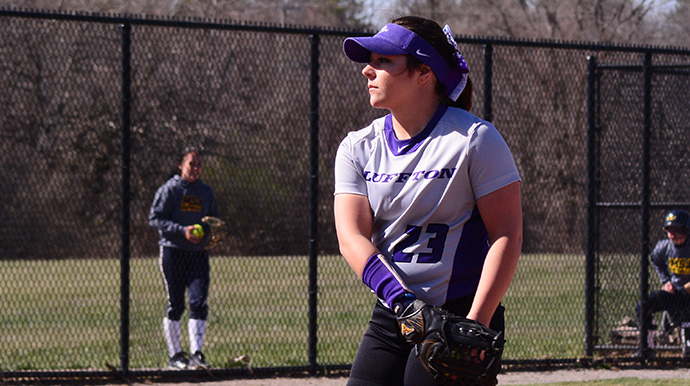 ---
Even though she didn't realize it at the time, Alexis Montemarano started on her journey to becoming a speech-language pathologist in preschool. That's where the speech-language pathology and audiology major and pitcher on Bluffton's softball team befriended a fellow classmate who was deaf.
More than 'r' and 's' sounds
The profession allows you to work with people throughout their lifespan, from birth to end of life, in a variety of settings. It is so much more than helping improve a child's 'r' and 's' sounds and decrease stuttering. When you choose this major, you will enter a field that allows you to work with:
a premature infant with feeding challenges or decreased hearing acuity in the NICU
a child with autism in the play room of their own home
a child in need of aural rehabilitation following a cochlear implant
a 2nd

grade student struggling with the correct use of pronouns
a middle school student having difficulty following social rules
a high school student with dyslexia impacting his success in the classroom
a college student who suffered a traumatic brain injury from a car accident and struggles with short term memory
a business man who learned English as a second language and is pursuing accent reduction therapy to improve his ability to build strong client relationships
a teacher and football coach who has developed vocal fold nodules from yelling across the field and now struggles to use his voice effectively in the classroom
a man who has his voice box removed because of cancer and must identify a new way to communicate
a factory worker who requires hearing aids after years in an environment causing noise induced hearing loss
a grandmother who has suffered a stroke and can no longer communicate or swallow foods safely
This is just a small sample of some of the types of patients and students who benefit from working with a speech language pathologist or audiologist. The profession allows you to work with someone throughout their lifespan, from birth to end of life, in a variety of settings
If you are interested in learning more about the dynamic, engaging, and professional world of speech language pathology or audiology, please contact Trevor Scott at 419-358-3329 or scottt@bluffton.edu.