Justin Kauffman '20
Biology major expands his knowledge of dentistry during summer program
Justin Kauffman '20, a biology major from Smithville, Ohio, and recipient of a 2017 Summer Discovery Grant, gained vocational experience in the field of dentistry this summer by volunteering at a free community clinic. Kauffman has been interested in dentistry since the eighth grade.
"For my grant, I job shadowed and assisted the dentists at the Viola Startzman Clinic," said Kauffman. "I mainly focused on learning and grasping basic dentistry concepts as well as helping with tasks such as sterilizing the rooms and equipment."
The Viola Startzman Clinic in Wooster, Ohio, is for uninsured and underinsured patients from Wayne and Holmes Counties. The clinic offers many different medical services including primary care, counseling and wellness programs in addition to dentistry.
"I did a lot of filing, watching and observing, sterilizing equipment and rooms as well as developing x-rays," said Kauffman. As the weeks progressed, he was able to assist the dentists while they worked with patients.
"I mainly shadowed Dr. Mark Gustafson. He is an excellent dentist as well as mentor. He taught me a lot and took his time explaining the process of what he was doing until I understood it. I learned a lot about how a dental office runs and works and even more about tooth and mouth anatomy."
Kauffman believes this experience solidified his future career choice and allowed him to build relationships with professionals already in the field.
"I was able to get my foot in the door of dentistry and spend a large amount of time in the room with the patients seeing how exactly days would be as a dentist and what problem-solving processes the dentist does as they go through a patient's mouth," said Kauffman.
Kauffman also appreciated having the opportunity to focus on his aspirations while giving back to his community.
"The grant allowed me to take a break from wage work to spend a plentiful amount of time near the chair and in the rooms," said Kauffman. "It allowed me to make school loan payments and pay my cost of living while not having an income throughout the experience."
The Summer Discovery Grant is supported by the Karl Schultz Discovery Funds, an endowment established through the gift of Bluffton alumnus, Karl Schultz. The $1,500 grant allows students to develop their own four to six week internship to help them discover their calling. Two grants are awarded to Bluffton students each year.
>>> more about Summer Discovery GrantsLearn more about Bluffton's biology major at www.bluffton.edu/sci/biology.
-B-
-Jena O'Brien, public relations student assistant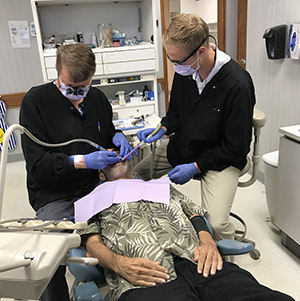 ---
"The grant allowed me to take a break from wage work to spend a plentiful amount of time near the chair and in the rooms. It allowed me to make school loan payments and pay my cost of living while not having an income throughout the experience."