MAcc scholarship
12/04/2020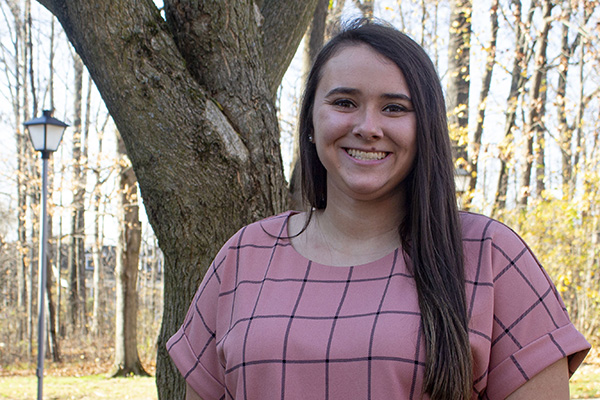 Bluffton senior earns full graduate scholarship to BGSU
Jessica Lovell, a senior from Grove City, Ohio, is Bluffton University's ninth recipient of a full scholarship to Bowling Green State University's Master of Accountancy program.
Lovell has earned the Beaver-Falcon MAcc Scholarship, a Bluffton-Bowling Green partnership that includes a full-tuition award plus a paid graduate assistantship for a Bluffton graduate.
Bowling Green's program includes a variety of areas of study such as advanced accounting, data analytics and information systems auditing. The program allows students to build upon the strong foundation of the Bluffton accounting major while gaining expertise in new areas. Lovell will begin her advanced studies in fall 2021. Completion of the master's program will give her the 150 hours of study required to sit for the Certified Public Accountant exam.
"I'm thankful for the opportunity," said Lovell. "I'm excited because this path will set me up to take the CPA exam when I graduate."
Lovell is majoring in accounting and business administration with a math minor. She is a stuent-athlete on Bluffton's volleyball team and is a member of Bluffton University Business Leaders and Student Athletic Advisory Committee.
"Jessica has built an impressive portfolio during her time at Bluffton University, with demonstrated success in and out of the classroom. In addition to playing volleyball all four years at Bluffton, she has gained valuable professional experience through two internships," said Dr. Jason Swartzlander, professor of accounting. "Earning this scholarship is a tribute to Jessica's dedication as an academic, student-athlete and business professional, which will serve her well in the BGSU MAcc program and in her professional career."